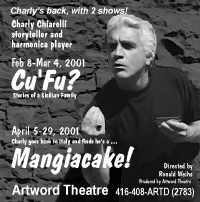 click on image to view full poster
Charly Chiarelli brings the
Sicilian-Canadian experience to life
Two shows written and performed by Charly (Calogero) Chiarelli
February 8 to March 4, 2001:
Stories of a Sicilian Family...
Cu'Fu? (So Who Did It?)
April 5 to 29, 2001
Charly goes back to Italy and finds he's a ...
Mangiacake!
World premiere of Charly's new show
both shows directed by Ronald Weihs
produced by Artword Theatre
** Thurs. at 8 pm, Sat. at 4 pm, Sun. at 3 pm: $22 reg., $16 students/seniors, $12 children
** Fri. at 8 pm and Sat. at 8:30 pm: $27 reg., $22 students/seniors, $15 children
Artword Theatre, 75 Portland Street, Toronto (one block east of Bathurst, south of King)
Box Office: 416-408-ARTD (2783)
Charly Chiarelli, master storyteller and harmonica virtuoso, is coming back to Artword Theatre this season - this time with two shows! Cu'Fu?, hilarious and touching stories about growing up Sicilian in Hamilton, Ontario, runs from February 8 to March 4, 2001. In April, Artword presents the world premiere of Mangiacake!, directed by Ronald Weihs, running from April 5 to 29.


Charly Chiarelli is unquestionably Artword's most popular performer. A familiar figure for years in Toronto's storytelling community, he had been telling stories of his weird and wonderful family in the north end of Hamilton, home to 10,000 Sicilians, all from the same town, Racalmuto! And back in Racalmuto there were only 8,000 left!


In 1995, for Artword's Festival of the Human Voice, he put the stories together into a one-hour version of Cu'Fu?, punctuated by original songs and his mean blues harmonica playing. (In those days, Artword was a tiny 60-seat theatre on the second floor of the building just north of where it is now.) At the first show, the audience went wild.


Artword's artistic director, Ronald Weihs, worked with him to help shape and stage the material, and the show returned in 1996, first for a 3-week run and back for an extended run that fall. And - largely by word of mouth - people found their way in ever-greater numbers up Artword's rickety stairs, until Charly was playing to packed houses every night. Charly toured across Canada, and brought the show to Artword again in 1999, this time to Artword's new 150-seat theatre.


Cu'Fu? caught the eye of Paul Gratton and Harvey Glatt, who, with Denis Beauchamp of UBWired, turned it into a one-hour special for Bravo Television. The shrink-wrapped version is on sale at Indigo Books and other outlets. Charly is currently on the cover of the Italian Theatre edition of the Canadian Theatre Review.


A lot of people have been waiting for Charly's second show. In Mangiacake! Charly comes to terms with his Canadian identity, and goes back to Italy to find his roots, only to discover that he too is - a mangiacake! "Mangiacake", for anyone who hasn't seen Cu'fu?, means "cake eaters". It's what Italians call non-Italians (when they're being nice).


Mangiacake! was showcased in September in Hamilton, at the Ontario Workers' Arts and Heritage Centre. The auditorium was packed with Charly's old neighbours, most of whom had seen Cu'Fu?. They loved it. So will you.