If Cows Could Fly
Written and performed by: Allan Merovitz
Produced by: Artword Theatre Directed by: Ronald Weihs
Simcha Klezmer Band: Jarl Anderson, Ronald Weihs
Dates: Previews Wed June 20, opens Thurs June 21, runs to Saturday July 14, 2001
Times: Wednesday to Saturday 8 pm, Sundays 2:30 and 7:30 pm
Tickets: Fri & Sat $27 reg / $22 sen/std; Wed, Thur, Sun $22 reg/ $17 sen/std; children $10
Canada Day Special, Sunday July 1: 2:30 and 7:30 shows pay-what-you-can
Artword Theatre, 75 Portland Street, Toronto (one block east of Bathurst, south of King)
Box Office: 416-408-ARTD (416-408-2783)
Musical version of If Cows Could Fly
returns to Artword Theatre
If Cows Could Fly, Allan Merovitz's musical play about the Jewish-Canadian experience, is returning to Artword Theatre for a four-week run this summer, from June 21 - July 14.
A popular success at Artword in February 2000, Merovitz's play is currently being reworked for Prairie Public Television in Winnipeg, by director Ronald Weihs with producer Don Booth.


When a gap unexpectedly appeared in Artword's summer season, Merovitz, and director Ronald Weihs, decided to mount a new stage version at Artword, incorporating some of the changes they have been working on for television.


"It was a spur-of-the-moment decision," Weihs says, "There was a hole in the schedule, and we had a play ready to go. So, in the spirit of the old Mickey Rooney movies, we said 'let's have a show'."


Dora Award winner Allan Merovitz, a widely-known actor and Klezmer musician, grew up in Smiths Falls in the Ottawa Valley in a family of Hassidic Jews. If Cows Could Fly traces the story of his family from Poland, Lithuania and Kishinev to the tiny rural Ontario community. The story of his family is a microcosm of the Jewish experience world-wide.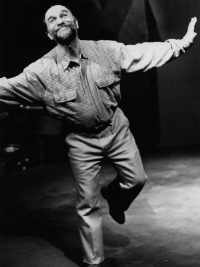 In If Cows Could Fly, Allan has reconstructed the fragmented memories of his family in diaspora, and interspersed them with a wide range of musical styles – Yiddish songs, country-and-western ballads, as well as Klezmer and Ottawa Valley fiddle tunes.


Allan tells how his Zaide escaped being conscripted into the Russian army by the Cossacks. How a ghost helped Frume leave her marriage ("get a get") and start a new life with her two children. How Bubbe Oudel supported her family – and the whole neighbourhood – during the hungry depression. How Uncle Hy, war hero and demolition expert, solved the problem of "No Jews Allowed on this Road". The tales lead from villages in Poland and Bessarabia, to Antwerp, London, and on to the new world, Nova Scotia, Montreal, and finally Smiths Falls in the Ottawa Valley.


The new version of the script streamlines some of the stories and focuses more on Allan's relationship with his father and grandfather. The new production also heats up the Klezmer band sound, with some hot piano and mandolin playing by Jarl Anderson and the director Ronald Weihs returning to his first identity as "Ron the Fiddler".


Running through all the stories is the indomitable spirit to survive, persist, and transcend. An impossible dream could come true only "if cows could fly". Impossible? Maybe it's just a matter of getting really good at something – making shoes, shooting pool, remembering who you are.