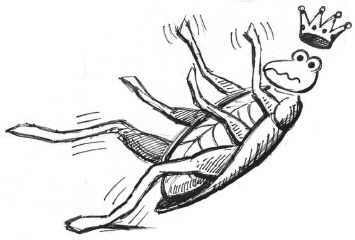 Fate of a Cockroach: Masir Sarsar (notice in Arabic)
Artword Theatre,
75 Portland St, Toronto
April 1 to 17, 2005
AfriCan Theatre Ensemble and
Artword Theatre present
Fate of a Cockroach
by Tawfik al-Hakim (Tawfiq el-Hakim)
Translation by Ronald Weihs and Emad Nafeh
Directed by Ronald Weihs
Music by Thomas Baker
Drawings by John Williams
Design by Judith Sandiford
Cast: Tony Adah, Shannon Kitchings, Pasha Mckenley, Muoi Nene, Kurt Spenrath, Aktina Stathaki

Toronto's AfriCan Theatre Ensemble presents a comedy called Fate of a Cockroach by Egyptian playwright Tawfik al-Hakim, one of the most important authors in the Arabic world.


"I think this play will be surprising to many Canadians. It's funny, it's crazy and satirical. Not at all the image that most of us have about the Arab world.", says Ronald Weihs, the director of the play.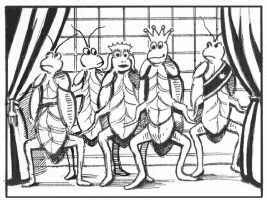 In the first act, the characters are cockroaches, who live near a huge lake – sometimes filled with water, sometimes empty. The King falls into the lake (now dry) and cannot escape. All the other cockroaches pray to the gods to rescue him. In the second act, we see the gods – a married couple getting up for work. The husband becomes fascinated with the plight of the cockroach in his bathtub – to the dismay of his wife. Will the gods rescue the cockroach, or simply watch him struggle? With its pointed political satire, Fate of a Cockroach, written in 1967, is one of al-Hakim's most popular plays.


Raised in Alexandria, Tawfik al-Hakim (1898-1987), was sent to France by his parents to complete a doctorate in law, but fell in love with European theatre, and decided to devote his life to the art form. Egypt has a long literary tradition, but until al-Hakim, there was little Arabic theatre. Almost single-handedly, al-Hakim created Arab theatre in the twentieth century. His works are witty, clever and thoughtful. He is a household word in the Arabic world, but hardly known in North America.


Fate of a Cockroach is the AfriCan Theatre Ensemble's first play from Northern Africa, and represents the large Arab population in Africa, as well as the Middle East. Considering political events today, it is important for Canadians to have a greater understanding and appreciation of the rich Arabic culture.


The ATE production of Fate of a Cockroach features a new translation from the Arabic and adaptation by Ronald Weihs and Emad Nafeh, an Egyptian writer and playwright now living in Toronto.


Ronald Weihs, Artistic Director of Artword Theatre, founded Artword in 1993 with Judith Sandiford, and has written, directed and produced many productions. In 2004, he became Resident Director of the AfriCan Theatre Ensemble and directed their production of Soyinka's Death and the King's Horseman. He recently directed Toronto theatre artist Donald Carr's The Full Nelson, a tribute to Nelson Mandela.


AfriCan Theatre Ensemble was founded in 1998 by Modupe Olaogun, a professor at York University. Production include: the Nigerian writer Ola Rotimi's The Gods Are Not to Blame (1999) and Our Husband Has Gone Mad Again, (2000), And the Girls in their Sunday Dresses, by South African author Zakes Mda (2001), Jean and Dinah, a co-production with Trinidad's Lord Street Theatre (2002), and Anowa, by Ghana's Ama Ata Aidoo (2003, Dora award for Best Costume). In 2004, the AfriCan Theatre Ensemble joined forces with Artword Theatre to produce Death and the King's Horseman, the masterpiece of theatre by Nigerian Nobel prize winning author Wole Soyinka.
Media contact: Josée Duranleau, Duranleau Publicity, 416-652-7672.