Artword Theatre, 75 Portland St
NEW DATES
Now January 25 to February 13, 2005
Artword Theatre, AfriCan Theatre Ensemble and DC Productions present
The Full Nelson
A virtuoso multi-media voyage invoking the spirit of Nelson Mandela, a high-voltage view of the universe and a Black man in it.
written and performed by Donald Carr
directed by Ronald Weihs
designed by Judith Sandiford
Tickets $30 / $25 for students/seniors,
Tues to Sat at 8 pm, (Sun at 2:30 pwyc)
(View discretion advised)
Advance reservations 416-366-7723 ext 290 (St Lawrence Centre Ticket Line) or book online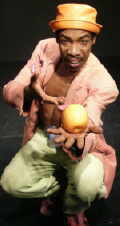 THE FULL NELSON – DONALD CARR'S PHANTASMAGORIC TRIP THROUGH BLACK HISTORY


Donald Carr, whose dynamic performances as an actor, dancer and storyteller have graced the Toronto scene for three decades, has created a one-man virtuoso work called The Full Nelson. Presented by DC Productions, AfriCan Theatre Ensemble and Artword Theatre, the Full Nelson runs at Artword Theatre, January 19 to 30, 2005 (run now extended to February 6, 2005).


The Full Nelson, Donald Carr's homage to Nelson Mandela, is a trip through the agony and ecstasy of Black History in the face of European colonialism. For Carr, Nelson Mandela is the latest in a succession of Black heroes who have overcome the brutal negativity of colonialism and apartheid and brought a message of redemption to the world. After 30 years on Robben Island, Nelson emerged with a message not of vengeance but of reconciliation.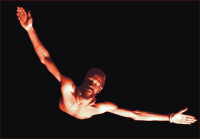 Written and performed by Donald Carr, The Full Nelson is directed by Ronald Weihs and designed by Judith Sandiford. Billed as a "hip-hopera", the work is divided into seven sections that Donald calls arias. Each one portrays a different character, tracing an aspect of the Black psyche through the pre-history and history of the world. Music, visual imagery and stage effects are all part of a spectacular multi-media experience.


Donald Carr, who played the title role in last year's ATE production, Death and the King's Horseman is widely known as an actor, dancer, director, choreographer, writer and storyteller. Born and raised in Kingston, Jamaica, he trained as a dancer with Toronto Dance Theatre, Alvin Ailey Dance Company, Martha Graham Dance Company and the National Ballet of Canada, and danced with the Pavlychencko Dance Theatre and Isintu African Dance Company.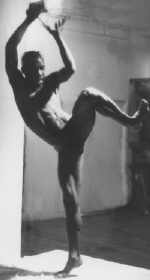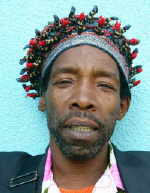 As an actor/director, he began working with Black Theatre Canada, going on to perform in Paris, Amsterdam, London, Munich and Johannesburg. His stage credits include the title role in R. Murray Shaffer's Ra (Toronto, Holland), the title role in Oedipus (Festival d'Avignon, France), Duke of Buckingham in Shakespeare's Richard III, Jesus in The Gospel According to St. John and Joe in Trevor Rhone's Smile Orange.


Donald has written and directed a steady stream of creative works that have progressively explored the boundaries of dance and theatre. Most recent works are On the Melodies of Flying Fishes, Urgent SOS, Soul Strata, and Absent Fathers, Vanishing Sons. Last year, he received a Harold award for his contributions to Canadian theatre and dance.