Artword Theatre (Alternative), 75 Portland St, Toronto, from Nov 9 to Dec 3, 2005
An AfriCan Theatre Ensemble and Artword Theatre production
Market of Tales
concept, direction and dramaturgy by Ronald Weihs
developed and performed by the ensemble: Seifu Belachew, Alexandra Drossos, Teddy Masuku, Muoi Nene, Aktina, Stathaki, Selan Teclu
music direction and performance by Waleed Abdulhamid, choreography by Muoi Nene
designed by Judith Sandiford, produced by Modupe Olaogun
Tues to Sat at 8 pm $20 regular, students seniors $15, Sunday galas (Nov 13, 20, 27) at 4 pm $25 includes post-show reception. For information and groups, call 416-408-1146.

Market of Tales is based on a concept shared by many African cultures: our present life, standing between a life before birth and a life after death, is a marketplace. We are in this world to interact with each other, exchanging our experiences, our dreams, our desires, our stories.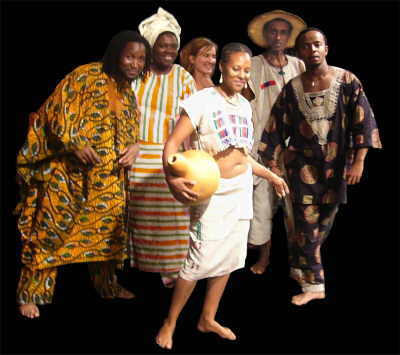 (right) Teddy Masuku (Zimbabwe), Alexandra Drossos (Uganda), Aktina Stathaki (Greece), Selam Teclu (Eritrea), Seifu Belachew (Ethiopia), Muoi Nene (Kenya)


Market of Tales is a new work of theatre created by the AfriCan Theatre Ensemble. It uses elements of African storytelling, freely adapting them and incorporating elements of African performance styles such as masquerade. The stories are from many cultures, and include folk tales, personal accounts, history, dramatic vignettes, story-songs, dance-drama, poems - any of the myriad ways of telling a story. They draw on varied storytelling traditions, incorporating many kinds of dance, music and song. The effect is to demonstrate the rich diversity of human experience, and the common threads that unite all of us.


It is early morning. The stage is in constant movement. Suddenly, there is a request for a story. The storyteller begins the storyteller's traditional call: Hadithi, hadithi!


The stories begin. The ensemble members form a loose semi-circle (half of an imaginary circle embracing the audience). Whoever is involved in the story being told moves into the centre; there is fluid movement between performers and observers. Drumming, dancing song and musical accompaniment weave through the action.


At first the stories are mythic in scope: the origins of violence, of desire, of suffering. Then we have stories about human life, funny, tragic, sometimes instructive. As we move toward the present, there are stories from recent history, stripped of their detail to expose their essential meanings.


There is the sad and beautiful tale of a woman who lays her baby in the shade while she is working in the field with other women. An eagle comes, but instead of harming the child, he shelters it. The woman's husband tries to shoot the eagle, and instead kills his own child. From this time forward, his descendants are destined to kill each other.


Immediately, we move to a story from Kenya about the strife between two ancient tribes, descended from two brothers. It tells of a great hero, invincible like Achilles, who is wreaking devastation on the other tribe. They send a woman to him, who seduces him and finds his secret - he can only be wounded through his shadow. When the warriors try to kill him, however, they fail. The woman sets a trap for him and succeeds, for she has figured out his secret - it is his shadow in the moonlight that is vulnerable.


From the African repertoire of trickster stories, a rabbit leads a revolt against tyrants.


We move away from myth and folktale to real stories of today. And a story of politics that turns into a story of love.