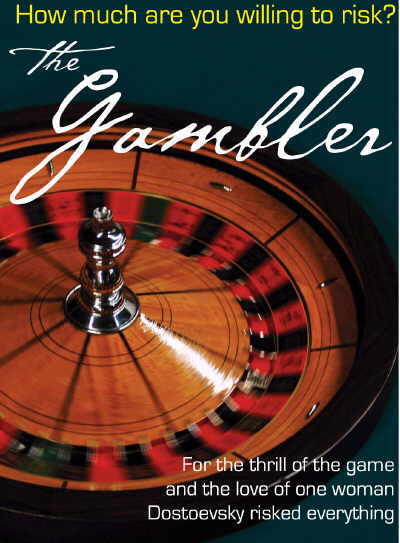 Artword Theatre
75 Portland St, Toronto
Jan 26 to Feb 19, 2006
The Gambler
a new play by Ronald Weihs
based on the novel by Fyodor Dostoevsky and the true story behind the novel
Directed by Molly Thom
Starring
David Ferry, Irene Poole, Karl Pruner, with Brett Christopher, Claire Jenkins & special guest star Jennifer Phipps
Previews: Jan 26, 27, 28 at 8 pm, Jan 28, 29 at 2 pm $20 (early special $12 if booked by Dec 31)
Opening Tues, Jan 31 at 8 pm
Regular run: Tues-Sat 8 pm; mats Sat & Sun 2 pm
Tues-Thur, Sat & Sun mat $25
Fri & Sat eve $30
Students $5 off regular prices
Limited PWYC tickets Sun mat
Red & Black Gala, Thur Feb 2 at 8 pm $50, Includes ticket, food and drink, charity roulette casino
Tickets: Ticketking at 416-872-1212 or 1-800-461-3333, online sales: www.ticketking.com
Groups call 416-481-4775 Margaret Edgar madgar@sympatico.ca
Click to view the Gambler flyer
Read the reviews:
• "Seeing The Gambler at Artword is a good bet, and I recommend you go to it." Lynn Slotkin, CBC (full text )
• "(4 stars) Jackpot! The Gambler comes out a winner. Given Weihs' strong script, under the deft and focussed direction of Molly Thom, both stories move at a strong dramatic clip. It is the story itself -- a harrowing descent into the hell of gambling addiction, redeemed by the power of work and love -- that carries the day." John Coulbourn, Toronto Sun (full text)
---
How much are you willing to risk?
For the thrill of the game and the love of one woman, Dostoevsky risked everything.
THE GAMBLER A new play based on the famous novel…and the true story behind the novel.
The final show at Artword Theatre!

In the spinning phantasmagoric world of the gambling casino where fortunes are lost and hopes destroyed by the incessant click-click of the roulette wheel, one of the world's great novelists finds himself at a turning point …


In 1866, overwhelmed by debt, Fyodor Dostoevsky agreed to produce a new novel or lose the copyright to his entire body of work. Three weeks before the deadline, with not a word written, he hired a young stenographer, Anna Grigorievna, to take it down in shorthand. The story he dictated, she soon discovered, was his own story – his passion for the unattainable Polina and his own addiction to gambling.


Playwright Ronald Weihs has taken Dostoevsky's novel about love, obsession and roulette and interwoven it with the amazing true-life account of how Dostoevsky came to write the novel—probably the biggest gamble of his life. The result is a new play, THE GAMBLER, that previews from January 26, 2006, opens on January 31 and plays until February 19 at Artword Theatre.
With its two interlocking stories about risking everything, about winning and losing, THE GAMBLER tells a captivating story full of fascinating characters, and presents a portrait of the novelist at work, taking the raw material of his own tumultuous life and turning it into art.


A cast of some of the country's finest actors brings Dostoevsky's story to life: Starring as the great novelist himself and as his protagonist Alexei is David Ferry. Irene Poole plays the fictional heroine Polina and Claire Jenkins is the real-life Anna. Karl Pruner is the General and Brett Christopher is Mr. Astley. Jennifer Phipps stars as the Grandmother.


THE GAMBLER is directed by Molly Thom, whose production of The Bush Ladies was an acclaimed success several seasons ago. Set and costume design is by Gillian Gallow, the lighting design is by Rebecca Picherack and the sound design is by Richard Feren.


Produced by Beggarly Theatre, Artword Theatre, Alianak Theatre Productions, John Karastamatis & Ginger Cat Productions
This production will be the last to be performed at Artword Theatre, 75 Portland Street. Since 1999, this comfortable and attractive space has been popular with many of the city's independent performing arts companies as a venue for their work, and with audiences for seeing innovative new productions. The new owners of the property will erect a condominium building on the site..
Media Contact: John Karastamatis, 416-593-0351 ext. 519 johnk@mirvishproductions.com