'Til the cows come home…
Irving Greenberg Theatre Centre hosts the revival production of
Artword Theatre's If Cows Could Fly
Ottawa, September 10 2007: Mooove over, Ottawa - the cows are coming home! Artword Theatre, based in Toronto, is delighted to play the role of the first guest company to grace the mainstage of the new Irving Greenberg Theatre Centre in Ottawa, with a revival production of If Cows Could Fly.
Created and performed by Allan Merovitz, a Dora-award winning actor and internationally renowned singer and Klezmer musician, this Jewish-Canadian musical has already been produced in both Toronto and Winnipeg. Robert Cushman of the National Post reported that the production was "all done with great energy and authority," while Paula Citron of Classical 98 called Merovitz "a gamin-like, energetic, charming performer."
If Cows Could Fly traces the story of both sides of Merovitz's family - Waxman and Merovitz - from Poland, Lithuania and Kishinev to the rural Ontario community of Smiths Falls. Allan has assembled the fragmented memories of his family into an enchanting saga, interspersed with a wide range of musical styles: Yiddish songs, country-and-western ballads, as well as Klezmer and Ottawa Valley fiddle tunes. East meets West in a musical blend that is quintessentially Canadian. It all comes together in Merovitz's portrait of his crazy cousin Leonard, the dairy farmer who dreams of flying to Nashville on his prize Holstein Rosie.
Artword Theatre was created in 1993 by Ronald Weihs, a theatrical playwright and director, and Judith Sandiford, a visual artist and theatre designer. Most of the theatre's own productions were put on without public funding and proved great successes with audiences and critics alike. Artword Theatre produced Merovitz's If Cows Could Fly in 2000 and it was remounted in 2001.
Weihs, who directs this play for the third time, comments: "I had a great time working with Allan on this play. It runs the gamut from wacky to fascinating to deeply moving. It's a kaleidoscope, always full of surprises. Most of all, it's about tolerance and understanding between people from different backgrounds. The positive, affirmative spirit of this play is even more pertinent today than when Artword first produced it seven years ago."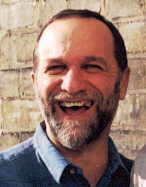 In addition to chronicling his family history, Merovitz portrays his own struggle in coming to terms with a dual identity: heir to a tradition that spans millennia and being just a modern Canadian kid. A master of mimicry, Merovitz plays numerous colourful characters, including his entire family and many others besides. But he is not entirely alone: he is joined onstage by an accomplished trio of musicians equally at ease with Klezmer and Country.
"What does 'If Cows Could Fly' mean? It means making the impossible tangible," Merovitz says. "How do we do this? Through a belief in ourselves and in the generosity of so many people who help us along the way. Music is a way to express this and have a good time. We smile, we laugh, we sing, we dance."
The Ottawa Jewish Historical Society presents the Artword Theatre production of If Cows Could Fly, from February 21 to March 9, 2008 (preview February 20)
in the new Irving Greenberg Theatre Centre at 1233 Wellington St. (at Holland Ave.), Ottawa, Ontario (see the GCTC website for information about their new theatre ).
Written and performed by Allan Merovitz, with an onstage Klezmer band, directed by Ronald Weihs, designed by Judith Sandiford, produced by Barry Karp and Artword Theatre.
Tickets are $36 for adults, $26 for students and seniors, Box office: 613-236-5196.
For group and school bookings, call Barry Karp in Ottawa 613-526-4584.