Sept 14 to Oct 19, 2002, in the Alternative theatre, Saturdays 10 am to 1 pm Working Together on Stage, a six-week workshop for dancers and actors of dance-theatre explorations. The dance workout is led by choreographer Janet Atkinson and the theatre exploration is led by director Ronald Weihs
---

September 18, to October 13, 2002 (plus three more shows Oct 18 to 20, Fri and Sat at 8 pm and Sun at 3 pm), FILLER UP, written and performed by Deb Filler. One woman and countless loaves of bread... a funny play about loving food too much. Wed to Frid at 8 pm Sat 3 and 8 pm, Sun 3 and 7 pm. Advance ticket reservations, call Ticketking 416-872-1212 website: www.fillerup.ca
---
ARC Reading Series: 2002-2003 season First Monday, 7:30, Actors' Repertory Company play readings, admission by donation: Oct 7, 2002: Mary Stuart by Frederich Schiller; Nov 4: Awake and Sing by Clifford Odets; Dec 2: What The Butler Saw by Joe Orton; 2003: Feb 3, another location; Mar 3: Under The Skin by Betty Lambert, Apr 7: The Queen and The Rebels by Ugo Betti; May 5: She Stoops To Conquer by Oliver Goldsmith; June 2: The Children's Hour by Lillian Hellman (last two at another location)
---
In Artword Gallery October 3 to November 3, 2002: Barbara Caruso The Alphabet Project: Part 1, a new open-ended series of drawings based on Van Doesburg's alphabet. Reception with the artist Tuesday October 8, 4-7 pm
---

Eugene's Sunday Series (Sunday evening concerts of improvised music)
2002: Oct 20, 27, Nov 3, 10, 17, 24:
2003: Jan 26, Feb 16, 23, March 2, 23, 30, Apr 6, 27
Eugene Martynec's back with the third season of improvised concerts featuring new music, new media, and new collaborations. Sundays at 8 pm $5.

---
Monday, October 21, 2002, 8 pm: Scirocco play launch SCIROCCO DRAMA ~ Canada's premier drama publisher ~ TheatreBOOKS and NOW present Hrant Alianak, Dave Carley, Maureen Hunter, Adam Pettle and Alex Poch-Goldin for the launching of their recent plays: The Walls of Africa, The Edible Woman, Vinci, Zadie's Shoes and This Hotel, hosted by Sally Han

---
October 27 to November 10, 2002:
Charly Chiarelli's hit show Cu'Fu? (So Who Did It?), Stories of a Sicilian Family, returns to Artword. Written and performed by Charly Chiarelli, directed by Ronald Weihs.
Thursday, Friday, Saturday at 8 pm and Sunday at 3 pm: all tickets $26
matinée Saturday at 4 pm: $20 regular, $15 students/seniors
Reservations: 416-408-ARTD (2783)
---

November 5 at 8 pm (pwyc):
Artword Theatre presents Fire, Air, Earth and Water a new dance collaboration-in-progress by choreographer/dancer Meiko Ando and visual artist Judith Sandiford. Based on ancient theories of the creation of the world, a world of flux and change, the choreography is inspired by the Butoh style of dance. Ando and Sandiford explore the relationship between the physical and the emotional, using strong visual elements that are integrated with the movement.
---

November 12 to 17, 2002:
Zeus Opera Dance Company and Artword Theatre present A Pair of Myths, choreographed and directed by Janet Atkinson.
Tuesday to Saturday at 8 pm: $18, sen/std/eq/CADA $14, Sun mat Nov 17at 2:30 pm: pwyc
---

November 13 to December 1, 2002 (main theatre):
Alianak Theatre Productions and Mainstage Productions present
The Death of Socrates based on Plato's Apologia,
adapted and performed by Nick Mancuso,
directed by Hrant Alianak,
Tuesday to Saturday at 8 pm Sunday at 2:30 pm.
Advance tickets 416-504-PLAY (7529)
---

November 21 to December 1, 2002 (Alternative theatre):
Stranger Theatre presents The Yellow Wallpaper Project based on the story by Charlotte Perkins Gilman Tickets $12 and $8 Tuesday to Saturday 8 pm, Sunday pwyc 2:30 pm. Call 416-526-1050 to reserve tickets
---

November 21-23 and 27-30, 2002 (in the Gallery):
cabaret 10:30 pm. Good Hair Day presents A Little Rain Never Hurt No One performed by singer Fides Krucker, with pianist Sageev Oore and percussionist Rick Sacks. $20/$15. Call 416-504-7529 to reserve tickets.
---

December 5-8, 2002 (in the main): Cypress, Flotsam & Jetsam, two interdisciplinary music and dance works: composer Juliet Palmer and choreographer Yvonne Ng. Thursday-Saturday 8pm, Sunday 2:30 pm Tickets $17 ($12 std/sen/CADA).Ticket reservations: 416-533-8577
---

Monday December 9, 2002, 7:30 pm (in the main):
a free public workshop reading of The Gambler, a new play by Ronald Weihs, based on the novel by Fyodor Dostoevsky, directed by Molly Thom. With Dan Lett, Tracey Ferencz, Joan Heney, James Kirchner, Kimwun Perehinec. Call 416-979-8995 or 416-408-1146 for information.
---
Thursday December 12, 2002, 8 pm (in the main):
concert for the Humanist Association of Toronto, featuring Marie Lynn Hammond, Geordie McDonald Jazz Trio, Martin Van Der Ven, and more! Tickets $20. Call 416-966-1361.
---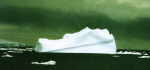 January 8 to 19, 2003 (main theatre):
Volcano presents Two Words for Snow by Richard Sanger, based on the Peary/Henson 1909 expedition to the North Pole. Directed by Ross Manson with Tom Barnett, David Fox, Jerry Franken, Lucie Idlout, Hugh Thompson and Nigel Shawn Williams. Tues-Sat at 8 pm, Sun at 2 and 7 pm. Advance tickets 416-504-PLAY (7529)
---
Sunday January 19, 2003, 7 pm (Alternative): Skazmos Theatre, a new play reading: Musical Chairs by Alexis Bernier. Cast: Gina Clayton, Maria Ricossa, Tom Melissis, Anna Pappas, Keith Kemps, Diana Reis. Drifting between timelines, six characters examine and relive their parts in the inevitable murder of a much adored and elusive woman. Info: 416-516-0008
---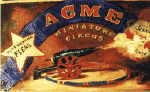 January 23 to 26, 2003 (main theatre):
Wacky fun for all ages! Old-time vaudeville!
Gary Topp at Toppnotch presents The Acme Miniature Flea Circus starring Midge and Madge in death-defying feats, led by ringmaster Professor A.G. Gertsacov. Advance tickets 416-870-8000 (Ticketmaster)
---

January 28 to February 9, 2003: Six Stages Festival. Seven innovative performances in two venues over two weeks. Sherrie Johnson and Menno Plukker present outstanding theatre and performance artists from Prague, Glasgow and across Canada. At Artword: Lament by Scotland's Suspect Culture, Shadows by Australia's William Yang, and Venus with the Rubik's Cube by Czech Republic's Kristyna Lhotakova. Advance tickets 416-504-PLAY (7529)
---
Sunday February 2 at 7:30: Beyond The Pale, The high-energy Klezmer band kicks up a storm, with mandolin, violin, accordion, clarinet, bass and piano. Tickets $15 at the door.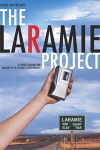 ---
February 12 to March 2, 2003 (main theatre):
Studio 180 presents the Canadian première of The Laramie Project
by Moisés Kaufman and members of the Tectonic Theater Project, developed in response to the murder of Matthew Shepard in Laramie, Wyoming.
Directed by Joel Greenberg with Lesley Dowey, Deborah Drakeford, Jonathan Goad, Marvin Hinz, Alison Lawrence, Mark McGrinder, Kimwun Perehinec, Dylan Roberts.
Wed-Sat at 8 pm, Sun 2 pm. Advance tickets, Ticketking: 416-872-1212 www.ticketking.com

---

February 20 to March 2, 2003 (Alternative): New Harlem Productions presents Black On Black, Black Thoughts On Black Experience, the renaissance returns. An evening of three plays by Donna Michelle. Tickets at the Toronto Hip Hop Cultural Arts Centre, 2830 Dundas Street West, 416-769-7749, A Different Booklist, 174 Bathurst Street and Another Story 164 Danforth Avenue. Thurs to Sat 8 pm, Sunday 2:30 $15


---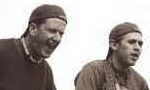 March 4-16, 2003 (Alternative): Painted Words presents Something Happened to Butch and Fritz, written and performed by fast-talking dynamic duo Dave Backus and Graham Vogt. Funny and touching, Butch yearns to seek the truth, hampered by Fritz who is aware of the sadness they will unearth. Tuesday to Saturday at 8 pm, Sunday at 2:30. Reservations and info: 416-532-4283
---

March 15 to April 6, 2003 (main):
The Pleiades Theatre presents Heart of a Dog adapted by Toronto writer Anne Nenarokoff-Van Burek from the 1923 Russian novel by Mikhail Bulgakov,
directed by Jean-Stéphane Roy, with Martin Albert, Eric Goulem, Patricia Marceau, Rafal Sokolowski as the dog, Sharik, and William Webster.
---

March 20, 21, 22, 2003 at 8:30 (Alternative): ARRAYMUSIC presents Scratch! a 3-day musical exploration: through improvised music, sound sculpture, experimental music, works composed for the ARRAYMUSIC ensemble question the tradition of composed music. Scratch Passes and advance tickets: (416) 532-3019
---

March 27 to April 13, 2003 (Alternative):
The Neil LaBute play Bash performed by John Gordon, Shannon Black and Chris Whitby, directed by Wayne Ward. Reservations through the St. Lawrence Centre Ticket Line 416-366-7723
---

April 10-13 and 24-27, 2003 (main):
Theatre Gargantua presents Exit Room, a multi-disciplinary piece exploring fear and manipulation, written by Michael Spence. It combines an inventive use of sets with innovative movement and original music and text. For reservations call 416-260-4660
---

April 13, 2003 at 6 pm (main): Lacouray & Ratiray an evening of Trinidad Ole talk, Comedy and Kaiso, featuring Rhoma "Lady" Spencer, Roger Gibbs and calypsonian Crooner. Tickets: $ 20. Available at the door. Reservations: 416-487-6042, 416-967-5327 416-696-0329
---
April 17, 2003 at 8 pm (main): Gary Cristall Artist Management presents John Millard & Happy Day (somewhere between a bluegrass band and a cabaret ensemble - vibes, banjo, four singers, accordion and bass) release their new CD "Citizens Awake!" with a special concert on Thursday, April 17, 8 pm, $18. To reserve, leave a message on Artword's info line 416-408-2783
---
April 19, 2003 at 8 pm (main): Gary Cristall Artist Management presents pianist Lee Pui-Ming in "Wei ji" a concert of composed and improvised new work, with Victor Bateman on bass, Peter Lutek on saxophone and Romano DiNillo on percussion, Saturday April 19, 8 pm $18. To reserve, leave a message on Artword's info line 416-408-2783

---
May 2 to 25, 2003 (main): This Could Be Love, a comical musical,
book, music and lyrics by Brock Simpson, directed by Steven Morel, starring Jonathan Crombie and Krista Sutton. Tuesday to Saturday at 8 pm, Sat and Sun at 2:30 uesday pay-what-you-can, matinees $20, Wed-Thur $25, Fri $30, Sat $35. Reservations: call 416-504-7529
---

May 27 to June 15, 2003 (main):
Rasik Arts presents A Drop of Blood, an English-language version, by Canadian Sally Jones, of the Urdu performance piece, Ek Qatra Khoon
created and performed by Rajasthani actor Ashwatthama JD.
Tues & Wed at 8 pm: $15, Thurs at 8 pm: $20, Fri & Sat at 8 pm: $25
Sat at 2 pm and Sun. 2 pm & 6 pm: $20
Call Rasik Arts at 416-654-9231. Returning to Artword for two nights Joly 24 and 25 at 8 pm
---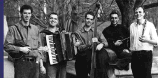 Saturday June 21 at 8 pm (main). A concert by Beyond The Pale, with special guest Josh Dolgin. An evening of Klezmer, Yiddish, East European Folk and original music, featuring mandolin, violin, accordion, clarinet, bass and piano. Tickets at the door, price TBA. More info about the band on their website: http://www.beyondthepale.net
---

July 2-13, 2003 (main):Toronto Fringe Theatre Festival, at many venues around Toronto, including Artword. The Fringe website has show details: http://www.fringetoronto.com
---
July 7 to 18, 2003: (Alternative) Shakespeare for Kidz Summer Program, a two-week course in acting, music, movement, design and other theatre fun, for children aged 7 to 9 and 10 to 12. Limited enrollment. Mon-Fri 9 am to 4 pm. Call Michael Kelly, Shakespeare in Action 416-703-4881.
---

July 22 to Aug 3, 2003: (Alternative)
Allegoria Productions presents Portrait, a new play by Marisa Victor with Grania Maguire and Stephen Near. A woman obsessed with her artistry... meets a man obsessed with his importance. Preview July 22 at 8 pm: $12, Tues-Sat 8 pm: regular $15, students/seniors $12, Sun 2:00 pm: pwyc. To reserve call 416-366-7723.
---

August 7 to 17, 2003 (main and Alternative): Summerworks Theatre Festival 2003, at Factory Theatre and Artword. Check out their website for show details: http://www.summerworks.ca
---