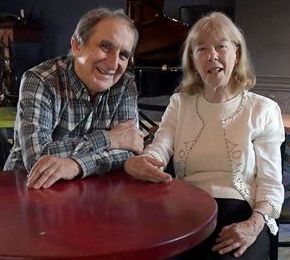 Artword is the creative team of Ronald Weihs and Judith Sandiford. Ronald Weihs has been writing and directing for theatre since university days, as well as playing his fiddle in theatre shows and in bands. See his full resume here: Ronald Weihs resume.
Judith Sandiford has been a visual artist on-and-off since her art-school days. She also been, among other things, a typesetter, a journalist, a magazine editor, an art gallery administrator, and, since she met Ron, a theatre designer.
Artword Theatre in Hamilton
Ron Weihs and Judith Sandiford moved to Hamilton in 2007.
In 2008-2009 they became the resident theatre company at The Pearl Company. There they developed the 2nd floor performance space and created a season of four shows.
In July 2009, they opened Artword Artbar 15 Colbourne Street off James Street North, a venue for theatre, live music and spoken word performance, with an art gallery downstairs.
In 2012/2013, they also produced a four-show season at The Lyric Theatre: two new shows 1812 The Songbook and James Street and two revivals If Cows Could Fly and Tobacco Troubadour.
In 2013 they added more stage area and lighting to Artword Artbar for their own brand of original ensemble theatre: Scroogissimo!, James Street, MacBush, the Musical, Langston Hughes vs Joe McCarthy, Cu'Fu? and Charly's Piano.
In September 2019 they sold the 15 Colbourne building. Performances at Artword Artbar continued up to November 17, 2019. (The final concert, by The Hill Brothers, is now up on our YouTube channel.)
From February 2020 going forward, Ronald Weihs and Judith Sandiford, as Artword Theatre, continued to create original theatre in Hamilton on a project-by-project basis. Their first 202o project Walter: My name is Walter James Cross and I have schizophrenia was closed March 13, a day before the end of its run, due to the Covid-19 quarantines.
Artword Theatre in Toronto
1994-1999: Ronald Weihs and Judith Sandiford created the first version of Artword Theatre in 1994, in a second floor studio in an old factory building on Portland Street in downtown Toronto. It was there that they began their unique blend of original theatre, music and dance concerts, spoken word and storytelling events.
1999-2006: In 1999, with the help of supportive landlords, and some visionary policies of the City of Toronto, they created a major performance space: a 150-seat mainspace and a 60-seat studio theatre. There they developed their own original works of theatre, and provided a home to many of the best independent theatre companies in Toronto. The sale of the building in 2006 to a condo developer forced the pair to wind down abruptly. Here is the link to the archive website for Artword Theatre 1994 to 2007
2007-2009: Weihs and Sandiford moved to Hamilton in 2007. In 2007-2008 they prepared and presented If Cows Could Fly by Allan Merovitz at the Irving Greenberg Theatre Centre in Ottawa. Full houses every night in the middle of a blizzard.
Artword Theatre Online
Artword Theatre has a Youtube channel: Artword Theatre channel on YouTube We are preparing and posting archived video versions of our past theatre works.