The longer version of the Artword Theatre story
Artword is the creative team of Ronald Weihs and Judith Sandiford.
Ronald Weihs has been writing and directing for theatre since university days, as well as playing his fiddle in theatre shows and in bands.
Judith Sandiford has been a visual artist since her art-school days. She also been, among other things, a typesetter, a journalist, a magazine editor, an art gallery administrator, and, since she met Ron, a theatre designer.
We have been in Hamilton for fourteen years (since 2007). We came driven by necessity, but we have come to love Hamilton, its creative community, its history and the generous spirit of the people here.
---
Artword in Toronto
We came to Toronto in 1982, having both lived in British Columbia for about seven years. Ron wrote plays and Judith exhibited paintings. We produced our art magazine, Artword Artists Forum.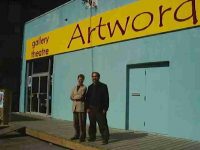 In Toronto, in 1999, we did a very ambitious thing. Without any funding, we decided to build a theatre similar in scale and ambition to Theatre Passe Muraille or Tarragon Theatre. We built it with great assistance from our landlords, three brothers from Pakistan. One brother told us that they wanted to help us because he knew that we worked to benefit others, not just ourselves. These were Muslim principles. And "we worked as hard as they did."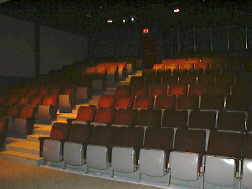 We built a 150-seat theatre and a 60-seat alternative space. The Main Space had soft comfortable seats, rescued from a cinema that was being torn down, and a sprung stage beloved of dancers. The 70′ x 15′ lobby had sixteen-foot ceilings, and we turned it into a magnificent gallery space.
Judith was on site during the renovation, functioning as the General Contractor, and supervising the construction. When it was all finished, she was the Managing Director. We had two wonderful Technical Directors, Leyla Tshongo and Jason Golinski. They were always able to get excellent technicians, because Judith insisted on paying them the going rate before they left.
To pay our bills, we relied on renting our spaces to theatre companies, who had difficulty finding theatre space in Toronto. Independent contemporary dancers and dance companies loved our space. In particular, the vibrant Black Dance scene found a home at Artword.
Our programming was what is now called "diverse", but which we considered "normal". In addition to the dance companies, we hosted Jean and Dinah from Trinidad, the Indian drama Umrao, a dance group Mogwana from Botswana, and musician M'bemba Bangoura from Guinea. Native Earth Theatre brought Tales of an Urban Indian and Paul Thompson directed The Artshow, a play about Daphne Odjig.
There were seven plays by the AfriCan Theatre Ensemble at Artword Theatre. Ron was the resident director of that company for four years, directing three African plays (Death and the King's Horseman by Nigerian author Wole Soyinka in May 2004, Fate of a Cockroach by Egypt's Tawfik Al-Hakim in April 2005), and Market of Tales, a collective creation.
We always knew, however, that our landlords intended to sell the property. We had about seven good years, but in 2006 our building was sold.
---
Artword in Hamilton
Real estate in Toronto had gone through the roof. We looked all over Toronto, in ever-widening circles. Finally, in Mimico, we looked at a ghastly place. Judith said, "There's an interesting building in Hamilton that Ron saw in the listings. We figured we were halfway there. "How do we get to Hamilton?"
We didn't end up buying that building, though we tried. We did, however, see the house of our dreams, at a price we could actually afford. So we moved to Hamilton.
Like typical Torontonians, we thought we would be bringing culture to Hamilton. We soon learned differently. The lessons started with our first Art Crawl, when we visited Bryce Kanbara's You Me Gallery, and heard the Hill Brothers playing bluegrass like nobody's business at the Blue Angel Gallery. We took Barbara Milne's Art Bus tour, ending at the Pearl Company. We realized right away that Gary Santucci and Barbara Milne were kindred spirits.
We very quickly became aware of the vibrant cultural life of our new home. We were humbled. Particularly, because there was a quality in the cultural scene in Hamilton that we had not found in Toronto – a generosity of spirit, a sense that we were all working together, not competing with each other.
---
The Pearl Company 2008-2009
Gary and Barbara asked us if we would like to help program the Pearl Company, and do some plays there. They both had a lot on their minds at that point, and needed someone to pick up the slack.
We did four plays in the 1908-09 season. We held auditions, and found a company of actors to work with. We called them the "Artword Ensemble", and they formed the nucleus of the acting company that we have worked with ever since. We also got to know some of the dancers, musicians and visual artists in Hamilton.
After a year at the Pearl, we decided to find a space of our own. Two art centres were better then one, after all. We continued to think of ourselves as kindred spirits with The Pearl, and we've been friends and collaborators ever since.
When we came to Hamilton, our original plan was to build a theatre space similar to the one we created in Toronto. However, we started to think that this was not the right answer. Hamilton has a thriving Community Theatre scene, in their own theatre spaces. There was Theatre Aquarius with two spaces, The Staircase, and McMaster.
We found a little sports bar, Three Amigos, just off James Street, and made a classic paradigm shift.
How about an Artbar? An art space that could accommodate Hamilton's musicians? We could make our money from selling beer and wine, and pay our artists with the door. They would set the admission price, and get it all.
---
Artword Artbar, 2009…
We took possession of the building that became Artword Artbar on July 31, 2009, and worked hard with Tanis Macarthur and Jon-Gordon Odegaard to be ready for September Art Crawl.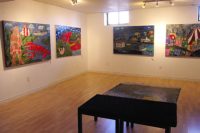 Our downstairs room we turned into a studio gallery space. Judith curated art shows, on roughly a monthly basis. We were happy to be part of the Art Crawl, when people would come to see the art, and then stay to hear the music.
On October 3, 2009, Judith hung the first art show in the downstairs gallery: Steven McCabe, followed in November by Maureen Paxton and in December by Ellen Irving [image above]. There were 37 monthly art shows, until October 2014 (Dave Gould showing musical instrument sculptures made of bones).
Programming events at Artword Artbar has always been the work of Judith Sandiford. It's a huge job selecting and scheduling performers, creating promotional materials for the website and calendar, and coordinating the performances. In ten years, there have been 1,454 separate events, including music, theatre, dance, poetry, spoken word, comedy and public meetings.
---
The Tribal Gallery at Artword 2009 to 2013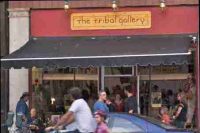 Gwen Duncan, owner of The Tribal Gallery, presented a series of amazing concerts at Artword Artbar, from 2009 to 2013. Her shop, The Tribal Gallery, was a storefront on James Street North, full of exotic  jewellery from North Africa, fabrics, carpets, and artworks. Her love of music was equally exotic: Persian, Turkish, Egyptian, Chinese, Gypsy, Balkan, Gospel, Cajun, Metis, and Blues musicians.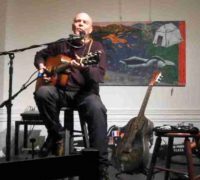 We started working with Gwen in 2009 when she brought the remarkable blues guitarist Michael Pickett to our stage on Saturday December 12, 2009. The stage platforms were in place, but not much else. On the upstage wall is a painting by Ellen Irving, whose art show was in the Gallery.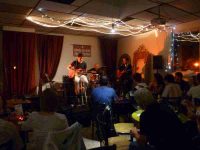 The photo left is the first official Tribal Gallery show on our stage, August 21, 2010, performed by blues guitarist Jordan John, with his father Prakash John on bass.
Gwen curated a total of 38 concerts of Blues and World Music, bringing a wide range of superb musicians under the banner of The Tribal Gallery, from May 15, 2010 to October 12, 2013.
---
Jazz comes to Artword Artbar
Our personal tastes in music are very wide, so we had all kinds of music: country, bluegrass, singer-songwriter, classical and jazz. Not very much rock music, because Lou Molinari was doing a good job of that up the street at This Ain't Hollywood.
Jazz really came to Artword thanks to students from the Mohawk music program, who needed a place to show what they could do. Although students, they were good musicians, and the jazz nights became popular.
The first Mohawk alumnus to get in touch was Emily Kemp. "Em and Them" played Saturday September 11, 2010: Emily Kemp vocals, Chris Bruder piano/keys, Jordan Snider drums, Tom Altobelli upright bass and bass, and Scott McIntosh guitar. This was the beginning of a decade-plus friendship and many concerts with these five wonderful musicians.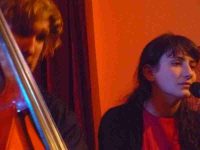 The next connection with Mohawk was vocalist Ruthie Pytka-Jones, who did a concert on October 14, 2010 with Victor Vrankulj upright bass, Jacob Goodwin guitar [image right]. Ruthie moved away, but the gates had been opened.
After these first two concerts, there was a steady flow of requests. At first, we were asked "What do you want us to do?" "Wrong question," we would reply, "This is a chance for YOU to try out what YOU want to do." It was exciting to see how the musical adventures unfolded.
After a while, their teachers discovered us, and we had musicians of national and international stature asking for a date in our schedule. However, the students always remained an essential component, and it was our pleasure to watch them mature artistically and launch professional careers.
---
A season of theatre at The Lyric, 2012-1213
However, we still thought of theatre as something that had to happen in a theatre. In 2012, when Patrick Brennan told us that he was renovating the old CHCH building into the Lyric Theatre, we were very excited. We gave him some of our equipment, and committed ourselves to four productions in the first season.
The productions went well, but it turned out that the building was really beyond repair. There was no second season.
---
Theatre at Artword Artbar from 2014
Then we thought: do we really need a theatre? How about doing theatre productions at Artword Artbar? We expanded the stage, built a lighting grid out of black gas pipe, and pretty soon we had a nifty little theatre. Best of all, unlike most theatres, the audience could drink beer and wine while they watched.
In Artword Artbar we produced ten Artword Theatre productions (some remounted) :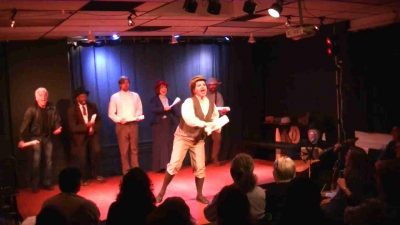 James Street (3) – [image right 2014],
MacBush: The Musical (2),
Scroogissimo (4),
Langston Hughes vs Joe McCarthy (3),
The Man in the Vault,
The Decision,
Charly's Piano (2),
Cu'Fu (2),
Transformation, and
Trumpet Romance.
We are proud also that we provided a home for other theatre companies: Swingin' in St. John's (Chasing Shadows Productions), Drinking, Fighting and Fishing (Julian Nicholson), The Rise of the Prickly Pear (Red Betty Theatre), The Lost Years (Peter Gruner), In the Belly and Know Your Enemy (Insurgent Theatre), The Keith Richards One Woman Show (Suitcase in Point Theatre), See Bob Run (Laura Ellis), Romeo and Juliet: An Escapist Comedy (Make Art Theatre), 23:30 (Mikey Henley), Draft Dodger (Ray Rivers).
---
Sky Gilbert and other guest theatre productions at Artword
Sky Gilbert (founder of Buddies in Bad Times Theatre in Toronto) found a home for his Hammer Theatre productions in Hamilton. He produced seven plays at Artword Artbar:
Hamilton Bus Stop, 2010
Naked Hamilton, 2012 & 2014
An Evening with Lucky Jim Lacroix, 2013
Toller, 2015 and 2016
Princess, 2016
Cherie, 2017
Bungalow, 2019
With the theatre companies we followed the same policy as with musicians: we did not charge them rent, and they kept all of the box office. We covered our costs with bar sales.
We participated in the Hamilton Fringe Festival as a Bring Your Own Venue for six years, from 2014 to 2019. Each year we mounted a Fringe show of our own, and hosted two other guest productions. In 2012 we were the Fringe Club House, with a nightly Talk Show by comedian Larry Smith.
Artword Theatre's productions in the Fringe:
2014 Trumpet Romance with Stuart Laughton,
2015 Transformation with Learie Mc Nicolls,
2016 Once I Lived in the Box with Learie Mc Nicolls,
2017 Langston Hughes vs Joe McCarthy with Learie Mc Nicolls and Howard Jerome,
2018 The Man in the Vault, by Ronald Weihs
2019 Charly's Piano with Charly Chiarelli.
---
Artword and Dance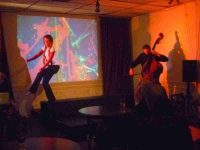 We've always had a fondness for dance. From 2010 to 2012, we hosted 15 evenings of improvised dance and music called Behind the Kiln, organized by Tanis Macarthur, featuring improvised music by invited musicians and real-time video mixing by Judith Sandiford [image right].
From 2014 to 2017, we did a new series called Big Dance Little Stage (12 events) organized and curated by choreographer Learie Mc Nichols. This also included real-time projections. [Image below right.]
In 2014, Learie Mc Nicolls turned the downstairs space into a dance studio, and became Artword Theatre's Choreographer in Residence.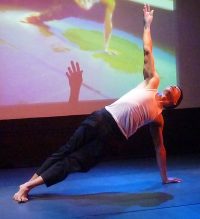 His own dance productions included Transformation (directed by Ronald Weihs), Once I Lived in the Box, The Parrot of Paradise, Seven Duets, Night Journey, and Fairy Tale.
Learie choreographed productions of James Street and MacBush: The Musical. For about two years, he also contributed jerk chicken dinners and Trinidad-style patties to the Artword Artbar menu.
---
After Artword Artbar
In 2019, Artword Artbar was in its tenth year. We were ready for new challenges. We started to consider selling.
Just then, in June, an agent phoned with an ideal offer. A Hamilton architectural design company, SMPL, wanted our very building for its home office. They knew exactly what they would do and how much they wanted to pay. In September, we announced that Artword would close in November.
On November 15, we had an evening devoted to our theatre productions. On November 16 and 17, The Hill Brothers played two farewell concerts (the first sold out in a couple of hours).
Just then, David and Marlaise Dawson, of Gallery on the Bay asked us if we wanted to collaborate on producing theatre. We had already co-produced two of David's plays, MacBush: The Musical and The Decision. We agreed.
We started with a script of David's, Walter: My Name is Walter James Cross and I Have Schizophrenia. We found a promising space, Saint Andrew's Hall at Saint Peter's Presbyterian Church. We brought in lighting and sound equipment, and banners to reduce the echo.
The show was closed a day early, due to Covid-19. Fortunately, Gabe Etele had done an excellent video and sound recording of one performance, and we were able to turn this into an excellent feature-length video.
We can't believe our good fortune in selling Artword Artbar just before the pandemic hit. A friend asked me to buy lottery tickets for him.
---
Nice Comments from Reviews
"Right now, there's a delightful little show being performed by Artword Theatre. Happily, it provides a lusty connection with Hamilton's past. It's called James Street, and it pays homage to a neighbourhood that's just evolved and evolved. It's a love song to Hamilton…" Gary Smith, Hamilton Spectator
"Over its 10-year existence, the Artbar became a hub for artists to develop their skills and for audiences to experience a wide range of music, theatre and dance. Weihs and Sandiford did much to develop local talent and build audiences." Mark McNeil, Hamilton Spectator
" 'Scroogissimo!' doesn't pretend to be anything more than a delightful evening of holiday entertainment. It works splendidly in the intimate space at the Artbar and you'd have to be a Scrooge yourself not to be captivated by its endearing charm." Gary Smith, Hamilton Spectator
"This play [James Street] has the ability to tell our story and to entertain us mightily at the same time. I recommend it to anyone who cares about this city. Artword Artbar is a great place to see it. It's an intimate venue, where every seat is a good one. The stage is a comfortable height, and the actors at times inhabit the audience part of the floor as well. The proprietors have an obvious love of their city and make an effort to present and celebrate it in their productions. Their respect for their patrons shows in every detail, from the LED-style stage lighting (to reduce excess heat build-up in the room) to the bright, clean washrooms, to the craft-style beer on tap at reasonable prices, plus a very welcoming vibe." Tony Kilgannon, Ontario Arts Review
[The Man in the Vault] "…a play that had me on the edge of my seat, like an unproduced Twilight Zone episode scripted by a young John Le Carré." Mark Fenton, Raise the Hammer
[Whoever You Are] "As Private Fromm, Pamela Gardner uses her aerial skills to great effect, tumbling and twisting to suggest the weightlessness of space. It was magnetic to watch her mimic movement in zero gravity while images of a space capsule floated gently behind her. When I heard that Whoever You Are would feature an aerialist, I was surprised. The Artbar is modestly sized with a relatively low, drop ceiling. But where there's a will there's a way, and the folks at Artbar have plenty of heart. Throughout, Artbar cofounder Judith Sandiford captains the sound, projection and lighting cues in quietly capable fashion." Allison Jones, View Magazine
---
Chronology
In 1979, Judith Sandiford and Ronald Weihs met in British Columbia when Ron was touring Highball!, a play about logging, to logging communities along the coast. Judith painted a 40-foot backdrop and came along to wrangle the actors.
In 1982, they moved back east to Toronto, where Ron's play The Wobbly (about the Industrial Workers of the World) was being produced at Toronto Workshop Productions, directed by George Luscombe. Judith pursued an art career, co-founded a collective art gallery called WorkScene, and edited a quarterly art magazine. Ronald continued to write and direct plays.
In 1994, they created the first version of Artword Theatre, in a second floor studio in an old factory building on Portland Street in downtown Toronto. It was there that they began their unique blend of original theatre, music and dance concerts, spoken word and storytelling events.
In 1999, with the help of supportive landlords, and some visionary policies of the City of Toronto, they created a major artspace: a 150-seat mainspace theatre, a 60-seat studio theatre and a beautiful art gallery with high white walls. There they developed their own original works of theatre, provided a home to many of the best independent theatre and dance companies in Toronto, and presented many art shows.
In 2006,the sale of the building to a condo developer forced the pair to wind down abruptly.
In 2007, Weihs and Sandiford moved to Hamilton. In 2007-2008 they prepared and presented If Cows Could Fly by Allan Merovitz at the Irving Greenberg Theatre Centre in Ottawa.
In 2008-2009 they became the resident theatre company at The Pearl Company. There they developed the 2nd floor performance space and created a season of four shows, based on Hamilton themes. You Are What You Do, Rascals & Numskulls, Sunamabeach, and Tobacco Troubadour.
In July 2009, they bought a cafe-bar at 15 Colbourne Street near James Street North, called it Artword Artbar, and began a listening room for live music and spoken word performance.
In 2012/2013, they also did a four-show season at The Lyric Theatre: two new shows, 1812 The Songbook and James Street and two revivals, If Cows Could Fly and Tobacco Troubadour.
In 2013, they added more stage area and lighting to Artword Artbar for their own brand of original ensemble theatre. These included Scroogissimo! (2013, 2014, 2016), James Street (2014, 2015), David L. Dawson's MacBush, the Musical (April & November 2016), Langston Hughes vs Joe McCarthy (several iterations in various formats to 2019), a remount of the Charly Chiarelli favourite Cu'Fu? (2011, 2017),Charly's Piano (2017, 2019), and Whoever You Are (2019).
In September 2019 they announced that they had sold the 15 Colbourne building to new owners who would take possession on December 5, 2019. Performances at Artword Artbar continued up to November 17.
In March 2020, they produced Walter: My name is Walter James Cross and I have schizophrenia at Saint Peter's Presbyterian Church. The play closed March 13, a day before the end of its run, due to the Covid-19 quarantine.
---
---
What is Artword?
This is the original statement of purpose from 1993. We have maintained these principles ever since. The first core value is our way of affirming that everyone, regardless of ethnicity, religion or sexual orientation, will find support and encouragement.
Artword is based on the principle that the people who do the work should make the decisions. In the arts, this means that artists should create and control their own artistic environment and products. Artword was created by artists who believe in the importance of the arts to the rest of the human community.
Artword's Mission:
To provide an environment for artists to create the best work of which they are capable and to share that work with the Canadian public.
Core values:
We treat everyone equitably and with respect.
We maintain a positive, humane and nurturing environment for artistic creation.
We treat our audience with respect, presenting work that is relevant and appealing to them.
As artists, we embrace the risks and the responsibilities for what we produce.
We respect and encourage a wide variety of artistic expression.
We strive to build a spirit of community among artists.
We believe that all the arts and creative processes should work with one another.
We present work that we believe in, that affirms the human spirit, that embodies artistic energy and commitment, and that strives to improve the human condition.
---