Artword Theatre is the creative team of Ronald Weihs and Judith Sandiford. From 1994 to 2006 they created and operated theatre facilities in Toronto at 75 Portland, first a studio, then from 1999, a major 150-seat theatre with gallery and studio. When condo developers took over, they moved to Hamilton in 2007.
From August 2009 to November 2019, we owned and operated Artword Artbar, 15 Colbourne St,, a licensed cafe-bar off James North, with live music, dance and theatre performances. Visit the Artword Artbar website for the performance history: Artword Artbar
Brief History of Artword Theatre:
Ronald Weihs and Judith Sandiford created the first version of Artword Theatre in 1994, in a second floor studio in an old factory building on Portland Street in downtown Toronto. It was there that they began their unique blend of original theatre, music and dance concerts, spoken word and storytelling events. In 1999, with the help of supportive landlords, and some visionary policies of the City of Toronto, they created a major performance space: a 150-seat mainspace and a 60-seat studio theatre. There they developed their own original works of theatre, and provided a home to many of the best independent theatre companies in Toronto. The sale of the building in 2006 to a condo developer forced the pair to wind down abruptly. Here is the link to the archive website for Artword Theatre 1994 to 2007
They came to Hamilton, where in 2008-2009 they became the resident theatre company at The Pearl Company. There they developed the 2nd floor performance space and created a season of four shows (one remount and three new works, based on Hamilton themes): You Are What You Do, Rascals & Numskulls, Sunamabeach, and Tobacco Troubadour.
In 2009, they bought a little cafe-bar on Colbourne near James, called it Artword Artbar, and began a listening room for live music.
In 2012/2013, they also did a four-show season at The Lyric Theatre: two new shows 1812 The Songbook and James Street and two revivals If Cows Could Fly and Tobacco Troubadour.
In 2013 they added more stage area and lighting to Artword Artbar for their own brand of original ensemble theatre: Scroogissimo! (2013, Nov-Dec 2014, Nov-Dec 2016), James Street (2014 & May 2015), and David L. Dawson's MacBush, the Musical (Apr & Nov 2016), Langston Hughes vs Joe McCarthy (several iterations in various formats to 2019). Also on stage were two plays by Charly Chiarelli, directed and dramaturged by Ronald Weihs: a remount of the Chiarelli favourite Cu'Fu? (2017) and a new play Charly's Piano (2017 and 2019).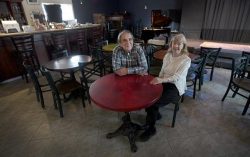 In September 2019 they announced that they had sold  the 15 Colbourne building to new owners who take possession on December 5, 2019. Performances continue up to November 17. (See photo left by Cathy Coward for the Hamilton Spectator].
Ronald Weihs and Judith Sandiford, as Artword Theatre, will continue to create original theatre in Hamilton on a project-by-project basis, in various venues.