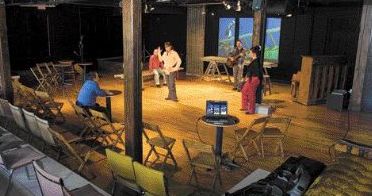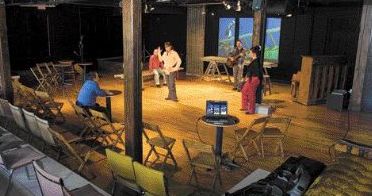 First show in Artword's new Hamilton home
October 15, 2008 Jeff Mahoney, The Hamilton Spectator
For those whose energies can't be contained by just one creative activity, there's the idea that the individual arts (painting, music, writing, etc.) make up a family. The potential of each is best fulfilled when it comes out of its separate room to interact with the others.
[Image: rehearsal at The Pearl of You Are What You Do, opening October 16, 2008.]
Theatre, film, opera, stage shows — collaborative forms of all kinds — appeal to the integrative impulse of the most ambitious in the arts.
Ronald Weihs and Judith Sandiford know it well. It is, in a way, a basis for their relationship. She's a visual artist and set designer. He's a playwright, director and producer.
Together they were living their vision — an alternative, multi-stream laboratory of theatre/art — in the old garment district of Toronto. On Portland Street. They ran plays, arts shows and some publishing projects (Artword magazine) out of a performance/studio space in a renovated factory — a 30-foot span with no pillars, with 16-foot ceilings, sprung dance floor, raked seats, a 70-foot long building.
"No one believed we could have such supportive landlords," says Sandiford. "They respected how hard we worked."
It was called Artword, and it lasted from 1993 to 2006, first at a 60-seat theatre at 81 Portland, then at the larger building [next door] at 75 Portland, which housed a 150-seat multipurpose space, a 60-seat studio theatre and a 1,500-square-foot art gallery.
They were highly thought of and staged many popular productions, both their own and the work of other groups to whom they rented space, such as the African Theatre Ensemble. They did Allan Merovitz's If Cows Could Fly, Weihs' Sur (based on Ursula K. Le Guin) and Cu'Fu, by Hamilton's own Charly Chiarelli. Much more. Not to mention the numerous art exhibitions.
Then, in 2006, their landlords, helpful as they'd been, could no longer resist market pressures. They sold the building to a condo developer. The new owner gave them four months' notice.
"We locked up the back doors of a 48-foot trailer and drove out into sunset with our theatre and art gallery in it," says Weihs.
This weekend Artword kicks off its first season in Hamilton, at The Pearl Company, 16 Steven St. When Sandiford and Weihs went looking for a new home, they scoured the MLS listings of the GTA, but one day they literally turned around on the QEW, came to Hamilton and ended up putting an offer in on a building.
That offer didn't go through, but instead they found a house on Prospect Street three times the size and half the price of anything they'd been looking at in Toronto.
And then they found Gary Santucci and Barbara Milne, who own and run The Pearl Company, another renovated factory being used for the family of the arts, this one in Hamilton. So, they decided to use that space.
"We thought we were unique," says Weihs. "But here in Hamilton there's a couple as crazy as we are."
So the vision continues. Sandiford and Weihs have assembled an ensemble cast for the musical You Are What You Do. It's a new play by Weihs, who has written many over the years, including The Beavers (an Aristophanes-style satire), The Wobbly (with George Luscombe) and Highball!, a musical about logging, which he toured through B.C. logging country in the '80s. Sandiford, whose art draws on themes from physics and cosmology, has helped create an innovative set with graphics for the unique stage.
You Are What You Do is a theatrical collage of stories based on the lives of working people. It previews tomorrow, opens Friday and runs to Oct. 26, with shows Thursday to Saturday at 7:30 p.m. and Sundays at 2 p.m. …
"We believe in a theatre that is full of fun and theatricality while it deals with things that matter." says Weihs.
The approach, a tad Brechtian, is more horizontal and involving of the audience than conventional theatre.
Are Weihs and Sandiford part of the Toronto wave, attracted by affordability, which Hamiltonians have come almost coltishly to expect as our salvation? Well, there are Sky Gilbert, Ian Jarvis, others. Wave? Not yet. Maybe something between a smattering and an influx. But we're glad to have them.
jmahoney@thespec.com      http://www.thespec.com/Entertainment/article/450514