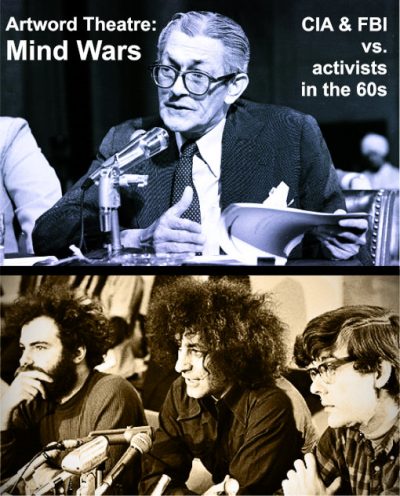 Wednesday and Thursday March 15-16, 2017. Artword Theatre presents 
Mind Wars
: a theatrical exploration about the 1960s, when politics became a struggle over reality and perception. Readings from actual testimony and interviews bring back the Yippies vs the CIA, Black Activists vs the FBI, brainwashing, mind control and propaganda of the era.
Conceived and assembled by director 
Ronald Weihs
.
Performed by Pamela Gardner, Tom Dusome, Howard Jerome, Tamara Buckland and Learie Mc Nicolls.
This is the second in a series of theatre projects in the works, with Artistic Director Ronald Weihs.
8 pm, pwyc/$10,  To find out more, call 905-543-8512 or email: rweihs@artword.net,
---
Excerpt: QUESTION: Will you please identify yourself for the record?
ABBIE: My name is Abbie. I am an orphan of America.
QUESTION: Where do you reside?
ABBIE: I live in Woodstock Nation.
QUESTION: Will you tell the Court and jury where it is?
ABBIE: Yes. It is a nation of alienated young people. We carry it around with us as a state of mind in the same way as the Sioux Indians carried the Sioux nation around with them. It is a nation dedicated to cooperation versus competition, to the idea that people should have better means of exchange than property or money, that there should be some other basis for human interaction. It is a nation dedicated to–
QUESTION: Just where it is, that is all. Nothing about philosophy or India, sir. Just where you live, if you have a place to live. Now you said Woodstock. In what state is Woodstock?
ABBIE: It is in the state of mind, in the mind of myself and my brothers and sisters. It is a conspiracy. Presently, the nation is held captive, in the penitentiaries of the institutions of a decaying system. "