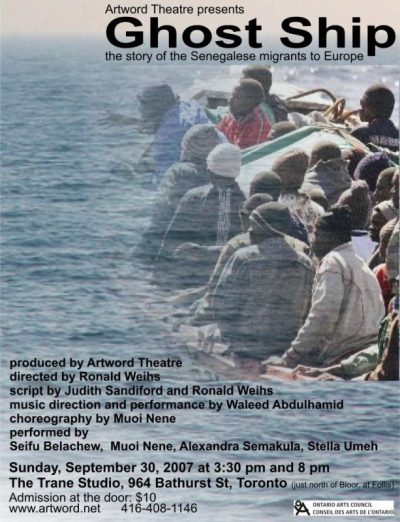 September 30, 2007. Artword Theatre's Ghost Ship tells the story of the recent perilous migrations in small boats by West Africans attempting to reach Europe via the Canary Islands. The "ghost ship" of our title is a small boat discovered adrift off the coast of Barbados in April 2006. In the boat were 11 emaciated corpses. Who were they? Where did they come from? They were young men from Senegal who had set out for the Canary Islands, but ended up drifting over 4,000 kilometres across the Atlantic.
This incident brought world attention to the phenomenon of migrants from West Africa setting out to the Canary Islands in small boats, traditional fishing boats, canoes or pirogues, and the larger cayucos, not intended for long voyages across open ocean  These migration attempts were just beginning in 2004 and reached crisis proportions in 2006. The migration is extremely dangerous, and has resulted in great loss of life. Yet the young people in West Africa continue to choose to take the risks rather than remain at home.
The script of Ghost Ship is based on factual material, including first-hand accounts and forum discussions on Senegalese and other websites, and direct voices in news articles. The  criticized president of Senegal is Abdoulaye Wade. The mother who campaigns against the migrations is Yayi Bayam Diouf. One of the songs in our show "The promises you made" is our response to Senegalese rapper Didier Awadi's song Sunugaal.
Most of the emigrants are young men (and some women and children) who have no economic prospects back home. Some are refugees from other parts of Africa displaced by civil instability. The collapse of the local fishing industry on the Senegalese coast has been a major factor. The International Organisation for Migration (IOM) estimates that more than 27,000 migrants journeyed to the Canary Islands by boat in 2006 alone. Untold numbers have perished at sea. A Spanish observer on the Canaries has called this phenomenon "one of the most cruel and important immigration movements of our time."
---
The workshop production is Sunday September 30, 2007, 3:30 pm and 8 pm, at Trane Studio, 964 Bathurst St, Toronto.
Script by Judith Sandiford and Ronald Weihs,
Directed by Ronald Weihs,
Music direction and performance by Waleed Abdulhamid,
Choreography by Muoi Nene.
Performed by: Seifu Belachew, Muoi Nene, Alexandra Semakula, Stella Umeh,

Artword Cultural Projects acknowledges the generous support of the Ontario Arts Council for this development workshop of Ghost Ship.
Artword has assembled a strong ensemble for Ghost Ship, most of whom have worked with Ronald Weihs and Judith Sandiford on previous projects:
– Waleed Abdulhamid (music director/performer) is a noted Toronto musician of Sudanese background equally skilled in jazz and world music, was Music Director and performer for Market of Tales, a co-production by AfriCan Theatre Ensemble and Artword Theatre in 2005.
– Seifu Belachew (Mamadou, a migrant from Senegal to Spain) is originally from Ethiopia, and performed in Market of Tales.

– Muoi Nene (Diop, a former fisherman in Mbour, and Macky, a would-be migrant), originally from Kenya, has appeared in the ATE/Artword productions of Fate of a Cockroach and Market of Tales.
– Alexandra Semakula (Mima, a mother and would-be migrant) is originally from Uganda, and performed in the ATE/Artword production of Market of Tales.
– Stella Umeh (Yayi Bayam, a mother in Thiaroye, Senegal) is a former Olympic gymnast, who performed for over five years with Cirque de Soleil, and was most recently seen in Toronto in Pinteresque at Summerworks 2007. This is her first role with the Artword Theatre Ensemble.
---
Director Ronald Weihs comments: "Ghost Ship is the latest in a series of works over the years in which I have been exploring the interplay between the conventions of narrated story (epic voice) and theatre (dramatic voice). This mixing of conventions is particularly effective for material that is factual and issue-driven. The dramatic convention holds a mirror up to nature. The storytelling convention breaks through that mirror, engaging the audience directly, declaring "We want you to know this". Interweaving the two allows great flexibility. Everything changes from one moment to another. Naturalism becomes one device among many. Ideas can be depicted, spoken, sung or danced. Essential to this approach is ensemble acting. The company tells a story together, helping each other to do so, interacting like a jazz band. I look for actors who also have skills in music, movement and dance."