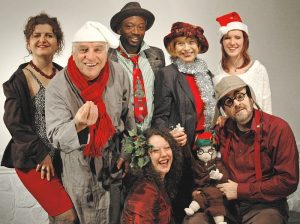 December 3 to 15, 2013. Artword Theatre (at Artword Artbar) presents a new comedy written by Ryan Sero and Charly Chiarelli, based on A Christmas Carol by Charles Dickens. Charly Chiarelli plays a crusty Sicilian north-ender called Scrugi, and our show is called (what else?) Scroogissimo! Throw in a dash or two of zany comedy (Sero-style), some Christmas carols, and plenty of fun. Directed and dramaturged by Ronald Weihs. With the Artword Theatre Ensemble: Pamela Gardner, Paula Grove, Valeri Kay, Gordon Odegaard, Jeremy Shand, with Jennifer Lockman on keyboard.
Where: Artword Artbar, 15 Colbourne Street.
Preview: Tues Dec 3 at 8 pm, $10. Runs Wed-Sat Dec 4-7 and Dec 11-14 at 8 pm; matinées Sun Dec 8 and Dec 15 at 3 pm. Tickets: regular $25, advance $20, children $12
Seating limited. To reserve: 905-543-8512 or online www.artword.net/artbar.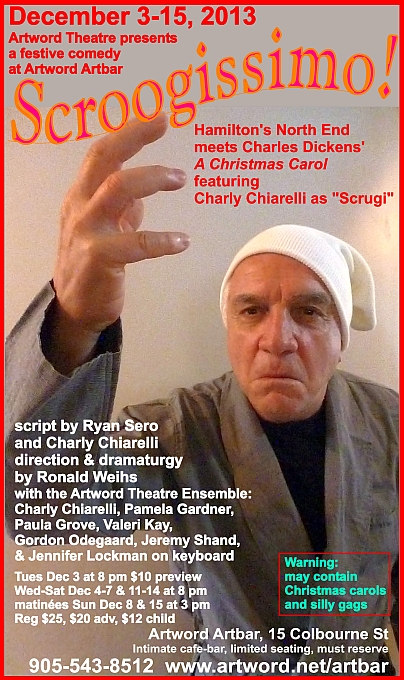 PRESS RELEASE: Artword Theatre presents a new play Scroogissimo! in December 2013
The North End meets Charles Dickens in Scroogissimo!, Artword Theatre's new play, a comedy based on Charles Dickens' A Christmas Carol. The show runs the first two weeks of December 2013 in the intimate setting of Artword Artbar.  Charly Chiarelli is featured as "Ebenezu Scrugi", a Christmas-hating old Hamiltonian from Racalmuto, Sicily, who finds himself haunted by three ghosts of the Past, Present and Future. The zany script is by Ryan Sero, with some help from Charly and director Ronald Weihs.
The idea for the play came from Charly, in a conversation last spring with Weihs and Judith Sandiford, Artword's producer and designer. Charly, who lives in Kingston, was in a big production there of A Christmas Carol every year for sixteen years. Charly said, "I had one line, but after sixteen years, I know all the lines." Ron and Charly thought, "Why not do our own version here? A North End version." Charly did some of Scrooge's lines North-End style, and Ron and Judith were soon aching with laughter.
So Charly got to work this summer. He "translated" all Scrooge's speeches into North-End English. He dictated them over the phone to Judith, who tried to figure out how to spell the words like "umbaggo" (humbug). Meanwhile, Ron had casually mentioned to Ryan Sero, Hamilton playwright and actor, that Ryan might write the script. Ryan replied, "Be careful what you wish for."
Ryan took the "Scrugi" speeches, and the original Dickens story, and put them through his own zany comedic  mind. The result is great fun, "datsa fo' shu." There are the ghosts of course (Christmas Present is a pasta-loving ample lady named Natalia), the parties, the revelations, all with a dash of Marx Brothers, and a touch of the Dickens social criticism.
The cast also includes Pamela Gardner, Paula Grove, Valeri Kay, Gordon Odegaard, and Jeremy Shand, all experienced practitioners of the Artword Ensemble style, with music by Jennifer Lockman (piano) and Ron "the Fiddler" Weihs.
Artword's approach to theatre is based on ensemble acting. Instead of using elaborate sets and costumes to depict formal scenes, the actors present the story in a non-realistic, storytelling manner, taking different roles as needed, surprising the audience with sudden transformations, and incorporating music, mime and dance. A high degree of skill and sensitivity is required of the performers, who all participate in the development of the production. The actors in Scroogissimo have all been in previous Artword productions, most recently in James Street and Tobacco Troubadour.
Ron and Judith have worked with Charly on all his one-man shows about Hamilton. Ron directed, and Judith designed, the first productions of Cu'Fu? and Mangiacake at Artword Theatre in Toronto – productions which were later filmed for Bravo Television. They also brought Charly's third play in the Hamilton trilogy Sunamabeach to the stage in 2009. Last November, Charly was in his first Artword Ensemble show, James Street, performed at the Lyric Theatre.