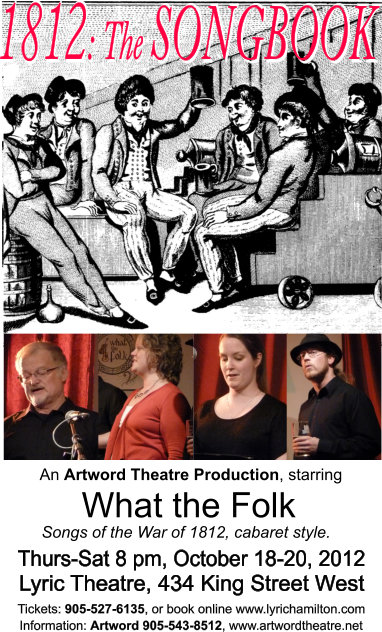 October 18-20, 2012. Artword Theatre presents 1812: The Songbook, a rollicking sing-along in music hall style (Artword @The Lyric) . Hamilton's popular folk ensemble What the Folk (Terry Ball, Geoff Ball, Carolyn Reid, Caroline Olsen, and drummer Eric Hanenberg) sing songs about the War of 1812, and play a variety of instruments. The audience is invited to join in. Yes, there will be songbooks, with lyrics of the period songs and anecdotes about the war, and in cabaret style, beverages available to warm up the throat.
Researched, assembled and scripted by Judith Sandiford and Ronald Weihs. Produced by Artword Theatre.
Music arrangements by What the Folk.
Venue: The Lyric Theatre, 434 King W, (905) 527-6135. Thurs-Sat at 8 pm Thurs: $19 regular, $16 seniors/students, Fri & Sat: $25 regular, $16 students/seniors.
Ticket (905) 527-6135 or http://tickets.lyrichamilton.com/
What The Folk? are a multi-talented group of seven singers/instrumentalists. They play a range of folk-based and classical music, ranging from instrumental celtic pieces to a capella songs with full-blown four-or-more-part harmonies. They play traditional tunes, songs of war, and covers of more recent artists like Stan Rogers and Great Big Sea. Who are "What The Folk?": Geoff Ball guitar, cello, vocals; Terry Ball vocals, violin, guitar, viola; Caroline Olsen vocals, violin, viola; Carolyn Reid vocals, flute. They are joined by Eric Hanenberg for some military drumming.
Battle of Queenston Heights
Upon the heights at Queenston, one dark October day,
Invading foes were marshalled in battle's dread array ;
Brave Brock looked up the rugged steep, and planned a bold attack,
"No foreign flag shall float," said he,
"Above the Union Jack ! "
His loyal-hearted soldiers were ready, every one,
Their foes were thrice their number but duty must be done.
They started up the fire-swept hill with loud resounding cheers,
While Brock's inspiring voice rang out
"Push on York Volunteers ! "
But soon a fatal bullet pierced through his manly breast,
And loving friends, to help him, around the hero pressed ;
"Push on," he said, "do not mind me," and ere the setting sun,
Canadians held the Queenston Heights,
The victory was won.
Each true Canadian patriot laments the death of Brock.
Our country told its sorrow in monumental rock ;
And if a foe should e'er invade our land in future years,
His dying words will guide us still
"Push on brave volunteers ! "