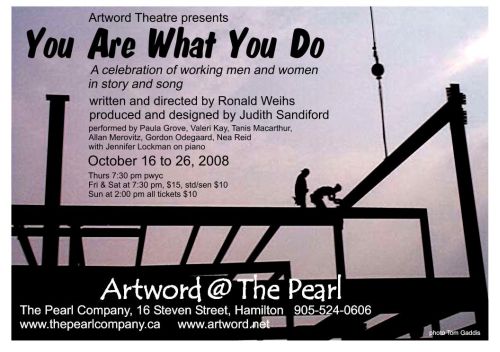 October 16 to 26, 2008, Artword Theatre presents  You Are What You Do, an original Canadian musical written and directed by Ronald Weihs, is a celebration of working men and women in story and song. The show launches the Artword @ The Pearl theatre season. The play, first performed in 1994, is a theatrical collage of stories gathered from men and women about how work has shaped their lives.
"Better not pick that up, he goes
You just might drop it and smash your toes.
Don't touch that, don't climb on that beam,
On and on until I'm ready to scream…"
The Radio Plays Love Songs, a jaunty country tune, is sung by a woman carpenter who was completing her third year apprenticeship and describes her confrontation with one journeyman who wouldn't let her try anything difficult. Other characters include a plumber, a punch press operator, a high steel painter, a bus driver, a cocktail waitress, a street-wise counsellor for runaway girls, a parking lot attendant, a garbage collector, a factory worker, and one man who describes himself as a "putterer".
You Are What You Do, a musical play, is:
written and directed by Ronald Weihs,
produced and designed by Judith Sandiford,
performed by Paula Grove, Valeri Kay,
Tanis MacArthur, Allan Merovitz,
Gordon Odegaard, Nea Reid,
with Jennifer Lockman on piano and Ronald Weihs on fiddle.
Thurs at 7:30 pm, pwyc; Fri & Sat at 7:30 $15 reg / $10 std/sen; Sun at 2:00 pm all tickets $10, at The Pearl Company, 16 Steven Street, Hamilton. Runs 90 minutes.
Artword Theatre's first production in its new home, Artword @ The Pearl, is an original musical play celebrating the lives of working people, written and directed by Artword's Artistic Director Ronald Weihs. The play, first performed in 1994, is a theatrical collage of stories gathered from men and women about how work has shaped their lives. The result is a high-spirited ensemble production, with a cast of six, that uses songs, mime and inventive staging to celebrate the energy and imagination of real people.
Back in 1994, You Are What You Do was Artword Theatre's first production in its first home at 81 Portland Street in Toronto. After 12 years of intense activity in Toronto, Artword has moved to Hamilton and teamed up with The Pearl Company. Artword's co-founders, Ronald Weihs and Judith Sandiford, chose You Are What You Do as a fitting way to inaugurate their new home in Hamilton.
"This is the kind of theatre we like to do. We use an ensemble approach in which the actors and musicians together interpret the life of the people around them. We believe in a theatre that is full of fun and theatricality, while it deals with things that matter." says director Ronald Weihs.
For more information about Artword Theatre, call Judith Sandiford at 905-543-8512
---
You Are What You Do: review by Gary Smith, The Hamilton Spectator, Wed. Oct. 22, 2008
There's a smart little show at The Pearl these days. It's filled with sometimes joyous, sometimes sad reflections about how people absorb the identity of their work It's beautifully written and directed by Ronald Weihs with an ensemble cast that quiver with earnest emotion.
Set against an evocative steel and wood landscape designed by Judith Sandiford, with projections that comment on the action onstage, it is a visually arresting experience.
It's well worth your time. You Are What You Do continues Thursday through Saturday at 7:30 and Sunday at 2 p.m. Artword at The Pearl, 16 Steven St.  http://www.thespec.com/Entertainment/article/453370
---
You Are What You Do: Review by Brian Morton, View Magazine Oct 23-29, 2008
It's rare to be there at the birth of something. But the first Artword production at the newly renovated theatre space at the Pearl Company is just that: the birth of something truly new and original on the local arts scene. The Artword Theatre Company is the latest in a series of cultural refugees from the Toronto Arts scene, who have now found a safe refuge in Hamilton's fertile cultural soil.
You Are What You Do is a new play, with music by Artword Artistic Director Ron Weihs. It is a rare experience at the theatre, in that it successfully weaves many disparate elements to become something that is greater then the sum of its parts. Using songs and personal narrative, it gives us an insight into the lives of ordinary working Canadians; much like the characters that peopled the songs of the late great Hamilton folksinger Stan Rogers.
In Weihs' play we find the "little people" who do what they have to in order to survive and yet still try to be happy in an imperfect world. Addiction, sexism, desperation, unemployment and homelessness are just a few of the issues the play addresses, but always with characters that have a keen awareness of their own vulnerabilities and needs. In the end they realise, sometimes you have to take whatever job you can get, and try to make something from the choice.
Several of the characters don't survive the struggle, but along the way they discover something of what it is to be Canadian, what is it to be working class, and what it is to have to make a living in the real world. Based upon actual field recordings of workers on the job made over 20 years ago, playwright Weihs has constructed a drama that verges upon the poetic, as he perfectly captures the nuances of real people authentically speaking about their lives.
The play is structured as a 1970s style docudrama firmly rooted upon the models of Canadian theatre pioneers like George Luscombe at Toronto Workshop Productions (who Ron Weihs apprenticed with), following in the footsteps of such works as their play Ten Lost Years, or the 25th Street Theatre's Paper Wheat. This form of script creation is one that has fallen out of style in the recent years, as it depends on an ongoing commitment from an ensemble of actors who must remain a part of each incarnation of the play in order for it to work successfully. I myself found it ironic that many of the cast were not even alive when this kind of theatre was at its height, and in that sense the play is both hip and contemporary, and yet is
Many jobs are represented in the play: Construction worker, bridge painter, factory worker, musician, and retail sales clerk are just some of the experiences we share with the ensemble. A real balance is created between the individual stories, some of which are quite tragic, with the real humor of everyday life in the workplace.
The cast of six (Paula Grove, Valeri Kay, Tanis MacArthur, Allan Merovitz, Gordon Odegaard, and Nea Reid), effortlessly portray at least 20 characters that are believable and compelling throughout. These are performances that are genuine, thoroughly professional and they certainly deserve a wider audience. Particular note should be made of the unusual mix of voices and vocal styles, which shouldn't obviously work and yet somehow do within the context of the play; as well as the clever use of space and objects and video projected imagery in Judith Sandiford's set and lighting.
In the end though, it is the songs themselves that you carry away with you leaving the theatre. It's a much richer experience then the typical Broadway style musical revue in that all of the music is original, it and skillfully continues the experience of the workers, although now through the medium of melody and lyric.
As something that is not the usual fare offered on the local scene, You Are What You Do is a must-see. It is a meticulously constructed piece of theatre that asks some real questions of its audience, and you cannot help but be enriched after experiencing it. … [BRIAN MORTON]