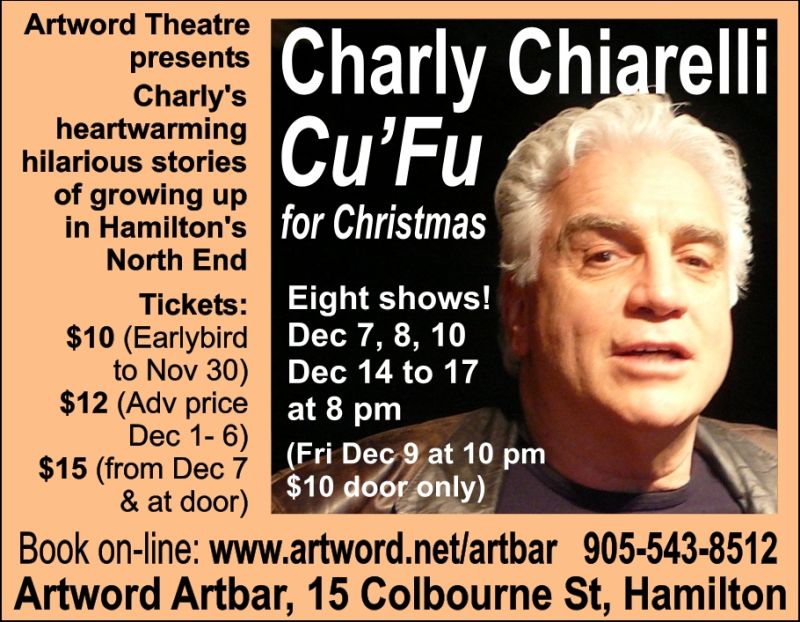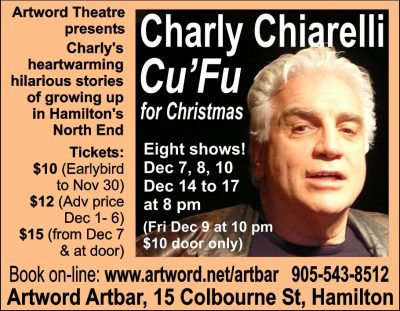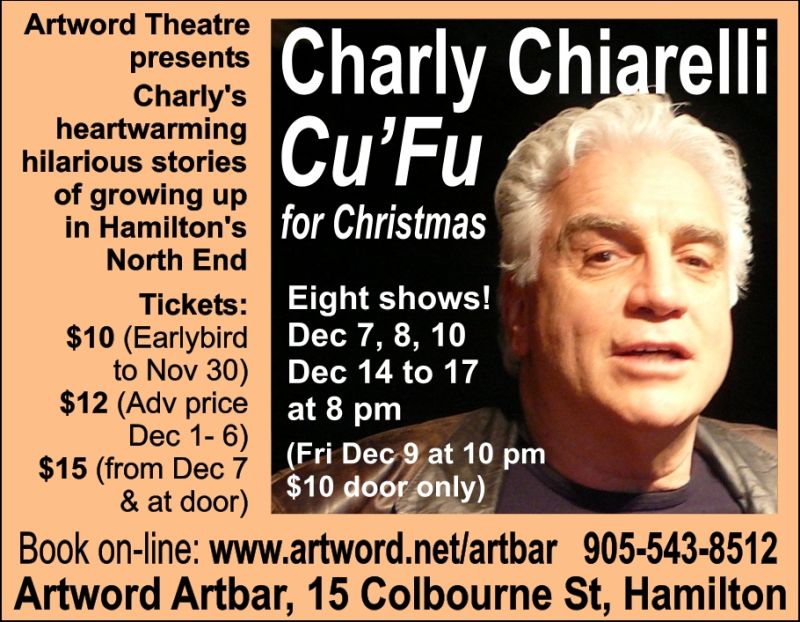 Dec 7 to 17, 2011. Have a Cu'Fu Christmas with Charly Chiarelli. Calogero (Charly) Chiarelli is coming back to Hamilton, with a Christmas cabaret version of his international theatrical hit Cu'Fu (So Who Did It?), about growing up Sicilian in Hamilton's North End. You'll laugh, you'll cry, you'll love it. Directed by Ronald Weihs and produced by Judith Sandiford.
Artword Artbar, at 15 Colbourne Street, is two blocks from where Charly grew up. Ronald Weihs and Judith Sandiford, who run Artbar Artbar, produced and directed the first productions of Cu'Fu? So Who Did It? in their Toronto theatre, where it was filmed for Bravo Television. Charly has performed Cu'Fu across Canada, from Halifax to Vancouver, from his home town Hamilton to Yellowknife, Northwest Territories — and in Italy, in Italian. The Edmonton Journal called him "the Sicilian Spalding Gray, or the Hamilton Mark Twain".
Show times and tickets: Wednesday to Saturday, December 7-10 and 14-17, 2011.
All shows 8 pm (except Friday December 9 show at 10 pm).
Early-bird tickets are available at $10 until November 30. Advance tickets, from December 1 to 6 are $12. Reservations after Dec 6 and tickets at the door are $15.
Friday, December 9 is Artcrawl on James Street North. Instead of the regular start time, there will be a post-crawl performance at 10:00 p.m., no reserve tickets, all tickets $10 at the door.