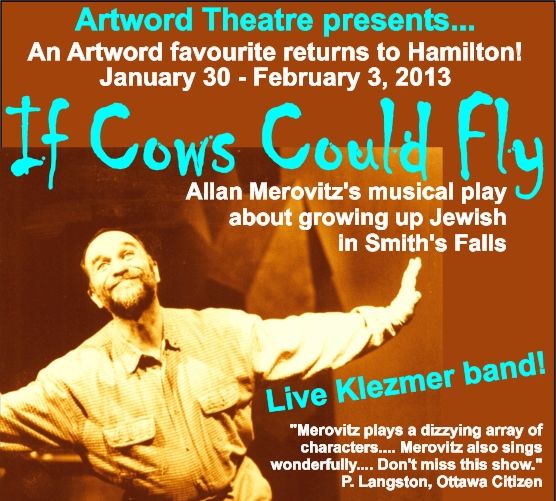 Artword Theatre's season at the Lyric Theatre continues with a revival of an Artword favourite, Allan Merovitz's musical play If Cows Could Fly, from January 30 to February 3, 2013.
Allan Merovitz, a widely-known actor and Klezmer musician, grew up in Smiths Falls in the Ottawa Valley in a family of Hassidic Jews. If Cows Could Fly traces the story of his family making their way from Poland, Lithuania and Kishinev to the tiny rural Ontario community of Smiths Falls. The story of his family is a microcosm of the Jewish experience world-wide. In If Cows Could Fly, Allan has reconstructed the fragmented memories of his family in diaspora, and interspersed them with a wide range of musical styles: Yiddish songs, country-and-western ballads, as well as Klezmer and Ottawa Valley fiddle tunes.
Written and performed by Allan Merovitz. Directed and dramaturged by Ronald Weihs. Music direction by Frank Rackow. Music performed by Frank Rackow clarinet & saxophone, Jennifer Lockman keyboard, Ronald Weihs fiddle. Design by Judith Sandiford.
Wed to Sun 8 pm, Sun 2 & 7:30 pm, $25, $19, $16.
For media interviews and group bookings, contact Associate Producer Valeri Kay 905-527-1633.
Allan tells how his Zaide escaped being conscripted into the Russian army by the Cossacks. How a ghost helped Frume leave her marriage ("get a get") and start a new life with her two children. How Bubbe Oudel supported her family – and the whole neighbourhood – during the hungry depression. How Uncle Hy, war hero and demolition expert, solved the problem of "No Jews Allowed on this Road".
The tales lead from villages in Poland and Bessarabia, to Antwerp, London, and on to the new world, Nova Scotia, Montreal, and finally Smiths Falls in the Ottawa Valley.
Running through all the stories is the indomitable spirit to survive, persist, and transcend. An impossible dream is said to come true only "if cows could fly". Impossible? Maybe it's just a matter of getting really good at something – making shoes, shooting pool, remembering who you are.
In 2008, Artword Theatre took If Cows Could Fly to Ottawa for a highly successful three-week run in the inaugural season of the Irving Greenberg Theatre Centre. Patrick Langston of the Ottawa Citizen said "don't miss this show", and Alvina Ruprecht of the CBC said "I laughed, I cried, I had a wonderful time". That summer If Cows Could Fly was featured at the 2008 Ashkenaz Festival at Harbourfront.
---
Ronald Weihs, Director's Statement, 2013
Allan Merovitz and I have been friends for a long time. We first worked together on the Caravan Stage Company in 1977, traveling in horse-drawn wagons through the interior of British Columbia, performing Hands Up!, the story of the legendary train robber, Bill Miner. I had written the script for the show, as well as acting and playing the fiddle. Allan was wonderful as Shorty Dunn, Bill's loyal companion.
I only realized recently that If Cows Could Fly ends right at that point. At the end of his play, Allan confides his crazy dream to his eccentric relative Leonard: "I think I'm going to go out west and be a cowboy". And in Allan's real life, that's when he went out to join the Caravan.
In 1980, I met Judith Sandiford, and started up a theatre company on Vancouver Island. Allan played the bull cook in Highball!, a play about loggers that we toured to logging communities – as always, charismatic on stage, singing beautifully.
In 1982, back in Toronto, Allan told me about the project he had started, then called "Zaide Didn't Want to be a Soldier". He was interviewing his family, researching the history of the Jewish diaspora and working these two elements together. He showed me his first draft, and I watched a couple of early versions.
In 1993, Judith Sandiford and I started a studio theatre called Artword, on the second floor of an industrial building on Portland Street. Allan and I hoisted 3/4 inch drywall up to the ceiling, to muffle the sound of the feet walking above.
In 1998, Judith and I decided to lease the clothing factory beside our tiny theatre, and turn it into two theatre spaces and an art gallery. Allan was with us when we first paced through the building, trying to imagine it with the piles of fabric gone, stages here, dressing rooms there.
We opened our new Artword Theatre in 1999. Looking back, I'm amazed at that first season: two African plays, Strindberg, Marivaux, concerts by the Amati Quartet, our own Festival of the Human Voice, dance works, it goes on and on. And in that first season were two works that I directed and Judith designed: Cu'Fu?, Charly Chiarelli's hilarious and moving story about growing up Sicilian in Hamilton, and If Cows Could Fly, Allan's enchanting account of growing up Jewish in Smiths Falls. (I never intended to specialize in plays about growing up something in somewhere. It just happened.)
Seven years later, the building was sold for condos. When the lights went down on our last production, we had eight days to vacate the building. Allan helped us move our stages, our seats, lights, cable, pipes into a 48-foot trailer. He stood with us watching as the trailer was towed away, to wait for us to find a new theatre.
After a year of fruitless searching in Toronto, a city gone condo-crazy, Judith and I were suddenly inspired to look for space in Hamilton. We made an offer on a beautiful old house in the east end, and a new adventure had begun. And our first project? – taking a new production of If Cows Could Fly to Ottawa in 2007-2008 (in the Irving Greenberg Theatre, with Allan staying with us in our new Hamilton house / rehearsal studio.
So for Judith and me, If Cows Could Fly is intertwined with our artistic lives, and Allan has been a companion-in-arms throughout.
I love this play – the characters, the songs, the humanity of it. It is about how people sail with courage into an unknown future, making lives for themselves. And for us – Judith, Allan, and myself – it has been a large part of our own voyage. I hope you like it.
Ronald Weihs, Artword Theatre, 2013
---
If Cows Could Fly: Performance history with Artword Theatre before 2013:
1. February 16 to March 12, 2000, written and performed by Allan Merovitz,
directed and dramaturged by Ronald Weihs, music directed and performed by Anne Lederman on piano, with Ronald Weihs on fiddle, designed by Chris Bryden,
premiere of the new full-length production, at Artword Theatre, 75 Portland St. Toronto
2. June 21 to July 14, 2001, written and performed by Allan Merovitz,
back again in a streamlined version, directed by Ronald Weihs, with Klezmer and Yiddish music by the Simcha Klezmer Band (Jarl Anderson on piano and mandolin, Ronald Weihs on fiddle), at Artword Theatre, 75 Portland St., Toronto
3. February 15 & 16, 2008 in Hamilton at the Downtown Arts Centre
4. February 21 to March 9, 2008 in Ottawa at the new Irving Greenberg Theatre Centre mainspace. Artword remounts an Artword favourite. If Cows Could Fly is a musical play about growing up Jewish in Smiths Falls in the Ottawa Valley, written and performed by Allan Merovitz, with an onstage Klezmer band (Henri Oppenheim, accordion; Frank Rackow, clarinet; Ronald Weihs, fiddle). Directed and dramaturged by Ronald Weihs, designed by Judith Sandiford, produced by Barry Karp and Artword Theatre.
5. August 2008, special shows:
*Thurs August 28, 2008, at 7 pm, at Beth Jacob Synagogue in Hamilton ON. (preview show)
*August 31, 2008, 1:30 pm, Studio Theatre at Harbourfront, Toronto, Ashkenaz Festival.
*September 1, 2008 5:00 pm, Studio Theatre as above, both 90-minute version.