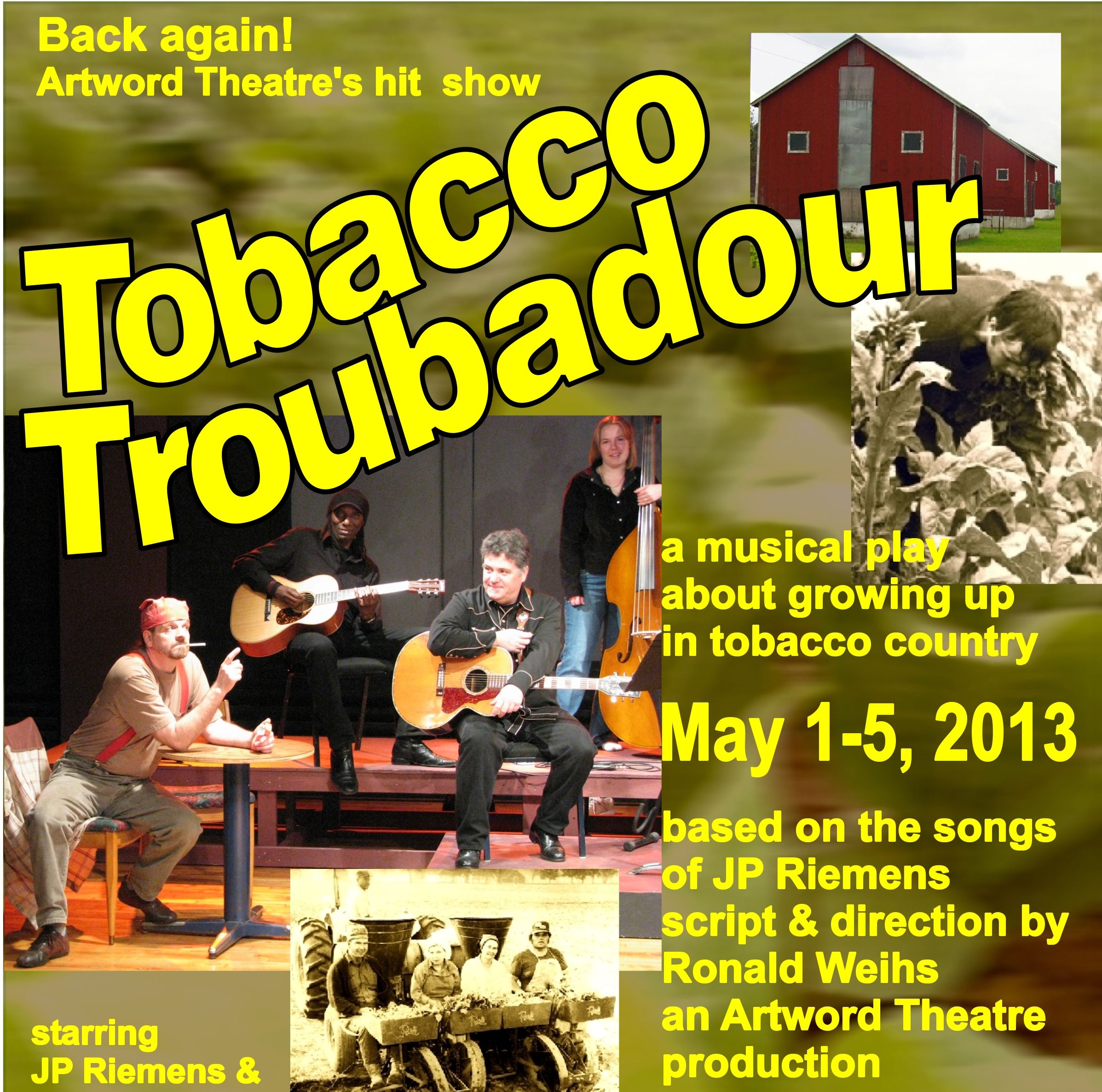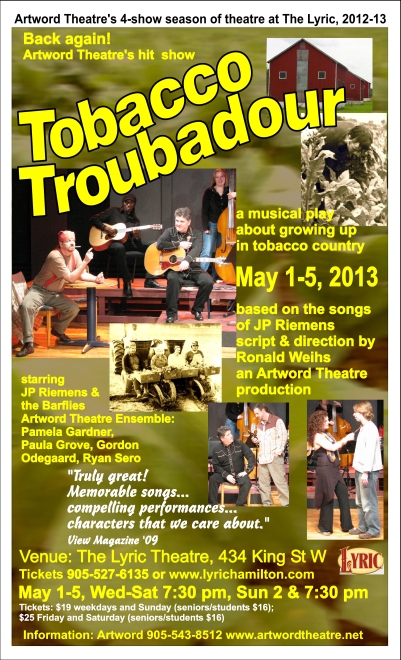 Artword Theatre's lively musical, Tobacco Troubadour, is returning to Hamilton for six performances at The Lyric Theatre, May 1 to 5, 2013. Based on the songs and memories of J.P. Riemens, Tobacco Troubadour is a tender love story set in the glory days of tobacco farming. This is the final show in Artword Theatre's four-play season at The Lyric 2012-2013.
Tobacco Troubadour is based on the songs of J.P. Riemens, a well-known songwriter and performer in the Hamilton music scene. Ronald Weihs wrote the script and directs the production, performed by actors from the Artword Theatre Ensemble: Pamela Gardner, Paula Grove, Gordon Odegaard and Ryan Sero. Music is performed live by J.P. Riemens and the Fabulous Barflies: Brian Griffith and Carrie Ashworth.
Tobacco Troubadour is a musical play set in Ontario's tobacco belt in the early 1960s. It begins as a concert by J.P. Riemens and the Fabulous Barflies, a hot country rock and swing band from Hamilton. When J.P. starts to reminisce about his childhood on a tobacco farm, the actors of the Artword Ensemble bring his words to life. They enact a bitter-sweet love story about two young people – Paul and Emily – who grow up together working in tobacco. The story is based on J.P.'s own experiences, both in the tobacco fields and on the road as a working musician.
Tobacco Troubadour is a rich and colourful story about strong-willed individuals with a great capacity for survival – with style, pride and a great sense of fun. They worked hard and played hard. The parties on a Saturday night are legendary.
Ronald Weihs and Judith Sandiford of Artword Theatre attended a concert by Riemens in 2008, and were struck by the vivid storytelling in J.P.'s songs. Weihs phoned him up the next day and asked if he would consider working on a play based on his songs. "There's something I've always wanted to do", Riemens replied. "It's a show about growing up in Ontario's tobacco belt. I've written some songs that I've never recorded. I've been saving them for something like this." One of the songs was Roosevelt's Dance Hall Saturday Night, about a venue not far from Langton, that hosted some of the top bands in Ontario. "There was a whole circuit in tobacco country", Riemens says. "Some of the top musicians in North America came from that area, and played those dance halls."
Hearing J.P.'s songs, Weihs was struck with how many of them were ballads about love just out of reach. They seemed episodes in an – as yet unwritten – story. He taped J.P. reminiscing about growing up in the tobacco belt, and wove the stories and the songs together into a script.
Tobacco Troubadour ran for two weeks in April 2009 in Hamilton at The Pearl Company. The audiences loved it and the critics raved. Brian Morton, in View Magazine, call it "truly great", pointing out that "Artword Theatre's new version of the oft-told tale of a life in music is one that is truly authentic, and is chock full of local references that add a hometown resonance to this production". The production toured to Delhi in July 2009, playing to enthusiastic audiences who knew all about the glory days of tobacco.
Artword Theatre – Ronald Weihs (Artistic Director) and Judith Sandiford (Managing Director/Resident Designer) – came to Hamilton after a twelve-year history in downtown Toronto. They operated a major theatre facility and art gallery on Portland Street, near King and Bathurst. Artword Theatre develops new, original work that is entertaining, thought-provoking, and relevant to its community. The productions are grounded in an ensemble approach to acting, using music, dance and inventive theatrical techniques.
J.P. (Paul) Riemens is a singer/songwriter/producer/performer/bandmaster and all-around music bon vivant. He is well schooled in the areas of roots/rock and country, and pop and jazz. J.P. is equally at home in an intimate acoustic environment as well as the Concert Hall. Until recently, Riemens co-owner and engineer of the world-renowned Grant Avenue Studio, having worked with such luminaries as Gordon Lightfoot, Daniel Lanois, Keith Glass and Willie P. Bennett. As a performer, Riemens has opened for such acts as Ashley MacIsaac, Fred Eaglesmith, and Melanie Doane.