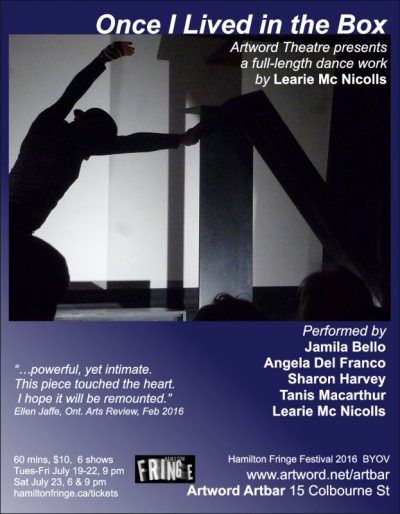 Artword Theatre presents Once I Lived in the Box, a dance work by Learie Mc Nicolls, for the 2016 Hamilton Fringe Festival. Dancer and choreographer Learie Mc Nicolls has created a full-length dance piece about vulnerability and trust.
The piece is danced by Angela Del Franco, Sharon Harvey, Tanis Macarthur, Jamila Bello and Learie Mc Nicolls, in a sequence of trios, duets and solos that reveal different aspects of isolation and connection. Judith Sandiford is producer and lighting designer.
SIX SHOWS: Tues- Fri July 19-22, 2016, at 9:00 pm; Sat July 23 at 6:00 & 9:00 pm. 60 minutes. Tickets $10, or hamiltonfringe.ca/tickets/
---
Fringe 2016 Review: Once I Lived in the Box,
by Amos Crawley
"It may be a warning. It may also be the best thing you see at the Fringe this year."
July 20, 2016. Raise the Hammer
www.raisethehammer.org/blog/2988/fringe_2016_review:_once_i_lived_in_the_box
"Once I Lived In The Box is a dire warning. It's a tired and nearly, nearly defeated voice crying out in the middle of a windy, terrifying night. It is by turns haunting, sensual, humorous, distant and visceral. Like the Otis Redding version of A Change Is Gonna Come that scores a marvelous solo, it's a show that never once apologizes for the pain of being alive.
It is a shared experience in that way – it's us who are being warned: STOP! We hold on to our faked generosity, our small ownerships, our secret hate for dear life as if we ourselves are not part of a continuum-as if we do not all break the same way.
The show begins with the razor edge feeling of a situation that can't possibly end well. Then quickly we are in the hustle and bustle of a life where life is that which gets swept away-hidden.
The show moves for the most part with the undeniable pulse of heartbreak. We are perhaps doomed and our inner turmoil is a result of the lack of faith we put in one another, of a true generosity of spirit. That's the price we all gotta pay. Isn't it a pity?
Mc Nicolls and his gifted, dedicated performers unselfishly make the political personal so that at the turn of a phrase or a fade in the music (the evening is accompanied by some of the most exquisite music of the 20th century) we have gone from the world at large to the most intimate trials and tribulations of a love affair.
It may be a warning, but it is not a hopeless warning. There is always joy available. We're gonna end up in a box anyhow — why live in one too?
It may be a warning. It may also be the best thing you see at the Fringe this year.
Amos Crawley is an actor, director and acting instructor who lives in East Hamilton with his wife, actor and director Cadence Allen, and their young son."
---
Once I Lived in the Box Review in View Magazine July 21 2016
by Heather Baer
Visceral, raw strength are words which came to mind while watching Once I Lived in the Box, a full-length dance work passionately and creatively written and performed by awarding-winning choreographer Learie Mc Nicolls. Joining him are four beautiful women (Jamila Bello, Angela Del Franco, Sharon Harvey, and Tanis Macarthur) equally talented in their own right and each having a background in various movement forms from hip-hop to yoga and everything in between.
Once I Lived in the Box was inspired by a 10-page poem of the same name written by Mc Nicolls ("…because I have a lot to say", quips Mc Nicolls when asked at a Q&A session after opening night) and reveals issues of vulnerability and trust as show through a series of solos, duets and quartets interwoven around, in, on and through movable pieces of "the box".
The passion for and commitment to the piece and to their craft was expressed by the artists in every move from the fluid cadence of limbs to the exact placement of fingers as well as tell-tale glances and nods sometimes working in harmony and other times in opposition. Come and enjoy this unique exposition. The artistry continues for the rest of the weekend at Artword Artbar.
---
REVIEW of the February 2016 presentation: "Learie Mc Nicolls' newest creation, Once I Lived in the Box, at Artword Artbar [Feb 3, 4 and 5, 2016], was a powerful, yet intimate, piece of choreography… This piece touched the heart. I hope it will be remounted; it deserves a longer run and a larger audience." Ellen Jaffe, Ontario Arts Review