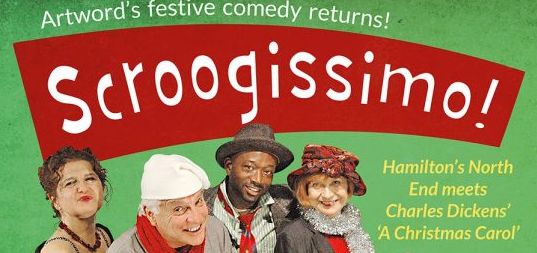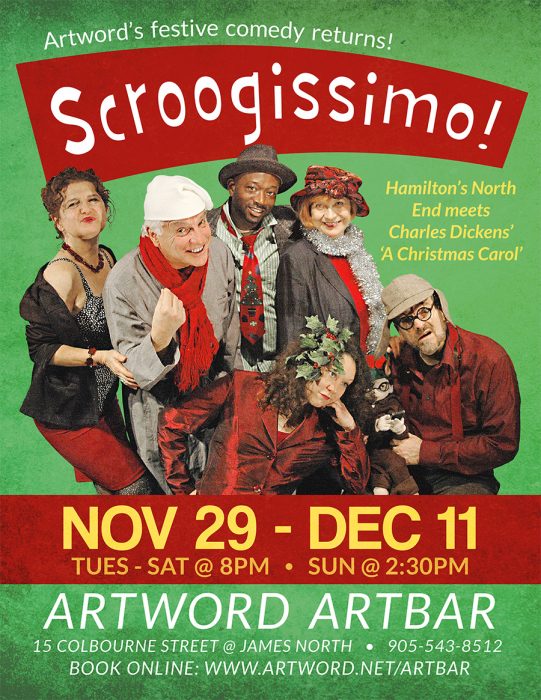 November 29 to December 11, 2016. Artword Theatre's delightful Christmas comedy Scroogissimo returns for a third time to Artword Artbar. Hamilton's North End meets Charles Dickens in a wacky script by Ryan Sero and Charly Chiarelli, directed by Ronald Weihs.
A sell-out hit in 2013 and 2014, Scroogissimo features Charly as "Ebenezu Scroogie", a Christmas-hating old Hamiltonian from Racalmuto, Sicily, who finds himself haunted by three ghosts of the Past, Present and Future.
With the original cast! Charly Chiarelli as Scroogie, Pamela Gardner as Christmas Past, Paula Grove as Christmas Present / Carol Singer, Valeri Kay as Mrs. Cratchit / Christmas Future, Jon-Gordon Odegaard as Bob Cratchit, Jay Shand as Nephew Fred and Marley. Musical support for Scroogissimo is provided by Tim Nijenhuis (keyboard), leader of the blues trio Beg to Differ. Design by Judith Sandiford. Cast photo and poster by Adam Carter.
Tues to Sat at 8 pm, Sun mat at 2:30 pm. Tickets: Adults $25, Student $15, Child 14 and under $10. Tuesdays $10 at door. Please reserve (905-543-8512)
New stage design for 2016! We moved the piano down beside the stage, pulled aside the black curtain, and are projecting images on the upstage wall. And now Pamela Gardner, who is an aerialist, can fly in as Christmas Past, and fly off with Scroogie back to Sicily!