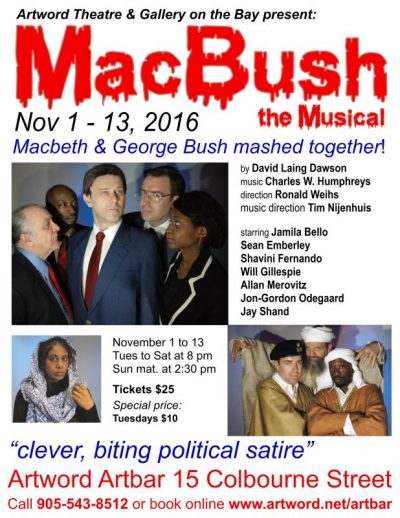 November 1 to 13, 2016. BACK for a 2-week run at Artword Artbar, in time for you-know-which election week!
MacBush, the Musical, by David L. Dawson and directed by Ronald Weihs, is a musical mash-up of Shakespeare's Macbeth and the George W. Bush administration.
You need to see this show! Here's why:
#1: "Tired of Trump, Hillary and the crew dispensing 'Ain't America Great' on TV? Then go get a reality check at Artword Artbar, where Artword Theatre is offering hemlock and humour, stirred not shaken, in a bitter witches' brew. … Sean Emberley stands out as a look-alike for the grinning George Bush. Jon-Gordon Odegaard makes an exotic Osama bin Laden. And Will Gillespie and Allan Merovitz have fun with the roles of Rumsfeld and Cheney.  … Well worth seeing." (Gary Smith, Hamilton Spectator, May 2016).
#2: "This lively play… threads its laughs with an undeniably sinister undercurrent…  Jamila B.'s vocals are a treat…  she not only has good comedic timing but is eerie when she evokes Lady Macbeth." (Allison Jones, View Magazine, May 2016)
#3: "Mixing clever, biting political satire…, showing how power corrupts and evil proliferates. … Two highlights of the show are Shavini Fernando's portrayal of an Iraqi woman's lament, …and Will Gillespie, as an ordinary soldier. Shand's portrayal of Powell's conflicts is memorable." (Ellen Jaffe, Ont Arts Review, May 2016)
Who?
Performed by seven accomplished singer-actors in the Artword Theatre Ensemble:
Jamila Bello as Condi 
Sean Emberley as George Dubya 
Shavini Fernando as Iraqi woman, and chorus
Will Gillespie as Rummy, witch Saddam and a soldier
Allan Merovitz as Dickie
Jon-Gordon Odegaard as witch Osama and chorus
Jay Shand as Colin, witch Ahmadinejad, and chorus
Music direction and performance by Tim Nijenhuis, with percussion by Steve Foster.
Book and lyrics by David Laing Dawson.
Music by Charles W. Humphreys.
Directed by Ronald Weihs.
Design by Judith Sandiford.
Produced by Artword Theatre and Gallery on the Bay.
Ticket Prices? Wed to Sun $25 Call 905-543-8512, email artword@artword.net
Tuesday Special all tickets $10 cash at door
When? November 1 to 13, 2016, Tues to Sat at 8 pm, Sun mat. at 2:30 pm
Where? Artword Artbar, 15 Colbourne Street

What is this show about? G. Dubya and his sidekicks Dickie, Rummy, Condi and Coley sing jaunty show tunes while they plan tactics of 'shock and awe'. Songs sung by a soldier and an Iraqi woman reveal other viewpoints. With guest appearances by 'Saddam Hussein' and 'Osama Bin Laden' and 'Ahmadinejad' as witches, who have some chilling prophecies about our now current world crisis.
MacBush the Musical trailer