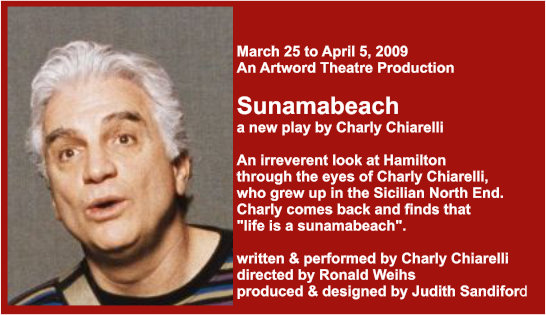 March 25 to April 5, 2009, an Artword Theatre Production:
Sunamabeach, a new play written and performed by Charly Chiarelli.
An irreverent look at Hamilton through the eyes of Charly Chiarelli, who grew up in the Sicilian North End. Charly comes back and finds that life is a "sunamabeach".
Directed by Ronald Weihs, produced and designed by Judith Sandiford.
Performed at The Pearl Company, 16 Steven Street, Hamilton
Wed at 8:00 pm all tickets $10, Thurs, Fri & Sat at 8:00 pm, Sun at 3:00 pm: $20 reg /$15 std/sen.
From March 25 to April 5, 2009, Artword presents Charly Chiarelli's new show Sunamabeach, the latest in the continuing saga of a Sicilian in Hamilton. Charly's first two shows Cu'Fu? and Mangiacake, originated at Artword Theatre in Toronto, and were directed and dramaturged by Ronald Weihs. The first in the trilogy is Cu'Fu? (So Who Did It?), a hilarious and touching one-man show about growing up Sicilian in Hamilton. "Cu'Fu?" – "So who did it?" – is a Sicilian response to bad salami or the origin of the universe – and most everything in between. These tales of Charly's weird and wonderful family coping with life in a new country, punctuated by his virtuoso blues harmonica, became one of Artword's most-loved show. You don't have to be Sicilian to love Cu'Fu. Everybody loved it.
The second in the trilogy — Mangiacake! — tells how an immigrant kid tries to shed his Sicilian identity – only to discover that he wants it back again. Charly comes to terms with his Canadian identity, and goes back to Italy to find his roots, only to discover that he too is – a mangiacake! "Mangiacake", for anyone who hasn't seen Cu'fu?, means "cake eaters". It's what Italians call non-Italians (when they're being nice).
Charly Chiarelli began his career as a performer playing virtuoso harmonica in blues and jazz bands. He was in at the founding of the storytelling movement in Toronto. Initially, he accompanied storytellers with his harmonica, but soon he was telling stories himself, all about his crazy childhood in Hamilton.
Besides repeat runs at Artword Theatre in Toronto, both Cu'Fu? and Mangiacake! have been filmed for Bravo! Television. And Charly has performed the shows all across Canada in numerous venues.
---
REVIEW by Robin Pittis: SUNAMABEACH
http://www.viewmag.com/theatre.php
View Magazine Vol. 15 No. 14 • April 2 – 8, 2009
By Robin Pittis
In every industry and endeavour there are artists whose talent and ability get recognition beyond their hometown and circle of friends. That isn't to say that there's anything wrong with entertaining friends, family and neighbours; far from it. Charly Chiarelli, though, is the rarest of things in Hamilton theatre — an export. So it's nice that this high calibre talent has returned and given us a reverently irreverent theatrical homage to his hometown.
Chiarelli is a prodigiously talented raconteur, musician and comedian. You might well have heard or seen his shows Cufu or Mangiacake, either in their theatrical forms or in broadcast media like Bravo TV. They are one man shows where he shares stories and music from his life and days growing up a Sicilian immigrant in Hamilton's North End directly with the audience. He's toured nationwide and appeared in feature films.
Not too big to return home, though, his newest show, Sunamabeach, the third of his Hamilton–based trilogy, opened last weekend at the Pearl Company. Working with his long-time collaborators, Ron Weihs and Judith Sandiford of the Artword Theatre, Chiarelli has delivered another raucously funny, wryly observed and touchingly intimate evening of theatre.
From the gymnastic blues riffs of the opening song and leitmotiv "Life is a sunamabeach", Charly, or Calogero, is intensely committed to his performance, physically and emotionally. He's got a lot of natural charisma and tightly wound up Italian spontaneity, which he uses to grab and hold his audience.
As a playwright too, this is a generous performance. Writing from life, and in this case drawing particularly from experiences gleaned in his day job as a high level administrator orchestrating governmental efforts to confront addictions and mental health issues, Chiarelli gives his audience flirtatious glimpses of his naked life. He gives up little gems about his own successes and failures, his family, friends, and fellow musicians.
Particularly interesting are his reminiscences of Hamilton past: Mayor Vic Copps, street fights with bikers on Locke Street, and what the city was like before the wrecking balls and the malls reconfigured the downtown core.
With a minimal set, projected images of Chiarelli's own photographs of the downtown core taken from his Market Street apartment, and his office in the Ellen Fairclough building add an important layer of metaphor. This is a portrait of our city his from his particular perspective. Paradoxically, this particularity makes it accessible to everyone.
The story of his meeting with the late Hamilton blues and harmonica legend King Biscuit Boy was particularly memorable, and a terrific addition to Hamilton music lore. Given how impressive Chiarelli's work on the mouth organ is, it beggars the imagination how good this King guy must have been.
If there are any complaints about the evening at all, it is only that this is a new work, and there were certainly a couple of rough transitions, or slightly misremembered wordings. This is not unusual as artists gain confidence with new works. There's also a lot of F–bombs. While it's totally believable north end speak, it does mean this show isn't destined for Bravo, which is a pity. Chiarelli's perspectives on our city and the ongoing worldwide battle with addiction and mental health, sharpened to a point could make a powerful point beyond — and because of — the entertainment value of this piece.
All in all, this is an impressive performance by a skilled and talented performer, and a loving look at our troubled but still beautiful times and city. This is locally engaged theatre at it's best.
For future reference, Wednesday night tickets for Artword performances are $10, half the usual going price. [ROBIN PITTIS]
---
Artword Theatre's season "Artword @ The Pearl" 2008-2009
Sunamabeach is the third of four productions for the 2008-2009 "Artword @ The Pearl" season.
You Are What You Do, (Oct & Dec 2008) an original musical by Ronald Weihs celebrating the lives of working people, launched the season in October 2008 to rave reviews and remounted in December.
Rascals and Numskulls (Feb 12 to 22, 2009), a now original work written and directed by Ronald Weihs, tells the thrilling adventures of Robert Land spy for the British in the American Revolution, friend of Mohawk leader Joseph Brant, United Empire Loyalist, first white settler in Hamilton, performed by the Artword Theatre Ensemble, with music by Gary Santucci.
Tobacco Troubadour (April 16 to 26, 2009), a new play based on the songs and stories of J.P. Riemens (of J.P.Riemens and The Barflies), about growing up in Ontario's tobacco country and its lively dance hall scene, is scheduled for April 16 to 26, 2009. Script and direction by Ronald Weihs.