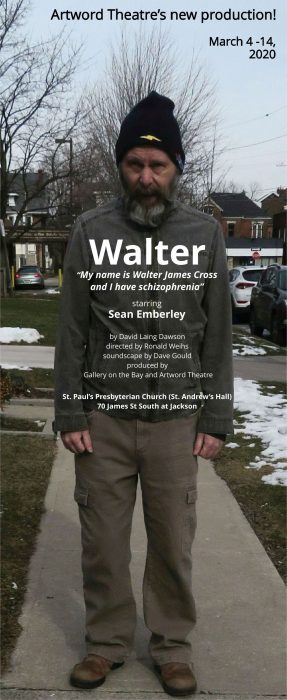 "My name is Walter James Cross, and I have schizophrenia."
Walter, a new Artword Theatre production, starring Sean Emberley, written by David Laing Dawson, directed by Ronald Weihs, soundscape by Dave Gould, produced by Gallery on the Bay and Artword Theatre. March 4-14, 2020. Venue: St. Paul's Presbyterian Church (St. Andrew's Hall), 70 James St South at Jackson.
Performance dates:
March 4 to 7 at 7:30 pm. March 11 to 14 at 7:30 pm, $20.
PLUS matinees PWYC, Sat Mar 7 and Sat Mar 14 at 2:30 pm.
[March 14 shows cancelled due to Cover-19 concerns.]
Call 905-543-8512, or email artword@artword.net for ticket reservations.
"… I take out all my friends and place them on the table in front of me and I line them up like a lot of little soldiers and I read the labels over and over again:  Chlorpromazine, perphenazine, Olanzapine, benztropine, clonazepam, diazepam, lorazepam, amitriptyline, paroxetine….
the zeens, the teens, the pams, and the peens….
the zeens, the teens, the pams, and the peens … "
---
David Laing Dawson (playwright) is a psychiatrist, formerly medical director Hamilton Psychiatric Hospital, the co-owner of Gallery on the Bay and the author of six novels, four non-fiction books, and ten plays. He co-authors a blog on mental health, mental illness, politics and life, on WordPress called Mind You.
Playwright's Statement about Walter: "Walter James Cross is a fictional character and my invention. Yet I invented nothing he says or has experienced. These are an accumulation, a synthesis, of much of what I have heard from people suffering from schizophrenia over the past 50 years. The suffering is real, the experiences are real, only the form of story telling is invented by author and director.
I first wrote this script as a film, produced and broadcast on TVO almost 20 years ago. Ronald Weihs has re-imagined Walter as a live performance."  David Dawson, March, 2020.
---
Director's Statement: This production initiates a new phase for Artword Theatre. Judith Sandiford and I have been doing theatre together since 1980. In 1993, we started a small theatre called Artword Theatre, and in 2000 we opened a much larger complex with two theatre spaces and an art gallery. We lost that theatre to condo development in 2006. In 2007, we moved to Hamilton, and in 2008-9, we put on four plays at the Pearl Company. In 2009, we started Artword Artbar, and put on plays there for ten glorious years. Then it was time for a change. We sold Artword Artbar and started looking around.
We are delighted to have found St. Andrew's Hall at St. Paul's Presbyterian Church. The people here are friendly and accommodating, and the building is a treasure. We'd especially like to thank Rev. Fred Shaffer, David Church, Christina Babcock and Ruparian "Syd" Sydney for making us feel at home.
We have begun an informal ongoing collaboration with David and Marlaise Dawson, of Gallery on the Bay. Walter is the third play by David that I have directed, and there is a new musical in the works for the fall. Stay tuned.                 Ronald Weihs, March, 2020
---