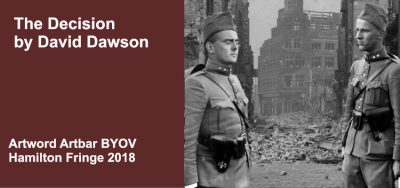 July 19 to 28, 2018. Hamilton Fringe Festival. The Decision, a play by David Laing Dawson.
Amsterdam, May 16, 1940: Two young officers in the Royal Netherlands Army meet secretly. Their orders are to report to Gestapo Headquarters the next morning. 
Directed by Ronald Weihs. Performed by Jordan Campbell and Jason Thompson.
David Dawson's powerful drama, The Decision, is set in Holland on May 16, 1940, after the Nazis have occupied The Netherlands.
Two young Dutch army officers meet to decide whether to report to Nazi headquarters as ordered, or to resist. It is a life-and-death decision, but how do you know which is which? David Dawson based his play on real people in his wife's family, who faced that decision on that date. If we are faced with such a decision today, how will we choose?
Produced by Marlaise Dawson. Gallery on the Bay and Artword Theatre. Design and lighting by Judith Sandiford.
Tickets: $12 Adults, $5 Children. (Fringe Backer Button required), hamiltonfringe.ca/tickets/  Thurs July 19 @ 7 pm, Fri July 20 @ 7 pm, Sat July 21 @ 9 pm, Sun July 22 @ 6 pm, Tues July 24 @ 7 pm, Wed July 25 @ 5 pm, Thur July 26 @ 7 pm, Fri July 27 @ 7 pm, Sat July 28 @ 4 pm
---
Statement by David Laing Dawson, July 2018
For many years I knew of the story of Pieter, one day to become Marlaise's father after the war, and Victor, one day to become Marlaise's uncle, as two young men getting together one evening after the Dutch surrendered, to decide to report to German headquarters as ordered, or to refuse and resist. I imagined them meeting on a barge in an Amsterdam canal beneath an ominous sky in a now deathly quiet city, though in reality it was probably a kitchen in a small house near Nijmegan.
I know the outcome of that meeting, as do the history books and the thorough German records. And from the start that meeting begged to be turned into a play, re-imagined as a play. Imagine the issues they must have faced that night: small and personal, historical and geopolitical, the very nature and meaning of human behaviour.
However, that play would not written by me, for my life has never included any moment remotely like that. In fact, my generation of Canadians has lived within the longest period of peace and prosperity the world has ever known.
But then Donald Trump was elected. Our long period of peace and increasing inclusion, our widening of community to include the entire planet, began to falter.
And I sat down to write "The Decision".
---
The Decision, review by Mark Fenton, published July 20, 2018, in Raise the Hammer.
The premise is a simple one. Two men, Pieter and Victor, living in Nazi-occupied Holland, are faced with a choice. They can report to the headquarters of the new regime and fight for Hitler, or they can join the resistance.
Pieter leans towards Hitler, and Victor towards the resistance. Pieter is an idealist who believes the leaders can't be as bad as their worst rhetoric. His friend Victor is a cynic who expects the worst of leaders.
The play is fueled by the consumption of Dutch Beer, which reminds us a) that each man loves his country and would have been much happier if the Germans hadn't shown up, and b) that alcohol blurs the line between polemic and emotion.
A dialectic drama in which two men in a room argue politics and ethics requires actors who can increase the tension slowly and steadily, and maintain our visual interest with nuanced physicality. Campbell and Thomson are excellent in demonstrating how important our choices are to immediate problems and, as we'll learn, as an example to future generations.
I want to avoid spoilers, but I'll just say there's a mid-performance twist that's stunning in its simplicity and effectiveness.
David Dawson based his play on the histories of his father-in-law and his father-in-law's friend. The story is clearly personal for Dawson. But I don't think he means us to condemn either man. I think he means us to admire the struggle of each man to live by his individual convictions.
Our collective attitude to Hitler's Germany has been simplified by hindsight. The larger injustices, as the play makes emphatically clear, are still with us.
---