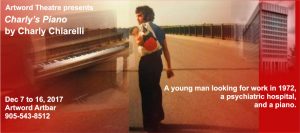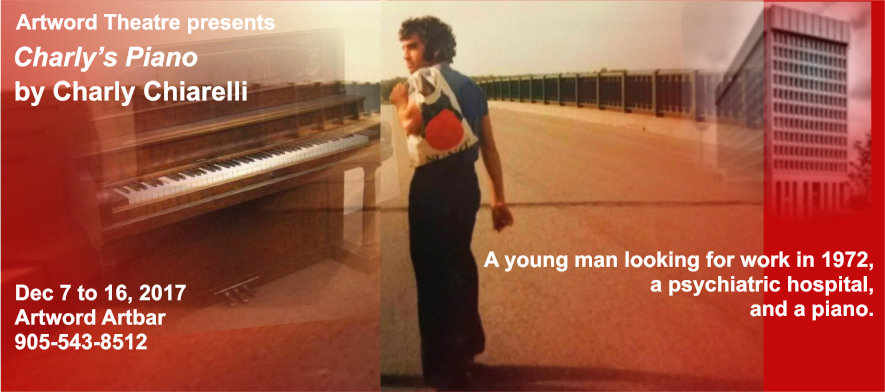 December 7 to 16, 2017. Charly's Piano, Charly Chiarelli's heartwarming Christmas show about how he organized a fundraiser to buy a piano for the Clarke Institute of Psychiatry in 1972. An Artword Theatre Production, directed by Ronald Weihs.
Charly's Piano is a new play by Charly Chiarelli and Ronald Weihs. It tells the true story about how Charly went to work as a psychiatric assistant at the Clarke Institute of Psychiatry in Toronto. The year was 1972, Toronto was full of music and hippies, and the Clarke was exploring new techniques in mental health. Charly, harmonica and all, fit right in. Pretty soon, he's organizing a fundraiser to buy a piano for the patients to play. At first, no one signs up, but when the "Cat Lady" says she'll sing a song, the idea takes off. Patients, doctors, nurses perform in a sell-out concert. But the story isn't over. Charly and a patient known as "The Duchess" travel by public transit to a mansion on the outskirts of Toronto and buy the piano. And at Christmas, the piano is in the lounge, where Charly leads patients and staff (and audience) in Christmas songs and carols.
Script by Charly Chiarelli and Ronald Weihs, new songs by Charly Chiarelli on harmonica with Ronald Weihs on guitar. Produced by Judith Sandiford.
Reserve 905-543-8512 or 

Book online.
Thurs, Fri & Sat, December 7, 8 & 9, at 8 pm, $20; Sun December 10 matinee at 3 pm, $20; Tues to Sat, December 12 to 16, at 8 pm, $20.
The Two-Show Deal: If you came out to Cu'Fu? and loved it, you are eligible for the two-show package discount. By phone only: 905-543-8512.
---
REVIEWS:
Review: Veteran raconteur hits right notes in Charly's Piano
WhatsOn Dec 5 2017 by Gary Smith, Hamilton Spectator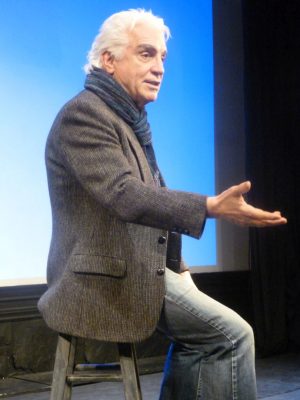 Charly Chiarelli recalls the world of 1970s Toronto in "Charly's Piano."
Want to go back to the early '70s? To a time when Ian and Sylvia, Bo Diddley and Ronnie Hawkins sang at the Concord and other hallowed Toronto halls?
Coffee houses and bars were still the domain of beatniks and hippies back then. Toronto was less sophisticated than it thinks it is today. Possibilities were endless.
In 1972, Charly Chiarelli, born in Racalmuto, Sicily, but raised in Hamilton's gritty North End, found himself wandering the streets of what was once called Hogtown.
He found an attic abode next to a Primal Scream Clinic near Kensington Market. He found a job, too, at Toronto's prestigious Clarke Institute of Psychiatry. Called an observer, he was paid to watch patients. Memories of many of these institutionalized folk permeate his new play "Charly's Piano."
Written by Chiarelli and Artword director Ron Weihs, the play is sometimes a rambling discourse through Charly's world. It's punctuated by haunting riffs on a harmonica pulled from Charly's jacket pocket. That music is nicely supported by Weihs' expert noodling on an old guitar.
Something of a local icon, Chiarelli bounds onto the tiny Artbar stage in jeans and a tweed jacket, an attractive scarf knotted round his neck. He has a mile-wide smile with tufts of white hair poking out from behind his head.
The voice is raspy. No matter, Chiarelli acts his songs as much as sings them. He falls into character, melting years away, easily becoming the boy he was back then.
His story is filled with detailed remembrances of patients from those Clarke days. There's Beatrice, the Cat Lady. Her Siamese cats taught her to read minds. And there's poor Adam, a casualty of the system who jumped in front of a subway train when out on a day pass. There's also psychotic Philip, an expert on math, physics and chemistry.
Charly's treasure-trove of remembrance leaps into high gear when he recounts how he decided to put on a concert in the Grand Rounds room of the Clarke and needed to buy a piano for the patients to enjoy. We hear how the doctors, staff and residents, after initial reluctance, come forward to make things happen.
One of the most affecting parts of Charly's story is his recollection of going to some out-of-this-world mansion with a patient called The Duchess to buy the piano on a stormy winter night.
Judith Sandiford's evocative projections fill the wall of the tiny stage with recollections of a Toronto long gone. These images amplify the words of "Charly's Piano" beautifully, transporting us (if we are of a certain age) to a time we remember fondly.
Just as Charly's songs hint at loss, these photos suggest the warmth of recognition, reminding us that change doesn't erase the past from the present, but rather gives it context. This is because Sandiford's projections, like Chiarelli and Weihs' words, create a time tunnel to something gone by.
There are cavils: At two hours, including intermission, the show is just too long. It would sit better in a one-act format, running 75 to 90 minutes. No intermission. There are almost too many memories of patients here, too many anecdotes and the lead-up to the essential piano part of the story takes too long. The show, seen at a dress rehearsal, needs tightening, as well as editing.
In the end, it is a warm-hearted, tender story acted by a friendly raconteur, a storyteller who delivers memories with sweet recollection of time passed by, but never forgotten.
Gary Smith has written on theatre and dance for The Hamilton Spectator for more than 35 years.
---
"A Celebration of Spirit"
Review by Brian Morton of Charly's Piano 
View Magazine, December 14 2017
They say it takes thirty years to become a master at something. I can confirm then, that Charly Chiarelli, the Sicilian born, North End Hamilton native, whose newest play, Charly's Piano, opened this week at Artword Artbar, certainly has the skills to hold an audience spellbound with a yarn.
It takes a great deal of artistry; as a songwriter, an actor, a dancer, and a musician, in order to bring these poignant memories of working at Toronto's Clarke Institute of Psychiatry circa 1972, as a patient observer, to life on stage. Chiarelli has long been compared to the late Spalding Gray, and his funny anecdotes are similar to humourist Mark Twain, in the essential humanity of his characters. I will suggest, that Canadian writer Stephen Leacock, is a more apt comparison, filtered through Charly's experiences growing up in the rough and ready world of north end Hamilton, and the hippy 'counter culture' of the late 1960s.
Many years ago, while studying theatre, I learned, that the whole Canadian Theatre movement is a relatively new phenomenon, and that there was no long standing tradition of theatrical production in Canada, that does not originate from somewhere else. Early Canadian plays, were often indistinguishable from British or American plays of their era. That being said, Canada has a very long tradition of story tellers, guys at the local bar who could get everyone laughing by telling the story of what happened at work that day, and who could do a 'dead on impression' of the boss. We all have memories like this, but it takes someone like Chiarelli, with real performance skills as an actor and musician, to raise it to the level of high art.
Watching this production, felt as much like attending a folk music concert, as watching a play. Director Ron Weihs, does a double turn, providing live guitar accompaniment to the stories, tastefully underscoring emotional moments and playing along on a number of original songs firmly rooted in the folk revival of the 1970s. Of note to my ear, were "Something about Toronto" and "The Magic of Cats".
It takes more then just performers, to make a theatre production work, and this show, is ably supported technically by Judith Sandiford, most tangibly in a wonderfully evocative slide show, that runs behind Chiarelli's narratives. Mostly. they are black and white images of 1970s Toronto, including; Honest Ed's discount store, street buskers, Kensington Market vendors, winter traffic, and iconic musicians, such as, Joni Mitchell, Ian and Sylvia, and Woody Gutherie, in the era of the Mariposa Folk festival. The images, provide a powerful commentary on the stage action, doing much to create the essential 'nostalgia' of the evening.
"There is no clear distinction, between sanity and insanity", Charly learns in his first few months on the job. Doctor Rakoff, the director of the Clarke, takes him under his wing, and allows him to organize a Christmas Variety show called "Escape Hatch 11", in order to raise the funds to purchase a piano for the patients to play.
This production is driven by Chiarelli's recollections, of some very real people, and that gives the play much of its power. The stories are authentic, and conjure up some interesting individuals, such as, 'Beatrice the Cat Lady', and "The Duchess", a wealthy matron who Charly brings with him when they travel to purchase the piano, that is at the heart of this story. "Charly you are made of pure spirit", one character tells him.
And that is what I will take away, from me from watching this show. A celebration of spirit, of a time, now sadly gone. There is a certain "madness" in artistic creation, and 'the blues' and psychiatry, do indeed, have something in common. I urge you, to check out this wonderful production, in its final week of performances.
– Brian Morton