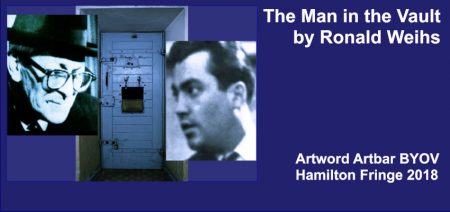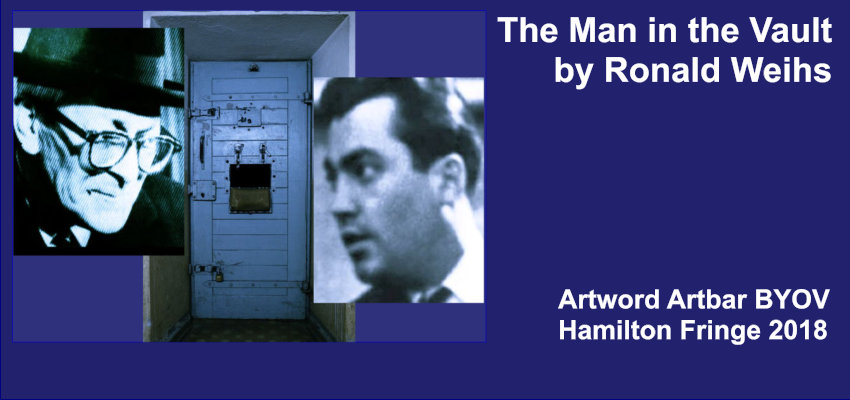 July 19 to 28, 2018. Hamilton Fringe Festival. The Man in the Vault (an Artword Theatre production). Written and directed by Ronald Weihs. Produced and designed by Judith Sandiford. Performed by Mariam Bekhet, Jordan Campbell, Jason Thompson. 
A Russian spy defects with information about Lee Harvey Oswald and the Kennedy assassination. James Angleton, the CIA's legendary head of counterintelligence, is convinced he is a disinformation agent sent by the KGB.
The defector is kept in a concrete vault in a secret location while interrogators try to extract the truth from the man in the vault. Based on true events in the 1960s that resonate with today's headlines.
Part of the Hamilton Fringe Theatre Festival. Running Time: 60 minutes. Tickets: $10 (Fringe Backer Button required)  hamiltonfringe.ca/tickets/
Show Times: Thurs July 19 @ 9pm, Fri July 20 @ 4:30pm, Sat July 21 @ 7pm, Sun July 22 @ 8pm, Tues, July 24 @ 9pm, Wed July 25 @ 7pm, Thurs July 26 @ 9pm, Fri July 27 @ 5pm, Sat July 28 @ 6pm  (Final show)
The Man in the Vault, written and directed by Ronald Weihs, is a true story about James Angleton, the legendary head of CIA counterintelligence, who described the spy business as "a wilderness of mirrors". In 1963, a Russian spy defects with information about Lee Harvey Oswald and the Kennedy assassination. Angleton is convinced that he is a disinformation agent sent by the KGB. The defector is kept in a concrete vault in a secret location while interrogators try to extract the truth. Based on events that resonate today, when headlines are dominated by disinformation, collusion and Russian spycraft. 
---
PRESS RELEASE: For immediate release: July 6, 2018
Artword Theatre production: The Man in the Vault
written and directed by Ronald Weihs
Shortly after President Kennedy was assassinated on November 22, 1963, a Russian KGB officer defected to the CIA. His name was Yuri Nosenko, and he said he knew the answer to the most incendiary question of the time: was Oswald a Russian agent? Nosenko's answer: no, he wasn't.
James Angleton, the CIA's legendary head of counterintelligence, was convinced that Nosenko was a disinformation agent sent by the KGB. Angleton was busy tearing the CIA apart looking for a mole, acting on information from another defector, Anatoli Golitsyn. He believed that Nosenko had been sent to discredit Golitsyn, with the Kennedy information as bait.
Nosenko was locked a concrete vault in a secret location for over three years, while interrogators tried to break his story. The Man in the Vault imagines a last-ditch attempt by Angleton to determine the truth.
Playwright Ronald Weihs became fascinated with this story about the famous CIA spyhunter, James Angleton. He began a major research effort, filling a large bookcase as he found himself spiraling deeper and deeper into the dark world of spies, disinformation and the assassination of President Kennedy. As complexities multiplied and theories and conspiracies proliferated, he found himself lost in the world that Angleton called "a wilderness of mirrors". After many false starts on a script, he put it all away in a drawer. Anyway, he thought, that Russia/US spy stuff is all outdated.
Now suddenly, with Trump in the White House, it's all back again: intelligence, counterintelligence, disinformation. With the encouragement of his partner Judith Sandiford, Ron found all his old notes and fragments and stitched them into a script. Last April, some actor friends helped with a staged reading at Artword Artbar. To his surprise, it hit home with actors and audiences! So he sat down and started rewriting. He trimmed the cast from five to three, and focused and tightened the narrative. And every day he watches MSNBC, marvelling how, in James Angleton's phrase, "the past telescopes into the present".
Artword Theatre is the creative vehicle of Ronald Weihs and Judith Sandiford. They built and operated a major theatre at Bathurst and King in Torontofor seven years, until the landlord sold the building to a condo developer. The pair moved to Hamilton in 2007, and in 2009 they bought asports bar just off James Street North and turned it into Artword Artbar.Since coming to Hamilton, Artword Theatre has produced 16 original works, including four BYOV productions, all acclaimed by reviewers: Trumpet Romance with Stuart Laughton ("an extraordinary experience, not to be missed"); Transformation, by Learie McNicolls ("a masterpiece of poetic theatre"); Once I Lived in the Box, choreographed by Learie McNicolls ("may also be the best thing you see at the Fringe this year"); Langston Hughes vs Joe McCarthy ("should be touring the country").
---
Review: WhatsOn Jul 24, 2018 by Lori Littleton, Special to The Hamilton Spectator
The Man in the Vault at Artword Artbar
Last Fringe, Ronald Weihs staged a play about Langston Hughes, an American poet and social activist who was called to testify before U.S. Senator Joseph McCarthy. This year, he's back with another historical exploration.
It's the early 1960s and a Russian KGB officer has defected to the CIA. James Jesus Angleton — expertly played by Jason Thompson with poise and authority — is the legendary CIA head of counter-intelligence. He's convinced Yuri Nosenko (Jordan Campbell) is lying and that Lee Harvey Oswald was a KGB officer.
Campbell's Russian accent is spot on and he's so convincing, we don't doubt his denials for a second. Angleton sends Christine (the excellent Mariam Bekhet) to grill Nosenko toward the end of his three-year solitary stint in a concrete vault.
Five years ago, an audience might have watched this play and thought, well, isn't that interesting? Today, it's compelling. Weihs examines what is truth and what are facts and lies and we mentally halt when Angleton tells Christine that "it's all part of a long-term plan — disinformation."
With news stories abounding about Russian spies, indictments from Robert Mueller and Russian collusion and election meddling, you can't help but wonder if history is repeating itself. Possibly in an effort to stay within a one-hour time frame, the action jumps quickly from a final interrogation scene to Nosenko appearing before a committee.
Rather than feel satisfied that the play's wrapping up, you'll want more.
---
The Man in the Vault review by Mark Fenton
Published July 23, 2018
https://www.raisethehammer.org/fringe/3066/the_man_in_the_vault
Perhaps it's because I was born six days after the Kennedy Assassination, but I have a voracious appetite for novels, journalism, movies, and plays about JFK and Lee Harvey Oswald. (Frames from the Zapruder film are frequently up on my desktop background.)
This is a necessary disclosure, as it might make "The Man in the Vault" more compelling to me than to the average Fringe-goer. I knew there were communist conspiracy theories around Oswald's time in Russia, but to my shame I knew nothing of James Jesus Angleton and Yuri Nosenko. So I'm like a boy on Christmas morning who's just gotten some new action figures to augment his tableau.
James Jesus Angleton, chief of CIA Counterintelligence (there's a delightful sidebar in the production about how he got his middle name) sends a young woman in the intelligence agency to interrogate Yuri Nosenko, a Soviet defector.
As the play opens, Yuri has been held in solitary confinement for almost a year. The young woman is to pose as a disinterested psychologist examining Nosenko's mental state so that he'll let his guard down. "By indirections find directions out."
Nosenko had a low-level intelligence job in the Soviet Union when Oswald was in Russia. Angleton believes that Nosenko can give information proving the Kennedy Assassination was a Soviet plot, and that Oswald was their agent.
Dramatically, the situation provides an effective distancing between Angleton and Nosenko. They never meet during their cold war stalemate. For Nosenko, the inability to confront his adversary amplifies the menace of unknowable persecutors.
For an increasingly inebriated Angleton, his physical distance from Nosenko is its own prison as Angleton struggles in a web of good information, concealed information, and willfully false information.
This complexity is countered by the bare simplicity of the staging, to the point that the projected images of Washington, Oswald, and newspaper clippings about the assassination feel redundant and diminish the claustrophobia and isolation of working on a classified case. But this is a small criticism for a play that had me on the edge of my seat, like an unproduced Twilight Zone episode scripted by a young John Le Carré.
---