The Man in the Vault: Fringe 2018 BYOV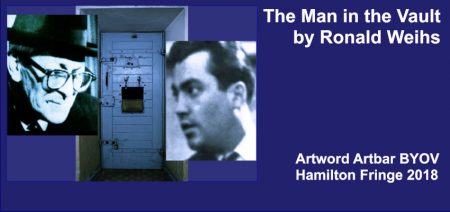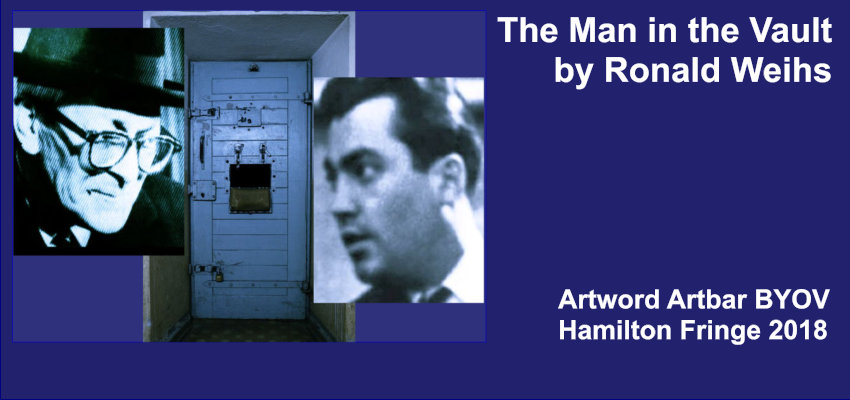 July 19 to 28, 2018. The Man in the Vault (an Artword Theatre production).
Written and directed by Ronald Weihs.
Produced and designed by Judith Sandiford.
Performed by Mariam Bekhet, Jordan Campbell, Jason Thompson.
A Russian spy defects with information about Lee Harvey Oswald and the Kennedy assassination. James Angleton, the CIA's legendary head of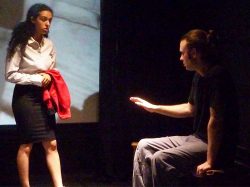 counterintelligence, is convinced he is a disinformation agent sent by the KGB. The defector is kept in a concrete vault in a secret location while interrogators try to extract the truth from the man in the vault. Based on true events in the 1960s that resonate with today's headlines.
Part of the Hamilton Fringe Theatre Festival. Drama, All Ages, Running Time: 60 minutes. Tickets: $10 (Fringe Backer Button required)  hamiltonfringe.ca/tickets/
Show Times: Thurs July 19 @ 9pm, Fri July 20 @ 4:30pm, Sat July 21 @ 7pm, Sun July 22 @ 8pm, Tues, July 24 @ 9pm, Wed July 25 @ 7pm, Thurs July 26 @ 9pm, Fri July 27 @ 5pm, Sat July 28 @ 6pm  (Final show)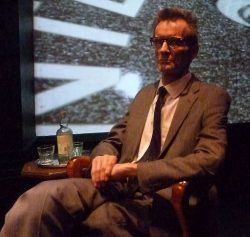 The Man in the Vault, written and directed by Ronald Weihs, is a true story about James Angleton, the legendary head of CIA counterintelligence, who described the spy business as "a wilderness of mirrors". In 1963, a Russian spy defects with information about Lee Harvey Oswald and the Kennedy assassination. Angleton is convinced that he is a disinformation agent sent by the KGB. The defector is kept in a concrete vault in a secret location while interrogators try to extract the truth. Based on events that resonate today, when headlines are dominated by disinformation, collusion and Russian spycraft. Performed by Mariam Bekhet, Jordan Campbell, Jason Thompson. Produced by Artword Theatre.
PRESS RELEASE: For immediate release: July 6, 2018
Artword Theatre Production: The Man in the Vault
written and directed by Ronald Weihs
Shortly after President Kennedy was assassinated on November 22, 1963, a Russian KGB officer defected to the CIA. His name was Yuri Nosenko, and he said he knew the answer to the most incendiary question of the time: was Oswald a Russian agent? Nosenko's answer: no, he wasn't.
James Angleton, the CIA's legendary head of counterintelligence, was convinced that Nosenko was a disinformation agent sent by the KGB. Angleton was busy tearing the CIA apart looking for a mole, acting on information from another defector, Anatoli Golitsyn. He believed that Nosenko had been sent to discredit Golitsyn, with the Kennedy information as bait.
Nosenko was locked a concrete vault in a secret location for over three years, while interrogators tried to break his story. The Man in the Vault imagines a last-ditch attempt by Angleton to determine the truth.
Playwright Ronald Weihs became fascinated with this story about the famous CIA spyhunter, James Angleton. He began a major research effort, filling a large bookcase as he found himself spiraling deeper and deeper into the dark world of spies, disinformation and the assassination of President Kennedy. As complexities multiplied and theories and conspiracies proliferated, he found himself lost in the world that Angleton called "a wilderness of mirrors". After many false starts on a script, he put it all away in a drawer. Anyway, he thought, that Russia/US spy stuff is all outdated.
Now suddenly, with Trump in the White House, it's all back again: intelligence, counterintelligence, disinformation. With the encouragement of his partner Judith Sandiford, Ron found all his old notes and fragments and stitched them into a script. Last April, some actor friends helped with a staged reading at Artword Artbar. To his surprise, it hit home with actors and audiences! So he sat down and started rewriting. He trimmed the cast from five to three, and focused and tightened the narrative. And every day he watches MSNBC, marvelling how, in James Angleton's phrase, "the past telescopes into the present".
Artword Theatre is the creative vehicle of Ronald Weihs and Judith Sandiford. They built and operated a major theatre at Bathurst and King in Torontofor seven years, until the landlord sold the building to a condo developer. The pair moved to Hamilton in 2007, and in 2009 they bought asports bar just off James Street North and turned it into Artword Artbar.Since coming to Hamilton, Artword Theatre has produced 16 original works, including four BYOV productions, all acclaimed by reviewers: Trumpet Romance ("an extraordinary experience, not to be missed"); Transformation, by Learie McNicolls ("a masterpiece of poetic theatre"); Once I Lived in the Box, choreographed by Learie McNicolls ("may also be the best thing you see at the Fringe this year"); Langston Hughes vs Joe McCarthy ("should be touring the country").
Ronald Weihs
For more information, contact Judith Sandiford, 905-543-8512, artword@artword.net
-30-