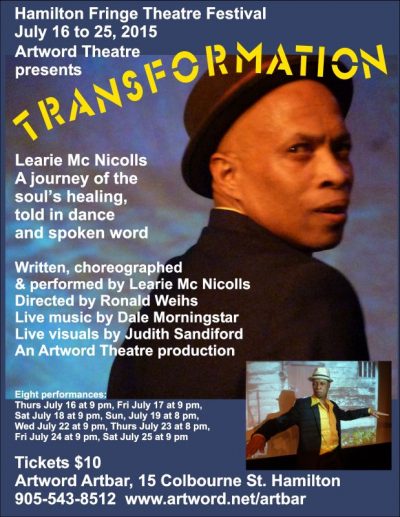 July 16 to 25, 2015. Artword Theatre presents Transformation: A Journey of the Soul's Healing by Learie Mc Nicolls, remounted for the 2015 Hamilton Fringe Festival.
Learie Mc Nicolls confronts the demons of poverty, violence and fear in his powerful new work, Transformation: a Journey of the Soul's Healing. An Artword Theatre production, directed by Ronald Weihs, Transformation combines dance, spoken word, soundscape and visual images, to present one man's struggle to come to terms with his troubled Trinidad childhood and redeem the forgotten child inside him. The live musical soundscape is by Dale Morningstar, and live visuals by Judith Sandiford.
Venue: Artword Artbar, 15 Colbourne St., a Bring-Your-Own-Venue.
Running time: 60 minutes. Eight performances, showtimes:
Thursday July 16 at 9 pm; Friday July 17 at 9 pm;
Saturday July 18 at 9 pm; Sunday July 19 at 8 pm;
Wednesday July 22 at 9 pm; Thursday July 23 at 8 pm;
Friday July 24 at 9 pm; Saturday July 25 at 9 pm  (Final Show)
Tickets $10 at door or online at: http://hamiltonfringe.ca/tickets/
plus a one-time purchase of a Fringe Button ($5), good for all Fringe shows.
Learie Mc Nicolls has been a key figure in the contemporary dance scene in Toronto since the 1980s. He has danced with Toronto Dance Theatre, Desrosiers Dance Theatre, Dancemakers, the National Ballet of Cuba, and his own company, Mythmakers. As a solo dancer, he has been exploring the combination of dance with spoken word, to create a powerful new form of theatrical presentation. His Toronto production, Armour, took two Dora awards for Outstanding Choreography and Outstanding Performance. He recently moved to Hamilton, where he is devoting himself to helping build the contemporary dance scene here. Recent projects include Resurrection at the Pearl Company in 2014, and an ongoing series of showcase dance productions at Artword Artbar called Big Dance Little Stage, featuring dancers from Hamilton and Toronto.
---
Review by Robin Pittis of Transformation in View Magazine July 23 2015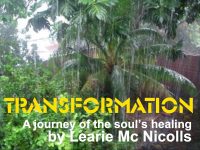 Transformation: An avant-garde dancer teams up with a musician and visual artist to create this challenging masterpiece of poetic theatre. Learie Mc Nicolls is an accomplished and award-winning modern dancer, and he draws on richly personal material of growing up in Trinidad for his poems. Themes of innocence, violence, and faith swirl between Judith Sandiford's imagery, Dale Morningstar's creative soundscape, Mc Nicolls' lithe and free movement, and his vocal commitment to the text. This is a feat of mature creative artistry connoisseurs won't want to miss. [R.P.]
---
Peter Malysewich: "…the premier performance of this year's Fringe." Transformation by Learie Mc Nicolls
The performance was totally awesome. As a Learie fan, I came prepared to enjoy it and was rewarded with even more than I expected. Held my attention from right from the beginning. But I have to give a shout out to Dale Morningstar who at times was so intense he seem to be Learie's alter ego, with his masterful timing, that movement and sound became one. A terrific venue, a terrific beer, and a fusion of artists for the premier performance of this year's Fringe. July 23, 2015, Peter Malysewich, audience member, posting on FB, https://www.facebook.com/groups/11108185093/
---
Gary Smith: "..Theatre that pricks the social conscience, stirs the imagination and releases thought. Go get transformed."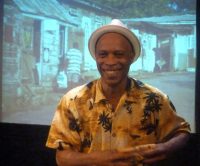 For goodness sake, go see Learie Mc Nicolls' dance drama "Transformation." This piece of theatre-cum-performance art is a highly polished, professional work that finds inspiration in McNicolls' narrative and Ron Weihs' inspired direction. Add Judith Sandiford's powerful visuals with their icy tinge of realism and you have a work of art.
McNicolls moves with easy grace offering a seemingly improvised (it's not of course) banter that gives the work energy and rhythm. Accompaniment by musician Dale Morningstar on drums, keyboard, whistle and cymbals is always perfectly in tune with what's going on.
"Transformation" reminded me of heady nights in Greenwich Village's once famous Café Bizarre where, during the 1960s, art was deliriously performed for audiences who savoured every moment.
This is theatre that pricks the social conscience, stirs the imagination and releases thought. Go get transformed. Performed at Artword Artbar 15 Colbourne St.
Gary Smith in The Hamilton Spectator, July 16, 2015. Gary Smith has written on theatre and dance for The Hamilton Spectator for more than 35 years. He saw these Fringe shows in previews.
---
Review: Transformation: A Journey of the Soul's Healing
By Dawn Cattapan, published July 17, 2015 in Raise The Hammer
Transformation: A Journey of the Soul's Healing is a multi-disciplinary art piece that encompasses dance, spoken word, live music and image projections. Although initially conceived during 2014 performances, Transformation was first presented earlier this year and incorporates three of Mc Nicolls' poems in order to bring three distinct characters to life.
Although these characters have other interactions, Learie is able to portray every single character with ease, using his body and voice alone to capture the essence of each; from a small child passing by on a beach to a preacher as he comes to terms with a troubled childhood.
In this sense, the story itself is epic; intense emotions and opinions of family, poverty, war, love, fear, sacrifice and faith are carefully explored as the character gracefully transforms and weaves their way into and out of the changes in their life. Through it all, they continue walking forward, to face each sunrise, and the promise of a new day with unreserved enthusiasm for the promise it may hold.
Mc Nicolls' strong mastery of dance performance and movement is especially apparent as each transformation takes place with ease and grace that reflect his professional training.
No space or moment is wasted throughout the performance, as Artword Artbar is utilized perfectly in its entirety to capture each transformation, both in music, imagery and movement.
Mc Nicolls and his live collaborators have carefully and consciously thought out each moment, ensuring that they contribute to a powerful and meaningful performance as the music and images move the story forward as seamlessly as its main character.
Although many may feel that contemporary dance is an art form not for them, Learie Mc Nicolls is an apt tour guide for those looking to learn more about it as he conveys his story. This type of performance is reason enough to be excited about the future of the dance and art community in Hamilton.
https://raisethehammer.org/blog/2880/fringe_2015_review:_transformation:_a_journey_of_the_souls_healing