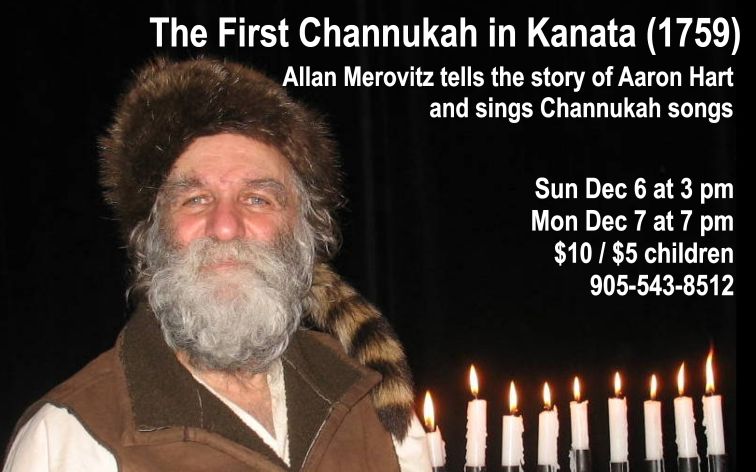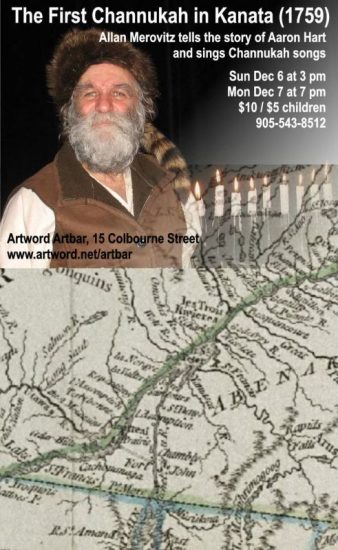 Artword Theatre hosts two performances of The First Channukah in Kanata (1759), by Allan Merovitz, singer, actor, storyteller.
Allan tells the story of Aaron Hart, sometimes known as The First Jew in Canada, with traditional Channukah songs.
In 1759, Aaron Hart came north from the British colony of New York, during the Conquest of Quebec. He stayed behind in the town of Trois Rivieres on the St. Lawrence River.
With direction and dramaturgy and fiddle-playing by Ronald Weihs. Autoharp playing by Judith Sandiford.
Sunday December 6, 2015, 3 pm, $10/$5
Monday December 7, 2015, 7 pm, $10/$5. To reserve, call 905-543-8512.
Allan Merovitz is best known for his hit show If Cows Could Fly, about growing up Jewish in Smith's Falls, dramaturged and directed by Ronald Weihs, and mounted by Artword Theatre in Toronto three times, in Ottawa in 2008, and in Hamilton, in 2012.