"James Street" returns May 2015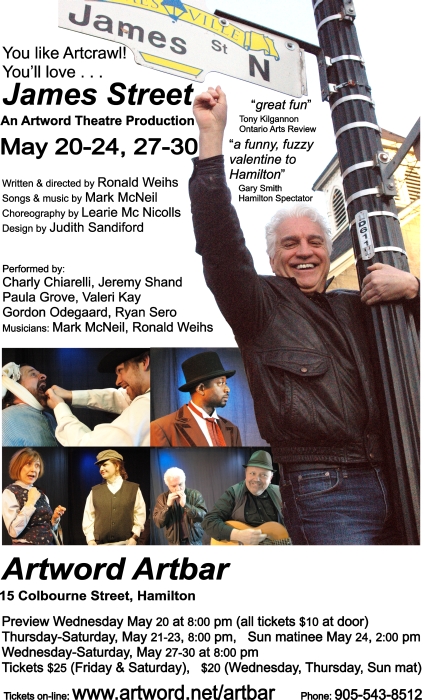 Wednesday May 20 to Saturday May 30, 2015. We are delighted to announce that our hit musical, James Street, is coming back! To Artword Artbar, 15 Colbourne Street, just off James!
Showtimes: Wed May 20 to Sat May 23 at 8 pm, Sun May 24 matinee at 2 pm
Wed May 27 to Sat May 30 at 8 pm.
Tickets: $25 (Fri & Sat), $20 (Wed, Thur, Sun), $10 preview May 20 only.
(Book online  or call 905-543-8512 to reserve.)
Hamilton`s official Town Crier from 1850 meets a modern Hamiltonian from the North End, right on James Street!
Performed by The Artword Theatre Ensemble: Charly Chiarelli as modern day Hamiltonian, Jeremy Shand as Town Crier Paola Brown, plus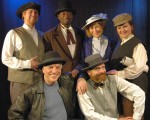 Paula Grove, Valeri Kay, Gordon Odegaard and Ryan Sero as everyone else [Surveyor and Helper, Land Promoters, Pioneer Woman and Man, Dentist, George Hamilton, James Durand, Nathaniel Hughson, Immigrant Woman, Robert Murray Police Chief, Newsboy, Farmer, Editor, Auctioneer, Mr. Cummings, Woman, Wanzer, Mr. Ryan, Workers, Hugh Cossart Baker, Mrs. Baker and family, Billy Carroll, HSR Conductor 1906, Trolley Girl, WWI Recruiters, Marion Simpson, Soldier, Rocco Perri, Bessie Starkman, WWII soldiers from RHLI, Evelyn Dick, citizens in 40s and 50s and 60s…]
An Artword Theatre production, written and directed by Ronald Weihs, with original music by Mark McNeil and choreography by Learie McNicolls. Produced and designed by Judith Sandiford. Music performed by Mark McNeil, Ron Weihs & the Ensemble.
Click here for the new May 7th press release
Click here for the full-size James Street full poster