Charly Chiarelli's classic hit show Cu'Fu? Sept 28 to Oct 7, 2017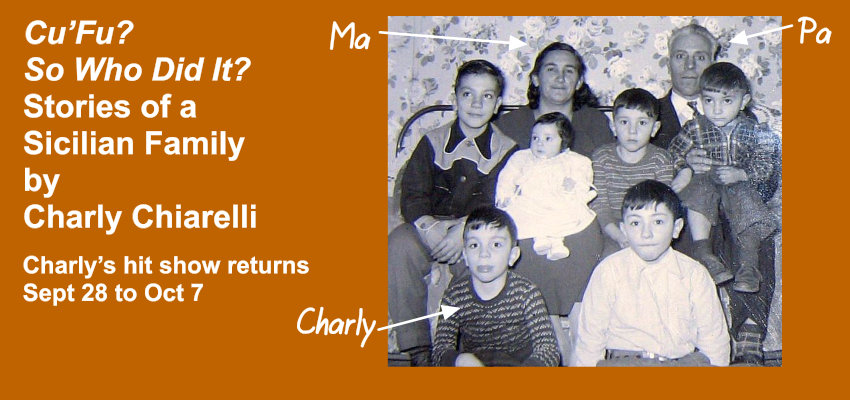 Thursday September 28 to Saturday October 7, 2017. Charly Chiarelli's classic hit show Cu'Fu? (So Who Did It?), Stories of a Sicilian Family, returns to Hamilton, for a two-week run at Artword Artbar. An Artword Theatre production written and performed by Charly Chiarelli, directed and dramaturged by Ronald Weihs.
Cu'Fu?, the show that made him famous, is Charly's hilarious and touching tribute to his crazy Sicilian family in the North End of Hamilton. His father's bewilderment at the automatic record changer, his mother's uncanny ability to read faces, and the unexpected reaction of both when they discover Charly is smoking "Mario Lanza", create a portrait that is both affectionate and achingly funny.
Show times and prices:
Advance Preview: Wed Sept. 27, at 8 pm, $10
Opening Festitalia Special, Thurs Sept 28, at 8 pm, $20
Fri and Sat Sept 29 & 30, at 8 pm, $20
Sun Oct 1 matinee at 3 pm, $20
Tues to Sat, Oct 3 to 7, at 8 pm, $20. Final show is Sat Oct 7.
Book tickets online for Cu'Fu now. For only $15 more, you can also pay for our Two-Show Package: Cu'Fu (Sept 28 to Oct 7) PLUS our second show in December – Charly's Piano by Charly Chiarelli (Dec 7 to 16). Dates to be selected later. The BookOnline link takes you to the Artword Artbar website booking page. 

Book online