Scroogissimo, our seasonal treat, is back Dec 1 to 15, 2018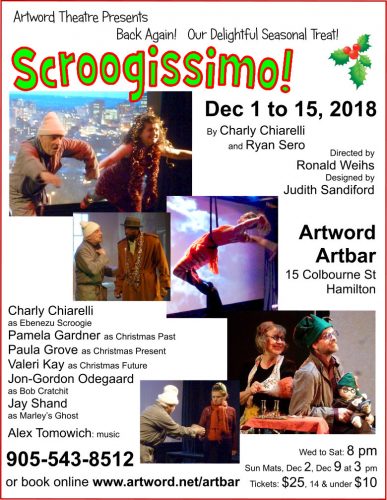 Friday December 1 to Saturday December 15, 2018. Times: Wed to Sat at 8:00 pm, Sun matinées Dec 2 and Dec 9 at 3:00 pm. Tickets: Adults $25,  Child 14 and under $10. To reserve call 905-543-8512, or 

Book online
Artword Theatre's delightful Christmas comedy Scroogissimo returns for a fourth time to Artword Artbar. Hamilton's North End meets Charles Dickens in a wacky script by Ryan Sero and Charly Chiarelli, directed by Ronald Weihs.
With the original cast!
Charly Chiarelli as Ebenezu Scroogie
Pamela Gardner as Christmas Past and ensemble
Paula Grove as Christmas Present and ensemble
Valeri Kay as Christmas Future, Mrs. Cratchit and ensemble
Jon-Gordon Odegaard as Bob Cratchit and ensemble
Jay Shand as Marley's Ghost and nephew Fred and ensemble
Musical support by Alex Tomowich on piano.
A sell-out hit in 2013, 2014 and 2016, Scroogissimo features Charly as "Ebenezu Scroogie", a Christmas-hating old Hamiltonian from Racalmuto, Sicily, who finds himself haunted by three ghosts of the Past, Present and Future.
Our favourite review, from the first production in 2013: "Artword Theatre is cramming a whack of seasonal fun into their tiny package of a space. Mixing local Sicilian–Canadian storyteller Charly Chiarelli and "Charly" Dickens makes a Christmas–cracker exploding with musical and comedic goodies that will make an addition to your festive season you will never forget…." Robin Pittis for View Magazine.
(The show is as much fun and even more, as we add new things each remount.)