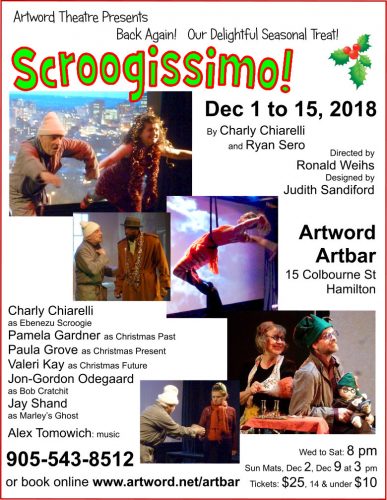 December 1 to 15, 2018. Artword Theatre's delightful Christmas comedy Scroogissimo returns for a fourth time to Artword Artbar. Hamilton's North End meets Charles Dickens in a wacky script by Ryan Sero and Charly Chiarelli, directed by Ronald Weihs – and the original cast!
Charly Chiarelli as Ebenezu Scroogie
Pamela Gardner as Christmas Past
Paula Grove as Christmas Present
Valeri Kay as Christmas Future, Mrs. Cratchit
Jon-Gordon Odegaard as Bob Cratchit
Jay Shand as Marley's Ghost and nephew Fred
Musical support by Alex Tomowich on piano.
A sell-out hit in 2013, 2014 and 2016, Scroogissimo features Charly as "Ebenezu Scroogie", a Christmas-hating old Hamiltonian from Racalmuto, Sicily, who finds himself haunted by three ghosts of the Past, Present and Future.
Show Times and Prices: Wed to Sat at 8:00 pm, Sun matinées Dec 2 and Dec 9 at 3:00 pm. Tickets: Adults $25,  Child 14 and under $10.
Background:
Scroogissimo is performed by the Artword Ensemble, an acting company that has been working in Hamilton under Weihs's direction since 2008. The company includes Charly Chiarelli, Pamela Gardner, Paula Grove, Valeri Kay, Jon-Gordon Odegaard, and Jeremy Shand, all experienced practitioners of the Artword Ensemble style. Musical support for Scroogissimo in the 2018 remount is provided by Alex Tomowich, an accomplished pianist currently in the Mohawk College Jazz Program. Previous musicians were Jennifer Lockman (2013) and Tim Nijenhuis (2014 and 2016). In 2016 we added the backdrop projections and the aerial rig for Christmas Past, and took the piano off the stage.
The original idea for Scroogissimo came from Charly in 2013, in a conversation with Weihs and Judith Sandiford, Artword's producer and designer. Charly told them how he used to play his harmonica in an annual production of A Christmas Carol by Charles Dickens in Kingston. "I only had one line, but after sixteen years, I knew all the lines."
Ron said to Charly, "Why not do our own version in Hamilton? A North End version." (Hamilton's North End, where Charly grew up, was largely inhabited by Sicilian immigrants.) Charly did some of Scrooge's lines North-End style, and Ron and Judith were soon aching with laughter.
So Charly got to work. He "translated", from the original Dickens story, all Scrooge's speeches into North-End Sicilian English. He dictated them over the phone to Judith, who tried to figure out how to spell words like "umbaggo" (humbug). Meanwhile, Ron had casually suggested to Ryan Sero, that Ryan might write the script. Ryan replied, "Be careful what you wish for." Ryan is well known in Hamilton for his over-the-top comedy productions, including the Fringe hit Romeo and Juliet: An Escapist Comedy.
Ryan took the "Scroogie" speeches, and the original Dickens story and put them through his own zany comedic mind. The result is great fun. There are the ghosts of course (Christmas Present is a pasta-loving lady named Natalia), the parties, the revelations, all with a dash of Marx Brothers, and a touch of the Dickens social criticism.
Ron and Judith have worked with Charly on all his one-man shows about Hamilton. Ron directed, and Judith designed, the first productions of Cu'Fu? and Mangiacake at Artword Theatre in Toronto – productions which were later filmed for Bravo Television. They also brought Charly's third play in the Hamilton trilogy Sunamabeach to the stage in 2009. In 2017 Artword remounted Cu'Fu? and developed a new play called Charly's Piano.
---
Our favourite review, from the first production in 2013: "Artword Theatre is cramming a whack of seasonal fun into their tiny package of a space. Mixing local Sicilian-Canadian storyteller Charly Chiarelli and "Charly" Dickens makes a Christmas-cracker exploding with musical and comedic goodies that will make an addition to your festive season you will never forget…." Robin Pittis for View Magazine.   (The show is even more fun, as we add new goodies with each remount.)
---
Gary Smith's review of the 2018 production in The Hamilton Spectator, December 10, 2018:
Scroogissimo! is delightful and charming
It's the best Scrooge I've seen all year.
With apologies to Charles Dickens, this Hamilton version of the transformation of a crusty old skinflint to a giving and caring benefactor of humanity, will make you believe in something more than ersatz holiday entertainment.
We're in Hamilton, where Bob Cratchit (Jon-Gordon Odegaard) and his family live at 487 Barton St. Cratchit scratches out a living in the office chambers of Ebenezer Scrooge a wily old Sicilian played of course by the irrepressible Charly Chiarelli.
As in Dickens, you'll go with those three spirits of Christmas, Past, Present and Future (Pamela Gardner, Paula Grove and Valeri Kay) as they force the grumpy old miser to confront the waste of his life. For the purposes of Ryan Sero and Charly Chiarelli's sometimes hilarious, always touching script, this Scrooge is known as Scroogie.
Dickens, of course, might well roll in his grave if he saw the antics these characters, based on his originals in "A Christmas Carol," get up to. The thing is though, the story has been given a modern context, a Hamilton location and at least one character that resembles Harpo Marx without harming its heartfelt intent. It all works, you see, in reclaiming an old reprobate and in fostering the same message of kindness, love and generosity at Christmas Dickens, intended.
Charly Chiarelli gives his usual broad, somewhat off the wall performance he is famous for. He has an interesting capacity for not letting us know how much of the text he's actually speaking and how much of the evening is supported with comic ad-libs and zingers. It doesn't really matter because whatever he does it works and it would be difficult to imagine this "Scroogissimo!" without his exuberant presence.
The rest of this fine Artword Theatre cast is up to speed, providing ingratiating, charming and artfully comic performances that adhere to Dickens' original notions, even if they are flying off in other, less Victorian directions.
And fly these character do. Especially Pamela Gardner's frisky Christmas Past. She takes to the overhead silks in that Cirque de Soleil way and scares the bejeebers out of poor Scroogie before she even confronts him with all those pathetic moments from his past. She has a terrific presence on stage and highlights everything she does with a warm smile that would heat you up on a cold Hamilton night.
Valerie Kay is the horn-tooting Harpo Marx based Spirit of the Future. She shuffles her way along to a little bit of Cole Porter's "Anything Goes," (let's not call it dancing) and she helps rehabilitate the old miser Scrooge with a shake of her exotic gold wig and her relentless honking of a kid's bicycle horn.
Then there's the wonderful Paula Grove. Singing a snatch of "Mambo Italiano" she insinuates herself on stage in a mulberry sparkle dress, with ample peeks at her bold cleavage. All decked out in golden Christmas balls, with a poinsettia firmly plopped in her mane of black hair, she's the bold and brassy Natalia, The Spirit of Christmas Present. And what a present she is. Her turn is the highlight of a show filled with delirious highlights. Don't miss her.
Jay Shand as Marley's Ghost has a delightful laid-back quality about him and he fills the stage with a number of characters that give this "Scroogissimo!" a modern and quirky tweet.
Jon-Gordon Odegaard is a remarkable actor who brings such humanity to Bob Cratchit. Every time you see him in an Artword Theatre show he's totally different. Now that's a consummate actor.
Judith Sandiford's projections and Ron Weihs' direction of this neat little show are completely charming. Things are never forced and the innate warmth and sweetness of the piece never fights with the humour, they just coexist.
Major joy of the evening too, is the piano accompaniment of Alex Tomowich, a tall handsome pianist, who looks like he's having as much fun as the actors on stage. We get snatches of "Theme from The Godfather," "Over The Rainbow" and a host of Christmas songs and carols interpolated into the proceedings. Look to hear from this guy in the future because he is a real artist on those black and white keys.
"Scroogissimo!" doesn't pretend to be anything more than a delightful evening of holiday entertainment. It works splendidly in the intimate space at the Artbar and you'd have to be a Scrooge yourself not to be captivated by its endearing charm.
Gary Smith has written on theatre and dance for The Hamilton Spectator for more than 35 years.