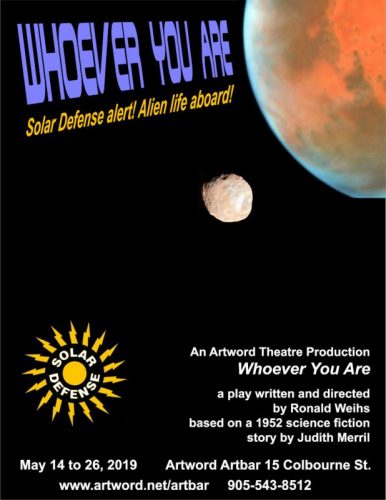 May 14 to 26, 2019. Artword Theatre presents Whoever You Are, a play written and directed by Ronald Weihs, based on a 1952 science fiction short story by Judith Merril.
The human race has built a web around the Solar System that traps alien life forms. A SolSys scout ship returns with aliens aboard and is caught in the web. When a young recruit boards the ship and investigates, it becomes evident that the aliens have what may be an irresistible weapon: they love everybody.
Do we dare let them in? On Phobos (one of the moons of Mars), three people must decide what action to take: two men, a military commander and a psychologist, and one woman, the public information officer.
Performed by: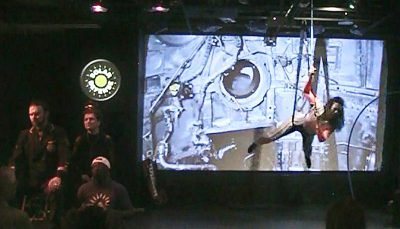 Jordan Campbell, Paula Grove and Jay Shand as the team at Phobos Base,
and Pamela Gardner as Private Fromm, the new space recruit.
Live soundscape by Dave Gould (and voice of Sergeant Bolster).
Video effects by Ronald Weihs and Judith Sandiford.
Show times: May 14-18 and 21-24 at 8 pm.
Matinees: Sat May 18, 25, at 3:30 pm. Call 905-543-8512.
---
Written in 1952, Whoever You Are was Judith Merril's answer to the "Fortress America" paranoia at the beginning of the cold war, and her protest against the emotional and sexual repression that fueled it. Although the lines today are less sharply drawn, fear of the alien is as prevalent today as it was then.
Like most of Judith Merril's work, Whoever You Are has fun with the science fiction setting, but uses it to make some serious points. Merril had a major influence on science fiction as one of the main voices for more human themes and complex issues. In her own fiction, and in a series of key anthologies, she championed the position that Science Fiction was about exploring alternative realities.
The play by Ronald Weihs was first developed in 1997, when Ron asked her permission to adapt one of her short stories for the stage. Judith Merril died on September 12, 1997, when the project to put Whoever You Are on the stage was well underway. Just before she went to the hospital, she read a draft of the script. Her most significant comment was that the play must convey the sense of inward-looking paranoia, fear and sexual repressiveness that underlies nationalism and xenophobia.
It seems even more urgent to revisit these themes now, in 2019, 22 years after our first presentation of the play (in our first Artword Theatre on Portland Street in Toronto), and 67 years after Judith Merril wrote the original story.
---
Whoever You Are review by Allison M. Jones. View Magazine Issue MAY 23 – 29, 2019
Theatrical productions at Artword Artbar are always multifaceted and ambitious. Whoever You Are, on now until May 26, is no exception. With multiple screens, pre-recorded dialogue, live action, images and aerial acrobatics, the play unspools within an otherworldly soundscape created with both pre-taped and live instrumentation.
Whoever You Are is derived from a 1952 short story by Judith Merril, written and directed by Artbar co-founder Ronald Weihs. It's science fiction, and yet little of it is farfetched, particularly in the current geopolitical climate. To ensure their safety, humans have built a protective 'web' around the solar system. Alien outsiders cannot penetrate that barrier, while exploratory scouting ships venture into the great galactic void to find new habitable spaces to place humankind's burgeoning population. Everything is under perfect control; the system is so effective that Sergeant Bolster (Dave Gould) and Private Joanne Fromm (Pamela Gardner) can play long games of checkers while keeping watch over their sector. Bolster is on the cusp of retirement and that, as any reader or viewer knows, means all hell is about to break loose.
When a scouting ship returns with aliens (but none of its human crew) aboard, it's caught and held in stasis. It's up to Bolster and Fromm to investigate while three officials, military Commander William Hartson (Jordan Campbell), 'Information Officer' Lucille Ardin (Paula Grove), and Psych Officer Dr. Bob Schwartz (Jay Shand) determine how best to manage the situation and package it for public consumption.
Weihs first developed and presented Whoever You Are in 1997, the year he reached out to Judith Merril, shortly before her death, to gain permission to adapt one of her stories into a play. Merril's original story Whoever You Are was inspired by the protectionist paranoia of America's Cold War era, but as the show's program alludes, fear of the alien 'Other' has become a tense preoccupation yet again.
But as Private Fromm discovers, the aliens may not be as imagined and promoted by the higher ups. They are unexpectedly humanoid. I was reminded of the quote, "We have seen the enemy, and he is us," used by a Walt Kelly comic strip in the Vietnam War era, and derived from the words of Commodore Oliver Hazard Perry in the War of 1812.
There's reason to believe these aliens mean no harm; they may literally be 'coming in peace,' offering goodwill in exchange for help. Tor Lukasik Foss and Taylor Sutherland relay opposing accounts of the alien encounter in pre-recorded segments as Captain James Malcolm and George Gentile, Birdman 1st Class, members of the 'doomed' scouting ship.
Is the aliens' lack of aggression a trick? Are they manipulating the humans' minds? When the paranoia is this strong and embedded, truth becomes trick and hope becomes hallucination.
I liken this play to an old time radio drama come to life, in mostly good ways. The drama is high, the characters are clearly drawn, and it gives the audience something to think about. From time to time the dialogue verges on a bit wooden (particularly among the three officials), and perhaps the script is a little too on the nose in some areas and light on character development. Rather than hear Sergeant Bolster call Private Fromm a nutty misfit yet again, I'd have liked to have learned more about what motivated her.
Dave Gould is Sergeant Bolster, but also master of the soundscape. It was odd to see him on screen while simultaneously offstage playing his antler stringed instrument. Gould's programmed and live music played nicely off one another, evoking emotion, tension, and the peculiar sounds of space
As Private Fromm, Pamela Gardner uses her aerial skills to great effect, tumbling and twisting to suggest the weightlessness of space. It was magnetic to watch her mimic movement in zero gravity while images of a space capsule floated gently behind her. When I heard that Whoever You Are would feature an aerialist, I was surprised. The Artbar is modestly sized with a relatively low, drop ceiling. But where there's a will there's a way, and the folks at Artbar have plenty of heart. Throughout, Artbar co-founder Judith Sandiford captains the sound, projection and lighting cues in quietly capable fashion.
Whoever You Are is original and timely, a philosophical story built within a multisensory environment. It's worth a look.
***