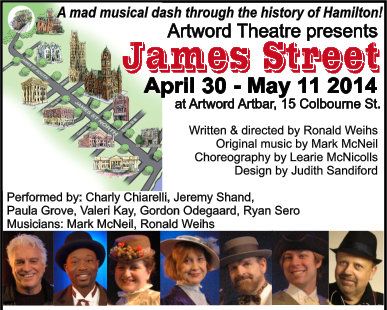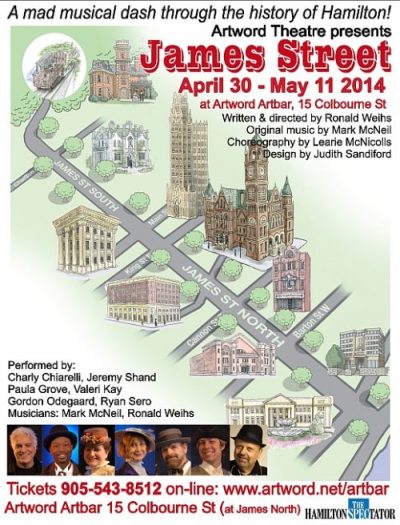 April 27 to May 11, 2014,  Artword Theatre presents "James Street" a mad musical dash through the history of Hamilton. All at Artword Artbar on our new theatrical stage! New songs, new dance, since our December 2012 production.
Hamilton`s official Town Crier from 1850 meets a modern Hamiltonian from the North End, right on James Street!
Performed by The Artword Theatre Ensemble: Charly Chiarelli as modern day Hamiltonian, Jeremy Shand as Town Crier Paola Brown,
plus Paula Grove, Valeri Kay, Gordon Odegaard and Ryan Sero as everyone else [Surveyor and Helper, Land Promoters, Pioneer Woman and Man, Dentist, George Hamilton, James Durand, Nathaniel Hughson, Immigrant Woman, Robert Murray Police Chief, Newsboy, Farmer, Editor, Auctioneer, Mr. Cummings, Woman, Wanzer, Mr. Ryan, Workers, Hugh Cossart Baker, Mrs. Baker and family, Billy Carroll, HSR Conductor 1906, Trolley Girl, WWI Recruiters, Marion Simpson, Soldier, Rocco Perri, Bessie Starkman, WWII soldiers from RHLI, Evelyn Dick, citizens in 40s and 50s and 60s…]
Previews Sunday April 27, 3 pm & Tuesday April 29, 8 pm; opens April 30, runs to May 11, 2014, Tues-Sat 8 pm, Sun mats 3 pm. Tickets: previews $10, regular $25, advance $20 (online or call 905-543-8512)
An Artword Theatre production, written and directed by Ronald Weihs, with original music by Mark McNeil and choreography by Learie McNicolls. Produced and designed by Judith Sandiford. Music performed by Mark McNeil, Ronald Weihs and the Ensemble.
---
Review May 02, 2014 by Gary Smith for the Hamilton Spectator
Musical soul to a treasured time
If you missed Greenwich Village in the early '60s, when The Café Bizarre and The Village Gate were the in-places to go, don't worry. You can find it all again, just off Hamilton's James Street. The cigarette haze is gone. No one's doing drugs at the corner table. The chairs aren't battered and broken. Otherwise things look very much the same.
Walk into the Colbourne Street Artbar and you enter a world that evokes the past. Right now, there's a delightful little show being performed by Artword Theatre. Happily, it provides a lusty connection with Hamilton's past. It's called James Street, and it pays homage to a neighbourhood that's just evolved and evolved.
The show, however, is much more than that. It's a love song to Hamilton, the good, the bad and everything in-between.
An ensemble cast embraces comic and romantic moments, doing robust service to Mark McNeil's evocative score.
McNeil's music finds exquisite memories of Gore Park on a warm Sunday evening, the old Eaton's store with its carefully coiffed elevator operators, sporting oh-so white gloves. There's the old outdoor market with the cries of live chickens. And the holler of street corner newsboys hawking The Hamilton Spectator, crying the day's headlines.
James Street is a roller-coaster ride to the past. Anyone over a certain age will smile at the memory of the old popcorn seller on the corner with his gaily painted cart. They'll smile at the remembrance of the Green Room in Eaton's, where cherry pie was featured on the menu. There are the trolleys and the street cars that took passengers up and down our main streets, more romantic I think than any LRT.
Ron Weih's delightful patchwork of a script offers a conduit to the past. There are wild recollections of our infamous crime "stars," Evelyn Dick and Rocco Perri. And there are moments of political power with the formation of the union movement and recollections of the Underground Railway.
McNeil's music, played by the composer himself on guitar and ukulele, helped by Weihs on fiddle and guitar and Charly Chiarelli on harmonica, is the show's heart and soul.
With McNeil and the cast furnishing energetic vocals, this James Street score ought to be captured on disc so we can enjoy it again at home.
Some of the little snippets that make up Weihs' script are better than others. No surprise there. It's no secret James Street works best when it isn't trying to teach us a history lesson.
No matter, you'll love the banter between 1840 Town Crier Jeremy Shand and Chiarelli's 2014 street dude. You'll have fun watching Paula Grove rock her socks off with Gordon Odegaard in Rocco and Bessie. You'll be charmed by everything Ryan Sero does, changing characters with the donning, or the doffing, of a hat.
You'll love the way Valeri Kay's eyes light up every time she takes a dance step. And when McNeil sings Private Riley, a haunting folk ballad about the waste of war, you'd better have a hanky.
Learie McNicholls' choreography is a little on the hop, stamp and kick side. And not all cast members look comfortable doing it.
What matters most though, is this James Street is a funny, fuzzy valentine to Hamilton. Go see it and reclaim some touching and funny moments.
Gary Smith has written about theatre and dance for The Hamilton Spectator for more than 30 years.
James Street
An Artword Theatre Production at Artword Artbar, 15 Colbourne St.
to May 11, Tuesday through Saturday at 8 p.m. Sunday matinee at 3 p.m.
May 3, Margaret Houghton pre-show presentation at 8 p.m., show at 9:30 p.m.
Tickets: $25, advance purchase $20