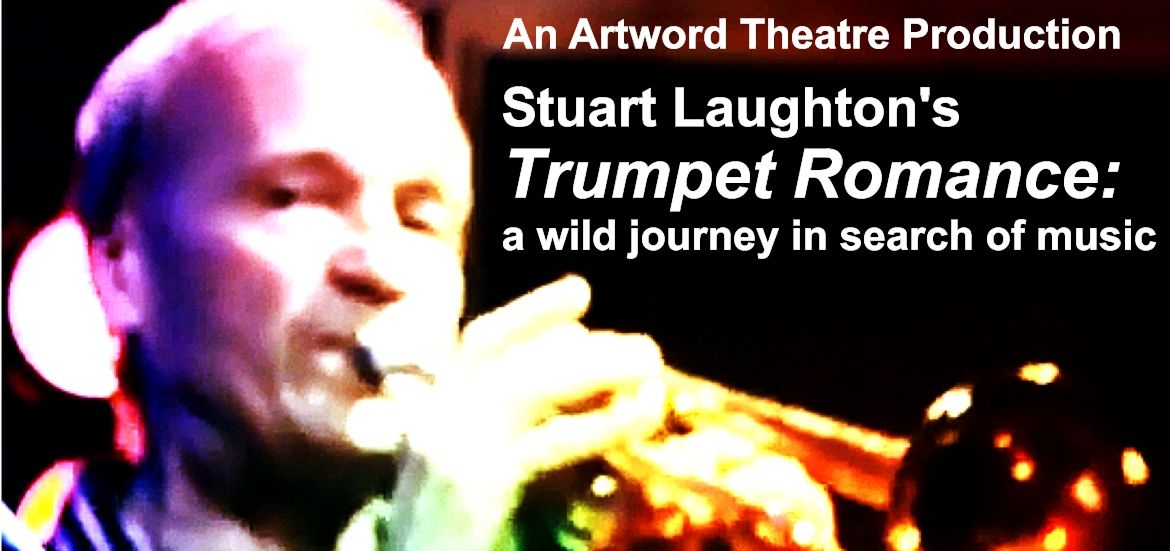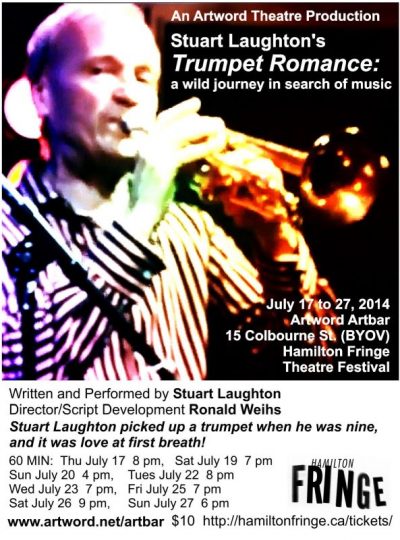 July 17 to 27, 2014. Artword Theatre presents Stuart Laughton's "Trumpet Romance: a wild journey in search of music" at the 2014 Hamilton Fringe Festival, at Artword Artbar, 15 Colbourne Street.
Trumpet Romance is written and performed by Stuart Laughton with an array of musical instruments including trumpet, guitar, harmonica, piano. Directed by Ronald Weihs, who also did the script development.
Stuart Laughton picked up a trumpet when he was nine, and it was love at first breath. He began a stellar classical career: Canadian Brass at age 19 and La Scala orchestra at 23. But the siren call of B.B. King's guitar took him on a wild musical journey, playing roots music in Porkbelly Futures, until it all came together by a lake in Haliburton in R. Murray Schafer's And Wolf Shall Inherit the Moon.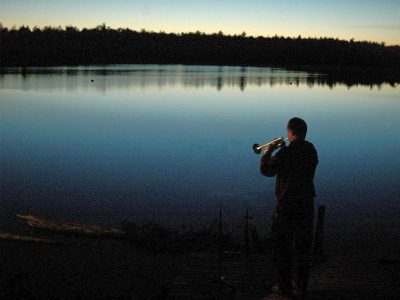 For more about Stuart Laughton: http://www.radiodial.ca/
Produced by Artword Theatre.
Venue is Artword Artbar, 15 ColbourneStreet, a Fringe Bring-Your-Own-Venue.
TICKETS: $10  60 minutes, all-ages. SHOW TIMES: Thu July 17 8:00 pm, Sat July 19 7:00 pm, Sun July 20 4:00 pm, Tues July 22 8:00 pm, Wed July 23 7:00 pm, Fri July 25 7:00 pm, Sat July 26 9:00 pm, Sun July 27 6:00 pm (final show)
---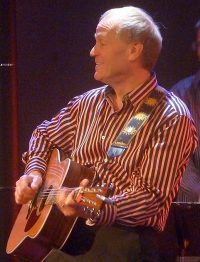 PRESS RELEASE: Artword Theatre presents Trumpet Romance: a wild journey in search of music, the story of a life in music told by Stuart Laughton, an internationally renowned classical trumpet player. At the age of nine, Stuart blew his first note on the trumpet, and fell in love. He was playing concerts while still in elementary school. But when a high-school friend played him Paul Butterfield and B.B. King, young Stuart's musical imagination expanded to embrace the all kinds and varieties of music. Principal trumpet in the Hamilton Philharmonic at 17, and at La Scala Opera at 23, Stuart's musical explorations led him to found the Canadian roots music band Porkbelly Futures and to devote ten summers to the epic musical Patria Cycle staged in the Haliburton Forest and Wildlife Reserve by Canada's visionary composer, R. Murray Shafer. Stuart has also performed world-wide as a member of Canadian Brass.
Ronald Weihs explains: "Stuart came to our attention back in March with his project Radio Dial. Stuart and I began meeting weekly, while he talked and I listened. Stuart's story is full of surprises, about a life full of twists and turns, as music leads him on a complex and unexpected path."
Artword Theatre has established a reputation in Hamilton for innovative original theatre with strong local stories, often with a musical basis. Ronald Weihs and Judith Sandiford built and operated Artword Theatre in downtown Toronto from the late-90s to 2006, creating numerous theatre productions and providing a venue for theatre, dance and music productions by other companies. They set up in Hamilton in 2008, where they continue to create and produce original theatre (Rascals and Numskulls, Tobacco Troubadour, Sunamabeach, Scroogissimo, James Street) and documentary theatre projects Langston Hughes vs Joe McCarthy, 1812: The Songbook. They own and operate Artword Artbar, a venue for live music and theatre.
---
REVIEW of  Trumpet Romance: a wild journey in search of music
by Gary Smith
Stuart Laughton is an artist too. He played in the orchestra when Baryshnikov defected at O'Keefe Centre. He played for prima ballerina Carla Fracci at La Scala in Milan. Our great diva Maureen Forester burst out of her dressing room to applaud a Laughton performance.
The man has stories to tell, and he tells them in his hour-long Trumpet Romance: a wild journey in search of music. He talks about Porkbelly Futures, the thinking man's bar band. He sings Bon Vivant and strums his guitar. He tells of glory days performing with The Canadian Brass.
The stories are told with affection and candour. Punctuated by some glorious trumpet sounds, it's enhanced with images of vintage Toronto's Yonge Street, when Steeles and the Zanzibar were more than strip joints.
There are photos of Laughton's wife, ballerina Wendy Reiser, the Canadian wild and Milan's great opera house. Ron Weihs' direction never gets in the way of Laughton's honesty.
---
Trumpet Romance: A Wild Journey in Search of Music
Review by Channah Cohen in View Magazine
http://www.viewmag.com/42847-Hamilton+Fringe+Festival+2014+Reviews.htm
In Trumpet Romance, currently playing at Artword Theatre, Stuart Laughton, trumpet player and musician extraordinaire, takes his audience on what he affectionately calls "a wild journey in search of music." Using narration, musical instruments (trumpets, guitar, harmonica), and a series of projected images, Laughton does, in fact, take us on a journey that is not only entertaining and filled with gentle self-irony and humour. It is also profoundly moving and ultimately challenges us to look beyond the obvious in music and to experience its very essence. The journey itself is well crafted (by Laughton and Weihs), starting with what becomes ultimately a question: "Bon Vivant." What, indeed, is a "bon vivant"?
In Laughton's case, he falls in love with the trumpet as a child, exploring the possibilities of the sound he — and the instrument — can make. Playing music becomes his life, leading to a distinguished career on the concert stage, but the world of concert halls, where the beauty of music can triumph (we witness a gorgeous moment in La Scala), that beauty can also become undermined by human pride, self-interest. Besides, music is not simply an ornament for the life of the "bon vivant," not a cultural indulgence. Instead, as Louis Armstrong said about jazz: "You can even live by it." Classical, blues, jazz, rock, experimental—music is not simply to be consumed but to enter into.
And so we accompany Laughton to Murray Schafer's Patria Project in the Haliburton wilds and we listen and watch as music finds its echo among the trees, in the air, in the life force that transcends everything. For that is what "Bon Vivant" means.
Trumpet Romance is an extraordinary experience: beautifully put together, performed, and not to be missed.