When we came to Hamilton, our original plan was to build a theatre space similar to the one we created in Toronto. However, we started to think that this was not the right answer. Hamilton has a thriving Community Theatre scene, in their own theatre spaces. There was Theatre Aquarius with two spaces, The Staircase, and McMaster.
We found a little sports bar, Three Amigos, just off James Street, and made a classic paradigm shift.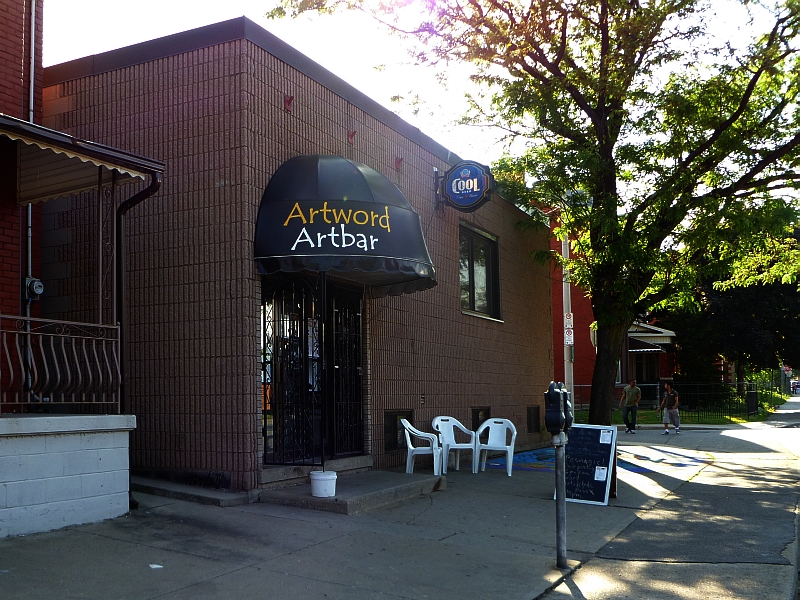 How about an Artbar? An art space that could accommodate Hamilton's musicians? We could make our money from selling beer and wine, and pay our artists with the door. They would set the admission price, and get it all.
We took possession of the building that became Artword Artbar on July 31, 2009, and worked hard with Tanis Macarthur and Jon-Gordon Odegaard to be ready for September Art Crawl.
Our downstairs room we turned into a studio gallery space. Judith curated art shows, on roughly a monthly basis. We were happy to be part of the Art Crawl, when people would come to see the art, and then stay to hear the music.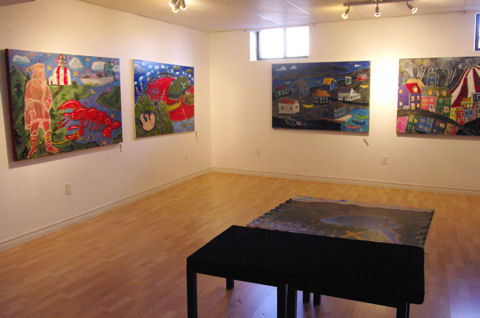 On October 3, 2009, Judith hung the first art show in the downstairs gallery: Steven McCabe, followed in November by Maureen Paxton and in December by Ellen Irving [image above]. There were 37 monthly art shows, until October 2014 (Dave Gould showing musical instrument sculptures made of bones).
Programming events at Artword Artbar has always been the work of Judith Sandiford. It's a huge job selecting and scheduling performers, creating promotional materials for the website and calendar, and coordinating the performances. In ten years, there have been 1,454 separate events, including music, theatre, dance, poetry, spoken word, comedy and public meetings.