Theatre at Artword Artbar from 2014
Then we thought: do we really need a theatre? How about doing theatre productions at Artword Artbar? We expanded the stage, built a lighting grid out of black gas pipe, and pretty soon we had a nifty little theatre. Best of all, unlike most theatres, the audience could drink beer and wine while they watched.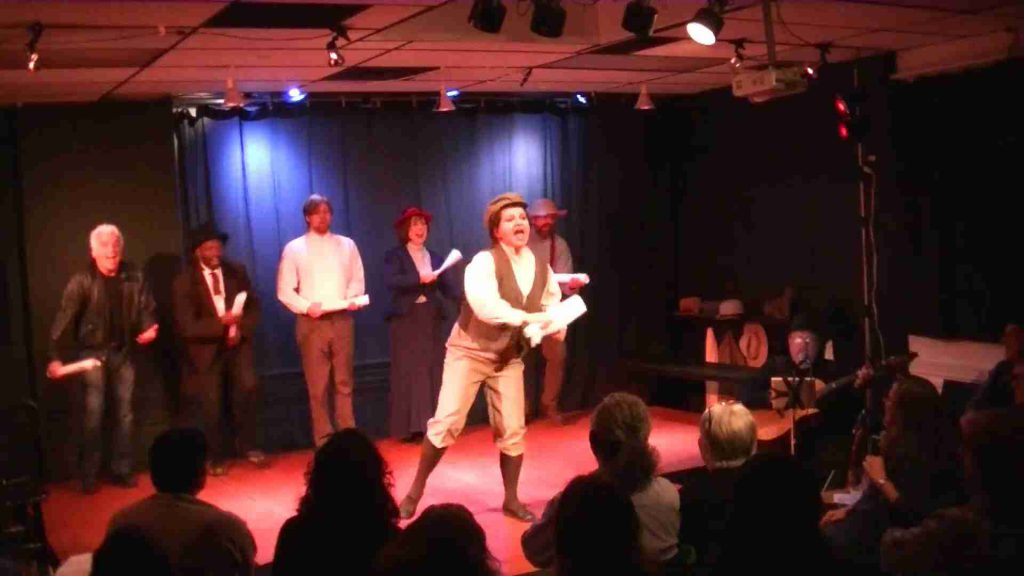 In Artword Artbar we produced ten Artword Theatre productions (some remounted) :
James Street (3),
MacBush: The Musical (2),
Scroogissimo (4),
Langston Hughes vs Joe McCarthy (3),
The Man in the Vault,
The Decision,
Charly's Piano (2),
Cu'Fu (2),
Transformation,
Trumpet Romance.
We are proud also that we provided a home for other theatre companies: Swingin' in St. John's (Chasing Shadows Productions), Drinking, Fighting and Fishing (Julian Nicholson), The Rise of the Prickly Pear (Red Betty Theatre), The Lost Years (Peter Gruner), In the Belly and Know Your Enemy (Insurgent Theatre), The Keith Richards One Woman Show (Suitcase in Point Theatre), See Bob Run (Laura Ellis), Romeo and Juliet: An Escapist Comedy (Make Art Theatre), 23:30 (Mikey Henley), Draft Dodger (Ray Rivers).
With the theatre companies we followed the same policy as with musicians: we did not charge them rent, and they kept all of the box office. We covered our costs with bar sales.
We participated in the Hamilton Fringe Festival as a Bring Your Own Venue for six years, from 2014 to 2019. Each year we mounted a Fringe show of our own, and hosted two other guest productions. In 2012 we were the Fringe Club House, with a nightly Talk Show by comedian Larry Smith.
Artword Theatre's productions in the Fringe:
2014 Trumpet Romance with Stuart Laughton,
2015 Transformation with Learie Mc Nicolls,
2016 Once I Lived in the Box with Learie Mc Nicolls,
2017 Langston Hughes vs Joe McCarthy with Learie Mc Nicolls and Howard Jerome,
2018 The Man in the Vault, by Ronald Weihs
2019 Charly's Piano with Charly Chiarelli.