Jazz comes to Artword Artbar
Our personal tastes in music are very wide, so we had all kinds of music: country, bluegrass, singer-songwriter, classical and jazz. Not very much rock music, because Lou Molinari was doing a good job of that up the street at This Ain't Hollywood.
Jazz really came to Artword thanks to students from the Mohawk music program, who needed a place to show what they could do. Although students, they were good musicians, and the jazz nights became popular.
The first Mohawk alumnus to get in touch was Emily Kemp. "Em and Them" played Saturday September 11, 2010: Emily Kemp vocals, Chris Bruder piano/keys, Jordan Snider drums, Tom Altobelli upright bass and bass, and Scott McIntosh guitar. This was the beginning of a decade-plus friendship and many concerts with these five wonderful musicians.
The next connection with Mohawk was vocalist Ruthie Pytka-Jones, who did a concert on October 14, 2010 with Victor Vrankulj upright bass, Jacob Goodwin guitar [image right]. Ruthie moved away, but the gates had been opened.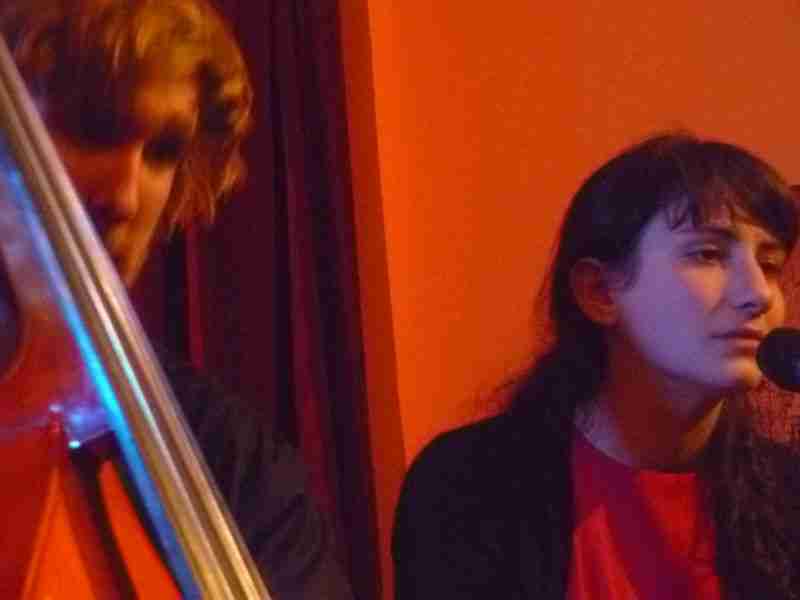 After these first two concerts, there was a steady flow of requests. At first, we were asked "What do you want us to do?" "Wrong question," we would reply, "This is a chance for YOU to try out what YOU want to do." It was exciting to see how the musical adventures unfolded.
After a while, their teachers discovered us, and we had musicians of national and international stature asking for a date in our schedule. However, the students always remained an essential component, and it was our pleasure to watch them mature artistically and launch professional careers.